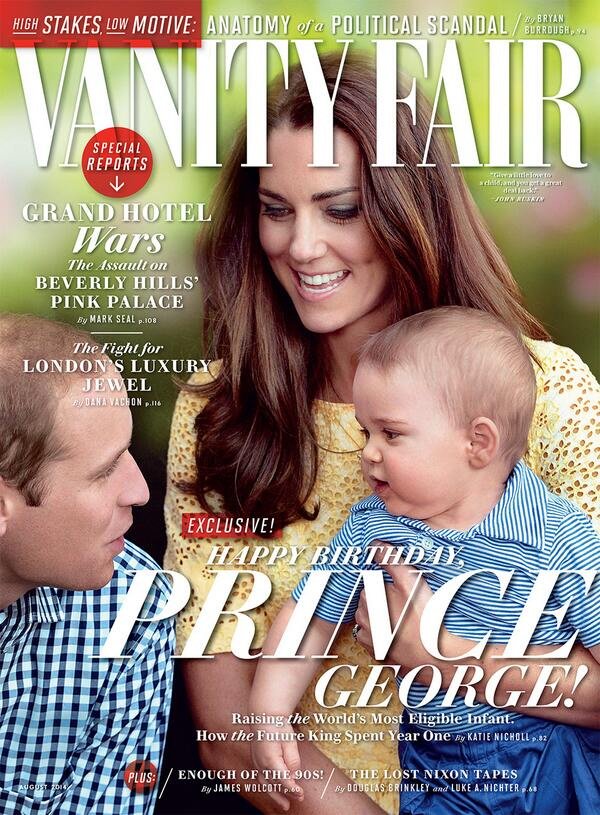 Out of all the photos of Prince George we got from Prince William and Duchess Kate's royal tour of Australia and New Zealand, this photo seems like a weird choice for the August cover of Vanity Fair. Not that it's a bad picture – it's just awkward. I guess VF wanted a photo where William was interacting with George, but at this same event (the zoo photos), William was actually holding and bouncing George. One of those photos might have made a better photo. Anyway, VF is celebrating George's first birthday by getting Katie Nichol to break a bunch of royal stories/gossip. Nichol's sources claim that Will and Kate are going to try to get pregnant again this summer, that George didn't sleep through the night until Kate put him on solids and there's even something about Kate's "photo scandal." Except that Nichol is very pro-Middleton, so it's not the photo scandal you think it is.
On George's colicky beginnings: Kate expressed relief that George behaved well during his first few public appearances. Nicholl reports that for the first few months the prince cried loudly and frequently, and he was not sleeping through the night. Nanny Jessie Webb tried hard to get him into a routine, but the baby prince, who was still breastfeeding, was permanently hungry. Nicholl reveals that it was only in the new year, when Kate introduced solids, that George finally slept through the night.

On finding their new nanny: Kate made inquiries about recruiting a full-time nanny after Nanny Jessie explained that she was not up to traveling to New Zealand and Australia with George, Nicholl reports. The couple was reluctant to use an agency, and Spanish-born Maria Teresa Turrion Borallo was recommended by a friend. Her credentials include experience in self-defense, high-speed driving, and dealing with paparazzi. She spent a week bonding with George at Kate's family home in March under the watchful eyes of the Middleton grandparents, while Will and Kate jetted off to the Maldives for a second honeymoon.

On Kate's photo scandal: Nicholl reports that there was a huge demand for pictures of the baby prince last fall, as George had not been since he left the hospital, aside from the official christening pictures. In December, when Kate was pictured taking George for a stroll in his navy-blue, top-of-the-line Silver Cross Pram, Nicholl reports that the Kensington Palace Press Office implored the British media not to publish the images, claiming this was private time. The images of Kate strolling through the park, dressed down in a baseball cap and sneakers pushing the pram, were published overseas. After that episode, Kate decided to walk George on the grounds of Kensington Palace, where they could not be photographed.

On redecorating Apartment 1A at Kensington Palace: Kate oversaw the redesign of the house, which used to belong to Princess Margaret, who had painted the walls turquoise. Kate opted for a neutral palette instead, making it feel spacious and breezy, Nicholl reports, and, instead of the traditional antique furniture found in royal nurseries, chose a white Beatrix Potter–themed crib and changing table, reportedly purchased from Dragons of Walton Street, in London. Interior designer Emilia Jardine-Paterson, a godmother to Prince George who is believed to have introduced Kate to William when they were 17 years old, assisted with the redesign.

On the visit to New Zealand and Australia: William privately admitted to being nervous about the long-haul flight, tropical climate, and intense media interest, but there was no suggestion of leaving George behind. The Queen gave the Cambridges her blessing for them to fly together, even though this was a breach of protocol because direct heirs do not usually travel together. Upon his arrival, a senior aide who was on the trip tells Nicholl, "George didn't really suffer from jet lag—he settled down very quickly." Nicholl also reports that George learned to "cruise" during the trip—shuffling along while holding onto furniture—and was close to walking.

On Prince George's upbringing: Nicholl reports that William and Kate want George to enjoy a normal upbringing. They take George to playdates at the homes of friends, among them Kate's old Marlborough friend Alice St. John Webster, who has a baby several months older than George. As for speculation about when Prince George will have a sibling, Nicholl reports that there are rumors among the couple's friends that they plan to try this summer.
I like how some of these issues are framed. Like, it's completely normal to leave your baby in the care of a newly-hired nanny to simply jet off on a "second honeymoon." Especially when that second honeymoon directly follows one's husband vacationing with his ex-girlfriend. As for George being permanently hungry while being breastfed – poor George! But he's such a big baby, I guess he just needed MOAR FOOD. *snaps fingers* Someone bring him a roasted bilby!! And I guess we're not going to hear anything about Kate's constant bum and biscuit flashing. Just as well. I think Will & Kate are trying a new strategy with that stuff and it's working out better than when William would threaten to have everybody fired.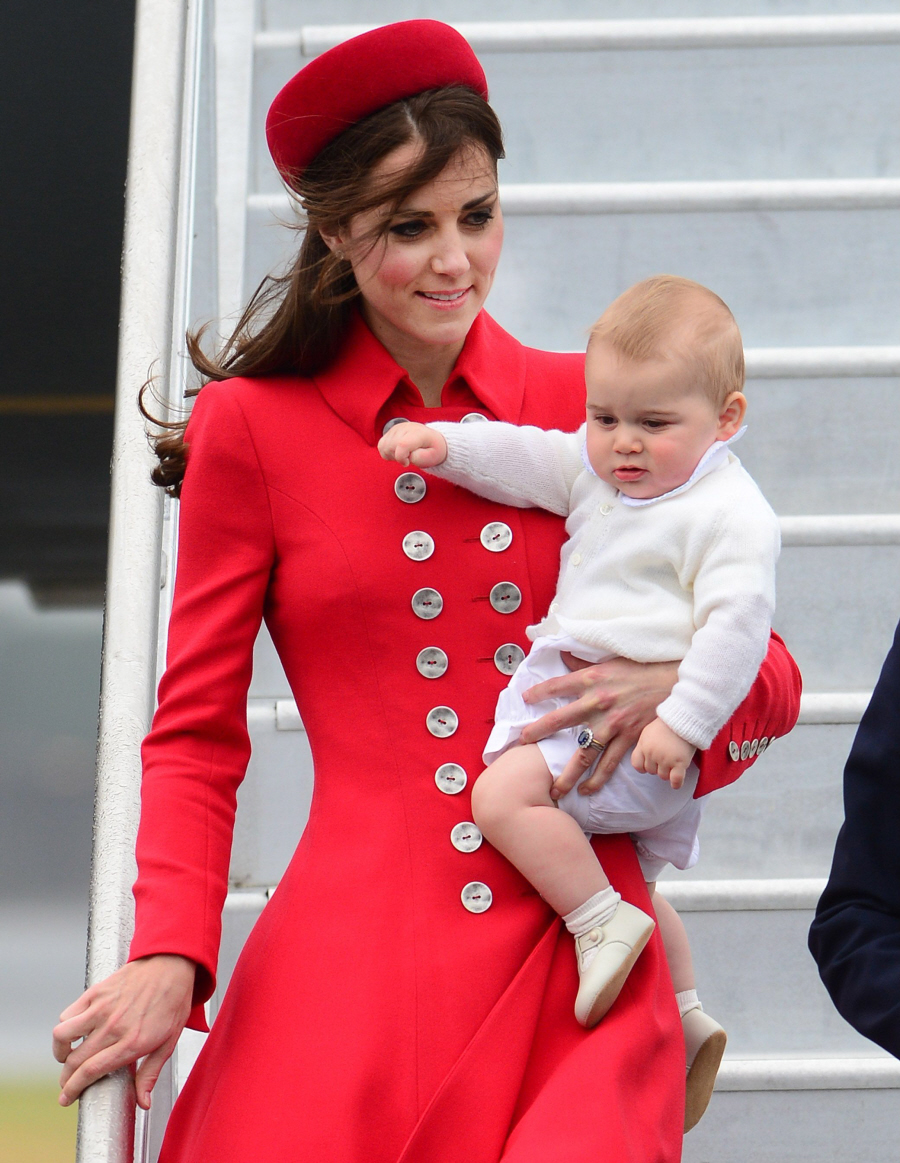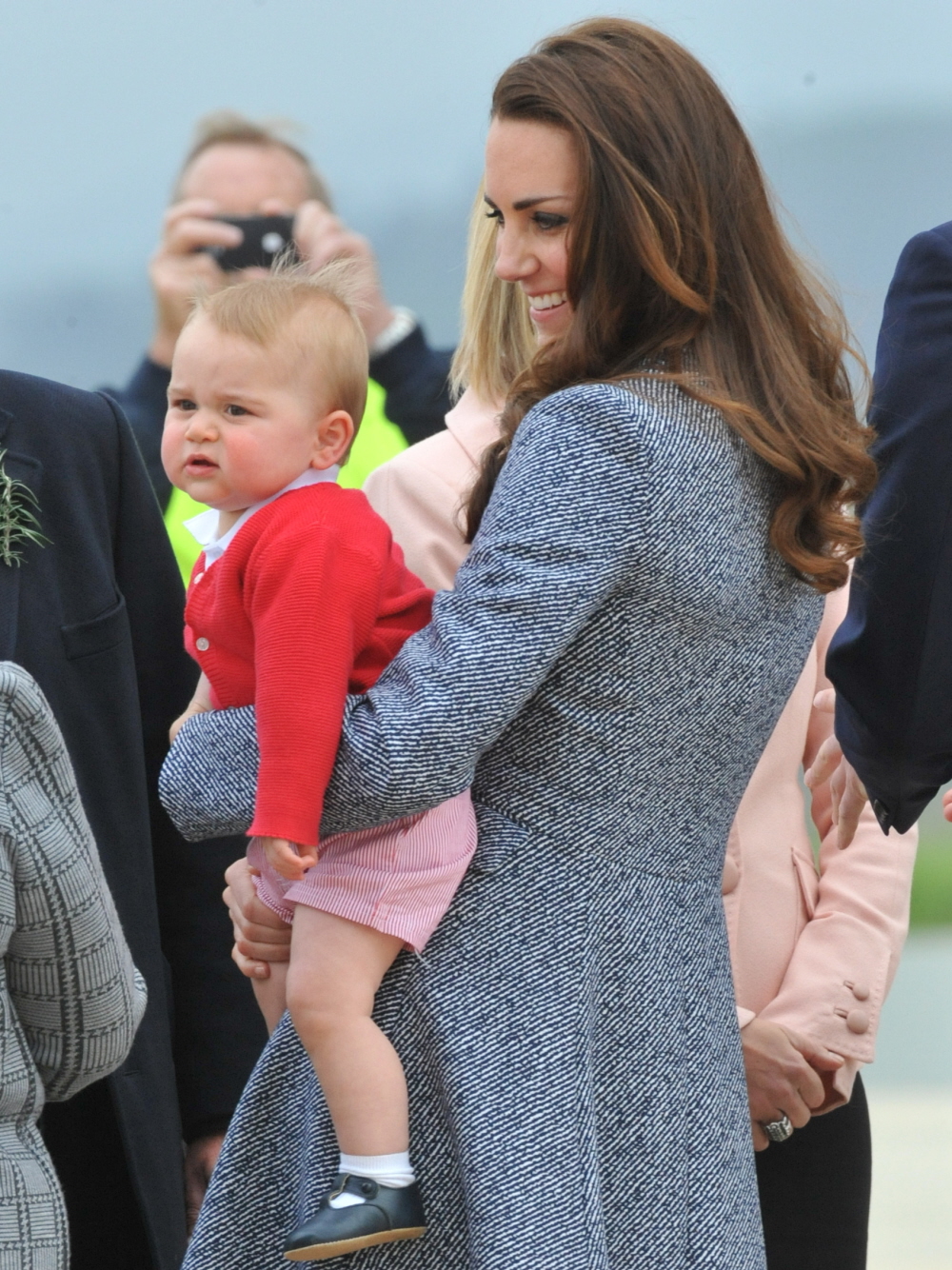 Photos courtesy of WENN, cover courtesy of VF.