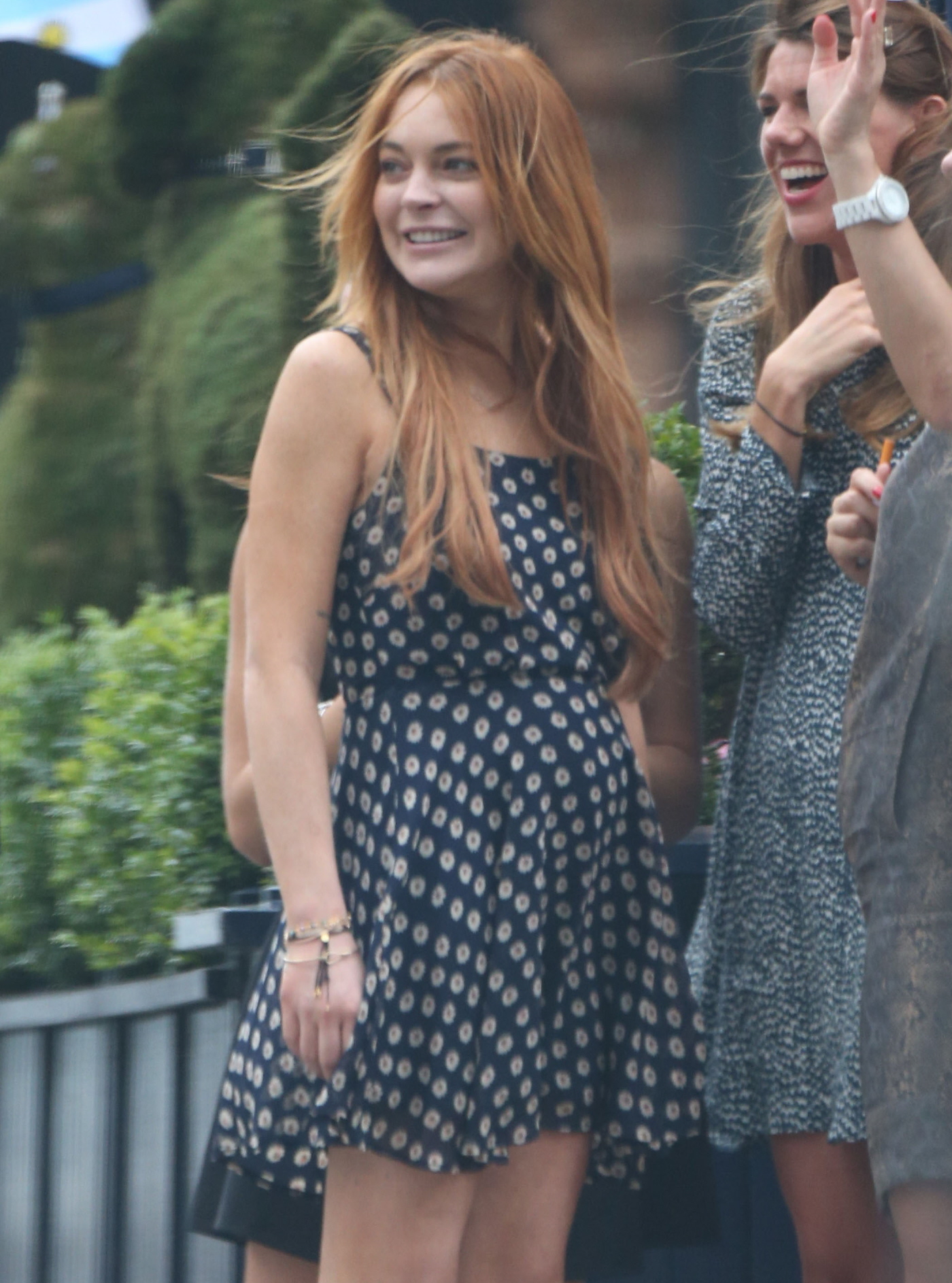 Here are some pics of Lindsay Lohan at the Goerge Bar in Mayfair over the weekend. It's weird to me that she seems to have young female friends in England. I barely gave it a second thought that she's at a bar though. She never stopped partying and I would imagine she's got dealers and enablers all over London. There is definitely an element to this that is definitely "crackhead is crackie, has crack delusions, news at 6." But what I find interesting is that Lindsay Lohan really has found some kind of weird legitimacy in London. While I know England breeds the same kind of lower-tier celebrity culture (like America), I'm amazed that someone at the BBC thought it was appropriate to sit down with Lindsay Lohan and ask for her thoughts on life, her career and celebrity culture.
Lindsay Lohan wants a do-over—and she wants to do it in London. Speaking to the BBC before she makes her West End debut in David Mamet's Speed-the-Plow later this year, the movie star opens up about her troubled time in Hollywood and the next chapter in her career.

Performing in front of a live audience will be a new challenge for Lohan. "I think you go through phases in life and you hit this wall where you kind of want to do something new and experience something different," the 28-year-old actress says, "and I think I just am in a place now where it's the right time."

Unlike her days on the set of Georgia Rule, Lohan is determined to behave professionally. Asked if she'll miss any shows this fall, the actress says, "That's not going to happen. That's not in the cards. It's not."

Lohan knows she faces an uphill battle. "People have certain perceptions of me. For a long time, people looked at me as kind of a celebrity, which is something I never wanted…That's not what I got into this industry for. I've been doing this since I was 3 years old and I've been on set since I was 6. People kind of forgot that, and I think now is a good time," she says of her comeback. "And what better than to do it with the great people that I'm working with on stage in London…so that people can focus on the fact that I'm in this industry because I'm an actress and an artist and not just someone you take photos of?"

Lohan's name became synonymous with partying, and her frequent legal troubles didn't help matters.

"I don't understand the crazy fascination with me because it kind of scares me. Even when I'm not doing anything, they create something that I'm doing. But I'm so numb to it at this point that it doesn't affect me personally," she says, "whereas in the past I think it did a little bit and I was out in L.A. on my own."

In hindsight, would she do anything differently? "There are certain things that I would change—I've put myself in bad situations—but I don't regret anything that's happened because I wouldn't be who I am today, I wouldn't have learned the things that I know, I wouldn't be here doing this right now," she says. Today, Lohan keeps a "very small group of people" around her and says she's "really big on feeling safe."

Still, the Liz & Dick star is wary of the world. "I think my friends think I'm neurotic sometimes and I'm a little crazy, but I will hear a flash of an iPhone camera," she says. "I'll hear the shutter from a mile across the room or I'll feel it. I'm so used to thinking like that and feeling almost paranoid sometimes."

Though she eventually moved back to New York (as seen in her eight-episode OWN docu-series), Lohan is now considering become an ex-patriot. "I think I am making the move to come over here…I've noticed when I'm watching the news here and such, you guys have such a different outlook. In the U.S., starting at 5 p.m., it's TMZ and all of these shows that are just talking about people's personal lives that are in the industry. Here, I don't notice any of that. It's more news and politics and music," she tells the BBC. "It feels really good to be able to turn on the TV and not see everything be about gossip."
She also gave her same-old talking point when she was asked about when she went off the rails, saying, "I never experienced going to college—I never went to university. I was living that out in the public eye." She's 28 years old. By now she's done her BA in Coke Snorting, an MFA in Boozehounding and a PHD in Crack Delusions & Shenanigans.
As for the rest of the interview… how many times are we going to do this? "Of course I've learned my lesson, I fell in with a bad crowd, I was never as bad as they said, gossip is so toxic, my mom keeps me straight, I'm better now, I'm clean now, I'll never mess up again, when I messed up it wasn't my fault, I'm a private person, I'm sober now, I hate being photographed…"
PS… Yes, she looks pregnant in these pics. Ugh.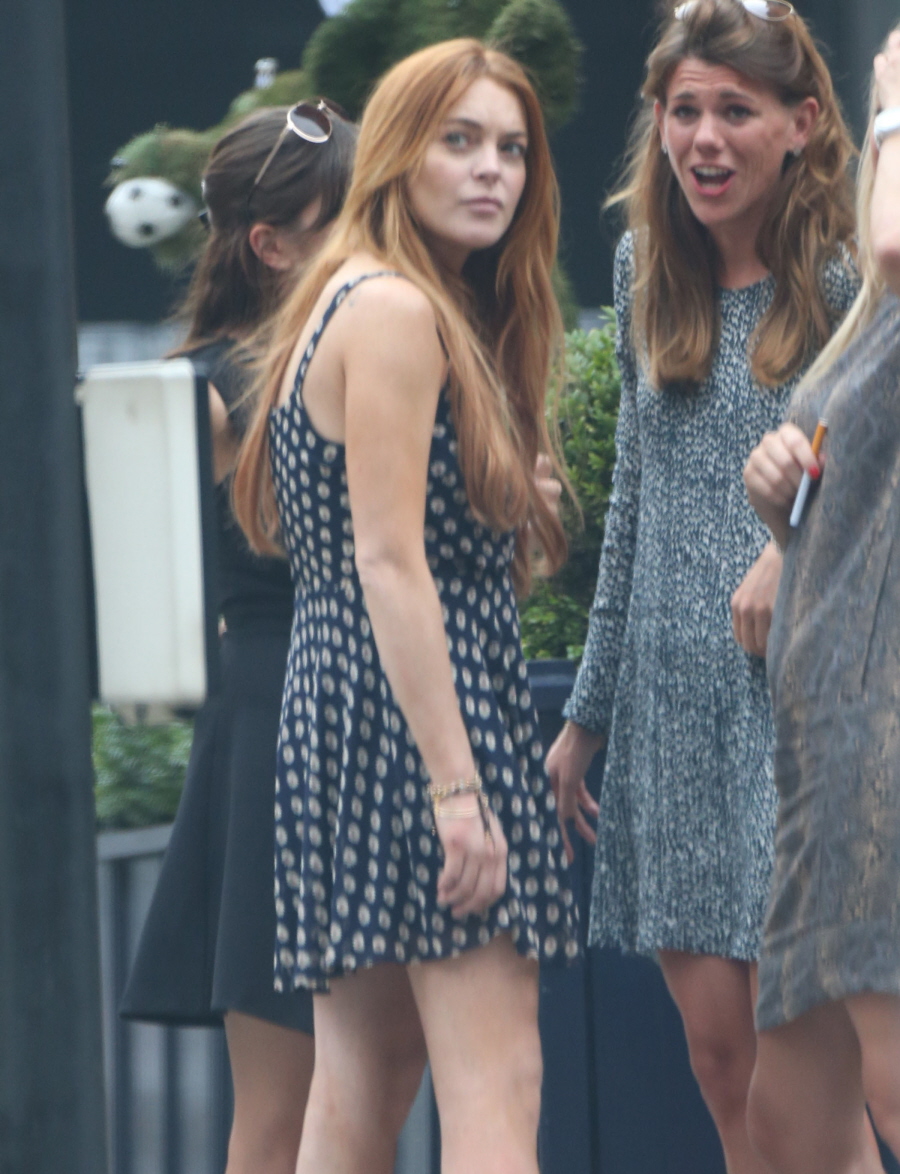 Photos courtesy of Fame/Flynet and Pacific Coast News.