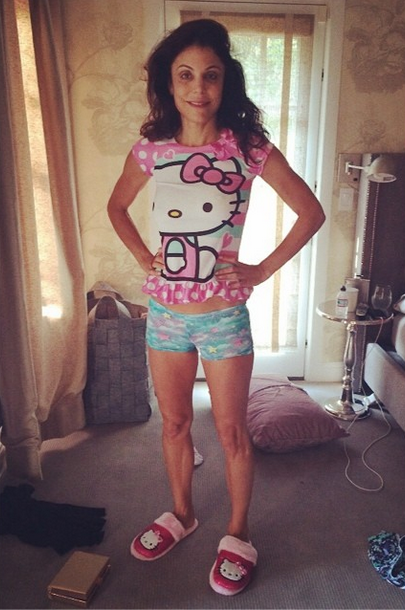 Yesterday we covered the story that Bethenny Frankel had worn her four year-old daughter Bryn's pajamas and posted the photo to Instagram. Bethenny captioned the photo above "This is my daughter's nightgown and PJ shorts. Think we're ready to start sharing clothes yet?" The message was all about fitting into a four year-old's clothes, although many people questioned whether Bethenny was actually wearing Bryn's clothes or whether she had bought a larger size for herself to show off. I do think that Bethenny had on her daughter's nightgown as a shirt and that she squeezed into Bryn's shorts in order to prove how tiny she is.
After Bethenny received a lot of well-deserved backlash for that photo, she tweeted a sarcastic defense, claiming that her daughter asked her to do this. Why didn't she tweet that originally then?
When ur 4 year old peanut says "mommy please put my dress on" & giggles uncontrollably, u do what ur told. @Squirrely007

— Bethenny Frankel (@Bethenny) July 14, 2014
BREAKING NEWS! World Scandal: Former reality star, failed talk show host & cocktail maven jokes by wearing her kids' pjs! #itcantbetrue

— Bethenny Frankel (@Bethenny) July 14, 2014
What will be convenient & economical is if I have another baby & wear their diapers when i'm in adult diapers. #frugalmom

— Bethenny Frankel (@Bethenny) July 14, 2014
If your kid is like "mom, try this on," why would you try it on and then post the pic online? You would do that for attention and validation, not to make your kid happy. I can see taking a pic of it, but then keep it to yourself or email it to a few friends.
The adult diapers quip was pretty good, but this is all about Bethenny trolling everyone for attention. This has nothing to do with making Bryn laugh. It also speaks to some disordered body issues, which I hope she doesn't pass on to her daughter.
Radar Online has a story quoting an insider who claims that "The woman is absolutely desperate for attention… She has nothing going on right now besides Skinnygirl." That's kind of a no-brainer. I also found some recent interviews that Bethenny did promoting her latest Skinnygirl ventures. I'm not linking to those because that's what she's aiming for – promotion for her products. You too can fit into a preschooler's clothes if you switch out your alcoholic beverage of choice for a Skinnygirl libation!
Here are photos of Bethenny signing her new children's book, Cookie Meets Peanut. The lawyer for her ex, Jason Hoppy, claimed in court that "The book has the Skinnygirl logo throughout the pages." He also accused Bethenny of using Bryn as "a prop" to promote her business.