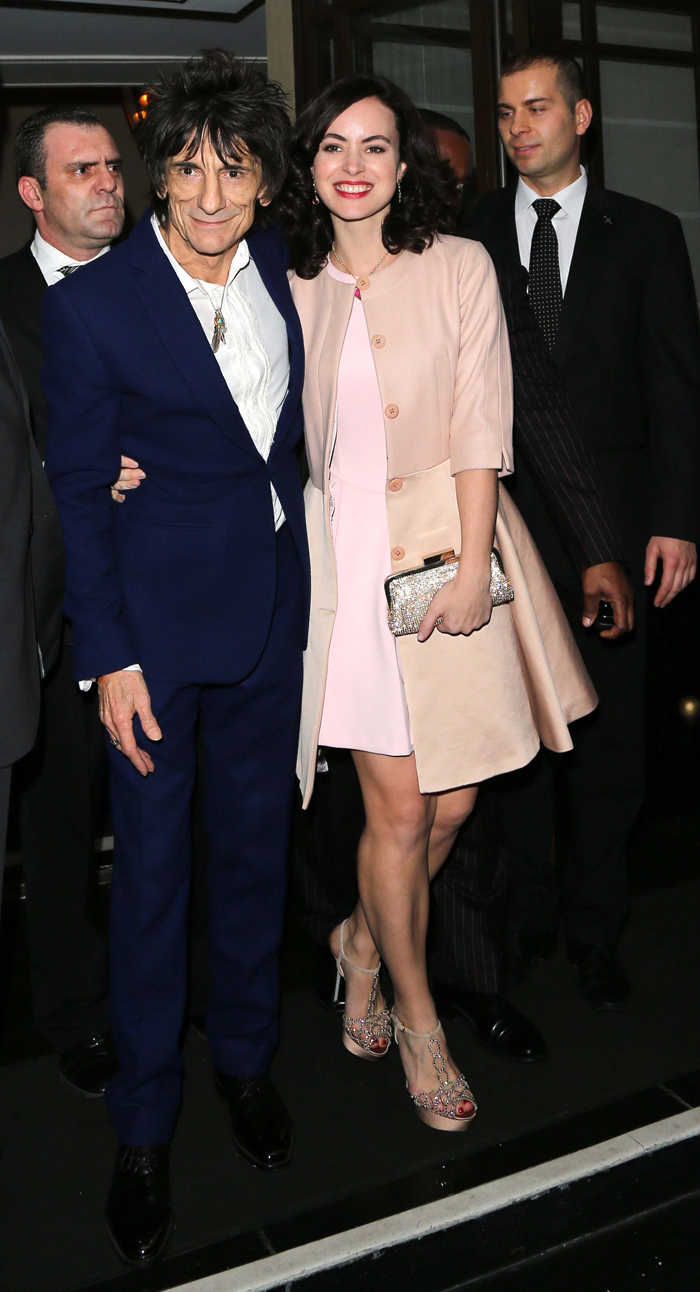 Ronnie Wood married Sally Humphreys in December 2012. This was (only) his third marriage, which is a pretty small number for a rock star. I jest. Ronnie and Sally seem very happy together now, but their wedding caused a huge family rift on Ronnie's side. There were arguments about money and how Ronnie had left his second wife, Jo, for a Russian waitress who was 18. Then Ronnie fell for Sally, and her parents gave the couple their blessing even though Ronnie was 65 and Sally was 34 when they wed.
Sally isn't exactly a trophy wife. She still runs her own theater production company in the West End and does charitable work for underprivileged children in the arts. Sally has a new interview with the Telegraph, and Ronnie pops into the conversation to rave about his fast-growing Wisteria plant. Sally says she was surprised by their romance (they met when he displayed work at her art gallery). Being married to Ronnie has made Sally a step-grandmother to 8 children, and she says they call her "Auntie." Their life together sounds really tame by rock-god standards:
Does she think about the age gap? "Um, well, I know it's there. And I wish it wasn't, but it is. I think I had to say 'I can't do this because of the age,' or I just had to let it go and take it all on board. At no point, years ago, did I say to myself: 'I think I'll go out with someone twice my age,' but that is what has happened."

She's a sober influence on Ronnie: "Come and see the non-drinking fridge!" she exclaims, taking me over to one of the many refrigerators in the house. It is filled with cans of Coke and energy drinks.

They do jigsaw puzzles together: "We like them because they are very good for the brain." Backgammon is another passion of theirs. The Stones have just finished touring, and Sally organised a backgammon tournament for everyone. It will resume when the tour strikes up again in October.

Ronnie chimes in on pasttimes: "Box sets. Being on tour jetlags you. So we watch 19 murder mysteries in a row. And Orange Is the New Black. And Fargo. We watch loads of box sets on the road, too. Even with Jagger I go, 'Let's go and watch House of Cards.' And he told us about Game of Thrones. Breaking Bad is the best. When Aaron Paul [who played Jesse Pinkman in the show] came backstage at a gig, that caused more pandemonium than even the band."

Sally says time is precious: "Things can change in an instant. I had a very good friend who I was working with when I was getting together with Ronnie, who said, 'You don't have all the time in the world.' And he wasn't referring to Ronnie's age, but to me. And I thought that was quite a good point. I had to just make the decision to say, 'Actually, I'm with Ronnie, this is who we are and this is what we are doing together."

On being a Stones WAG: "It's Ronnie who is famous. I'm just with him. I mean, you can't help but sometimes read the stuff online, where they say you're wearing a nightmare pair of shoes or that you're older/younger/thinner/fatter than whoever. But you can't obsess over it, because it would drive you mad. And actually, if that is the worst thing that is happening in my world then really, I am tremendously lucky."

Will she and Ronnie have kids? "Umm, yeah. There's no plans but there's no non-plans, if you see what I mean. As time ticks on, I would like children. I don't know if I will but I would like them, and if not then I feel lucky to have little people around me anyway. A baby would be nice. Obviously we've spoken about it quite a lot, and you can ask him and his response would be, 'Well, that would be nice.' He's up for it. He's got a lot of friends that are older who have younger children and they all say it's fantastic and it keeps you young."
[From Telegraph]
I cannot even imagine trying to parent a baby in my 60s. I cannot even imagine doing so in my 40s. My teenage daughter exhausts me, and a baby is even more demanding. So it seems strange to me that some men choose to become fathers in their 60s. Ronnie wouldn't be on diaper duty by himself though. Sally is still in her 30s, and they'd hire some help too. It sounds like Ronnie's age does weigh heavily on Sally's mind, but it's not like she didn't know his age going into the relationship. They seem pretty solid. I can't believe the Stones play backgammon and mainline Netflix on tour. That's kind of amazing.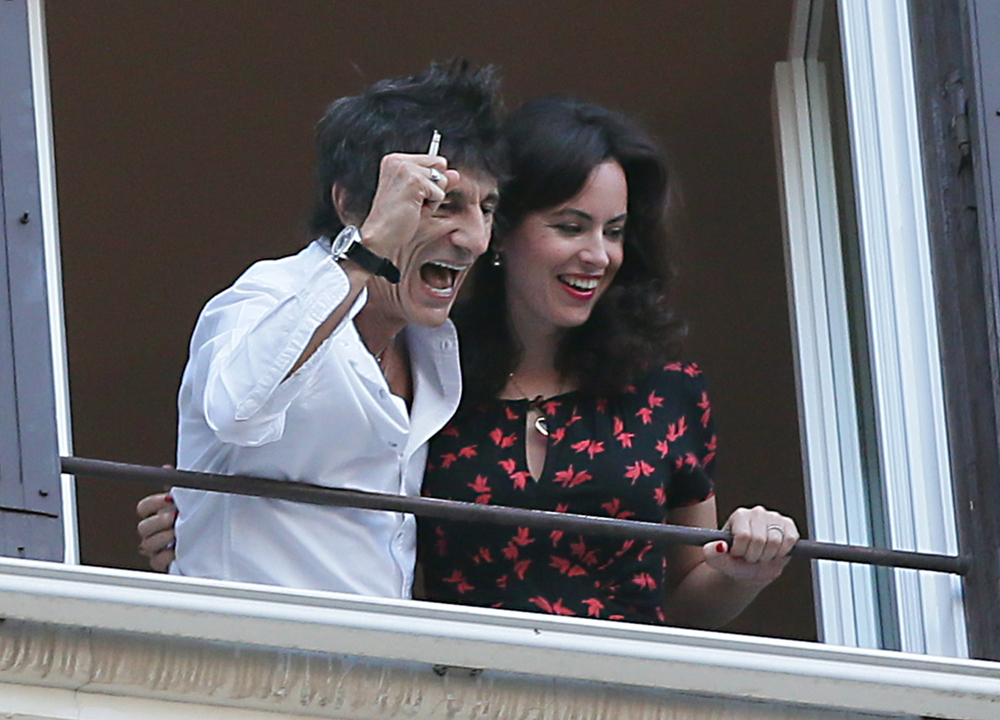 Photos courtesy of Fame/Flynet