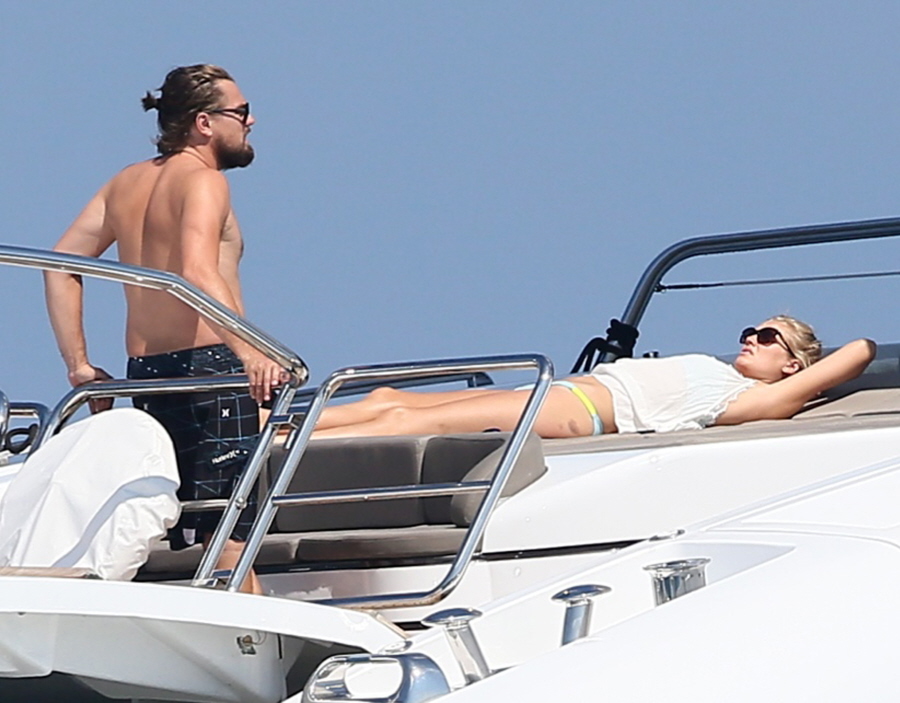 As I mentioned yesterday, Leonardo DiCaprio was/is in St. Tropez. On Wednesday night, he held a big-donor fundraiser for his foundation. Now that he's in Europe, he has graciously allowed his girlfriend Toni Garrn to come onto his pleasure yacht, although she can only come aboard if she appreciates his sweet karate moves. Another prerequesite? She must be okay with Leo hiding behind umbrellas so that they won't ever be photographed together. I'm including one of the umbrella photos – that was before the fundraiser, on Wednesday afternoon.
I'm also including some pics of Leo and Toni on Thursday, post-fundraiser, as he didn't seem to mind that they were photographed swimming and sunbathing together. With the drops of water on his beer gut glistening in the sunlight. Ah, St. Tropez. A sunny place for rich old men and their 23-year-old model girlfriends.
As for Leo's fundraiser, it was called The Leonardo DiCaprio Foundation Launch Gala. Or something. I guess that was the formal name? Sure. Some big name celebrities turned out: Robin Thicke, Selena Gomez, Bono, Marion Cotillard, Julian Lennon and more. Leo auctioned off his Harley-Davidson motorcycle, which he, Martin Scorsese and Robert DeNrio had signed. Bono auctioned off one of his guitars. Leo also auctioned off a walk-on role in one of his next films. All in all, he raised $25 million. So what does the money go towards? Animals, conservation… something like that. Leo told the crowd:
"The wild species that depend on us to protect their habitat, like Tigers whose numbers have plummeted to under 3,200 left in the wild, or African elephants, who are being slaughtered at a rate of over 30,000 a year for their ivory tusks — they have no voice. We must be their ambassadors. We must be their protectors. We must stop their slaughter.'
Wanting to stop the slaughter of elephants and tigers is a noble endeavor. But if I had the millions of dollars to donate to help stop the slaughter, I think I would give it to the World Wildlife Fund or the International Fund for Animal Welfare, you know? I've just started to develop a real aversion to these celebrity foundations where it seems like half the donated money is just going towards bloated media budgets or bloated paychecks to the celebrity's relatives. Lukas Haas is probably on the "board" of Leo's foundation, I'm just saying.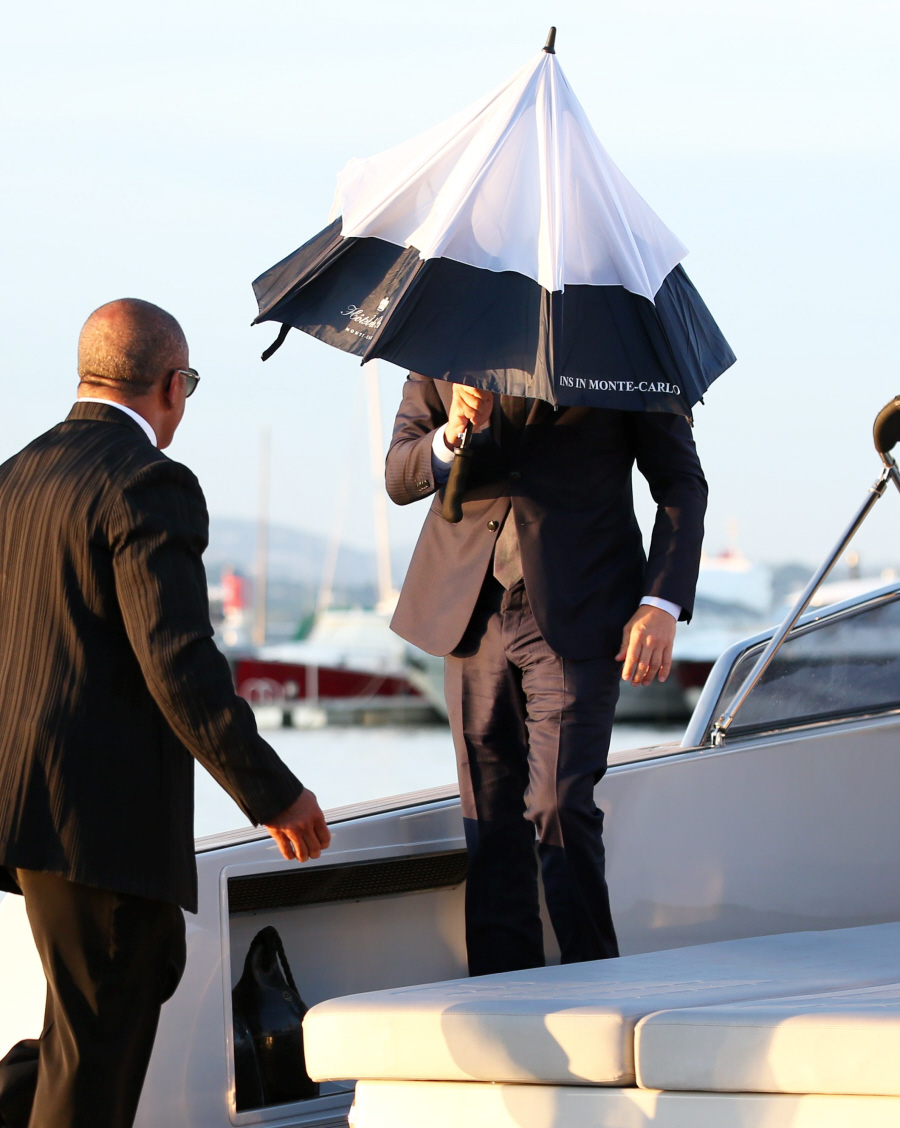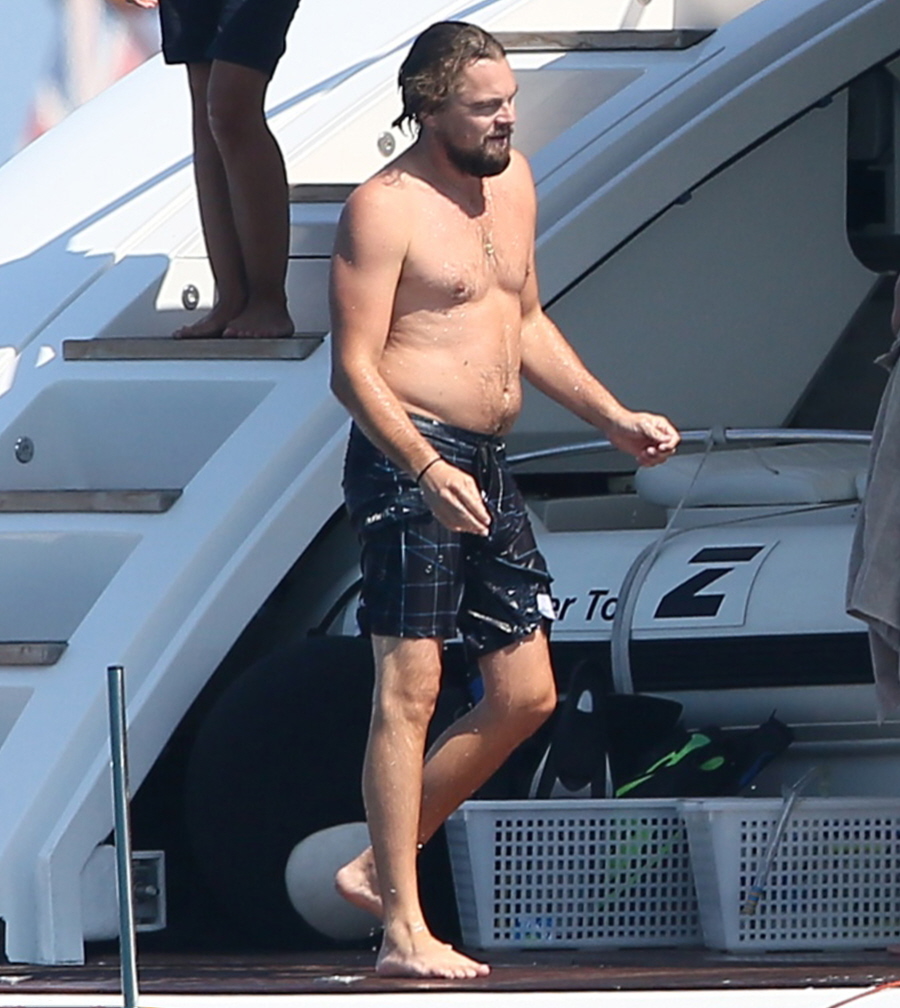 Photos courtesy of Fame/Flynet.