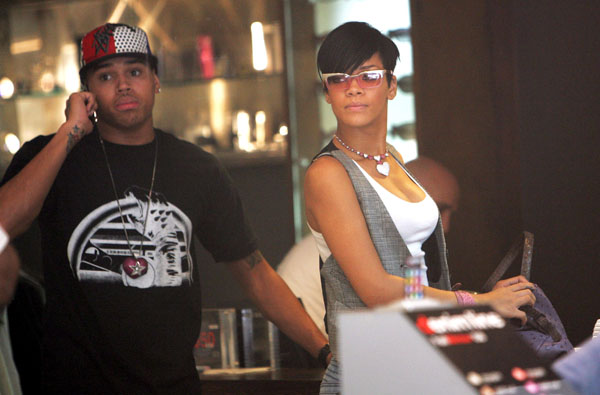 While the public at large has turned its back on R&B singer Chris Brown, the one person who should be keeping the farthest away from him seems to be his only friend at the moment. Sources say that battered girlfriend Rihanna is in regular contact with Brown and wants to reconcile with him in spite of his violent treatment of her – and her family is beside themselves about it.
Rihanna is defying worried family and friends to talk to her remorseful lover Chris Brown and arrange super-secret meetings with him, The ENQUIRER has learned.

Shockingly, the talented pop singer has not only forgiven the R&B bad boy for punching her during a violent spat, sources say she's already taken him back!

"Even after what Chris did to her, Rihanna is crazy about him and she's forgiven him," a source close to the leggy beauty told The ENQUIRER.

"They've been talking on the phone, and they've agreed that once the legal problems are ironed out, they'll be together. But as far as Rihanna is concerned, she's already taken Chris back.
"They've missed one secret get-together, and now they've vowed to meet at a secret rendezvous location outside of Los Angeles."

An insider added: "Everyone is advising Rihanna to stay away from Chris and concentrate on her career. But she won't listen. She's been talking to Chris on the phone, and she's made it clear she doesn't want their romance to end.

"Both she and Chris are feeling extremely low. Each one feels the fight was their fault."
As someone who used to work as an outreach counselor for battered women, there is nothing more frustrating and terrifying than a woman who refuses to leave her abuser. It's also very common for the victims in these cases to blame themselves – but the reality is, there is no amount of "jealous behavior" that warrants this kind of violent treatment. Chris Brown is bigger and stronger than Rihanna and used this against her to bully her and control her. Period.
The belief that he is "remorseful" is also part of the abuse cycle. The ability to control his victim through acting remorseful is key for the batterer – he can turn it on and off at will. Rihanna is young and probably hasn't had a lot of experience with relationships, so she hasn't learned this yet. Her family is trying to spare her more pain and most likely, more violence. Hopefully she will realize this and stop all contact with Brown. But I fear she may learn this the hard way.
Rihanna and Chris are shown in November, 2008 in Australia. Credit: Fame