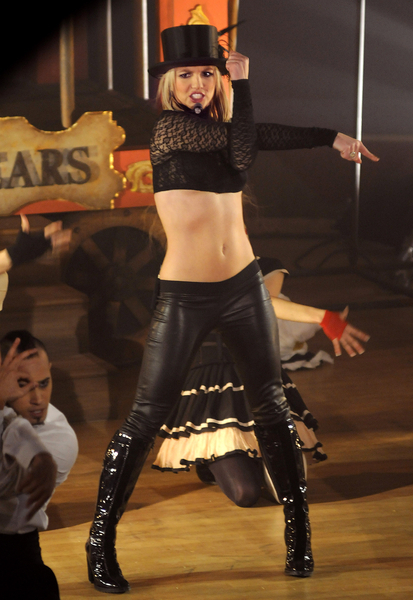 It's clear that Britney Spears' recovery over the last year is due in large part to her father, Jamie Spears. Since Jamie stepped in as conservator of Britney's estate, the pop star has resumed her career and rebuilt a relationship with her two little boys. But some people have expressed concern that Jamie Spears is also responsible for pushing Britney back into the spotlight before she was ready – possibly because the entire Spears clan lives off of Britney's income. Numerous sources close to Britney say that this comeback was rushed at the possible expense of her long term mental health because her finances were in bad shape – which could have spelled disaster for Brit's entire family, including her parents, siblings and of course ex-husband Kevin Federline.
"The Spears family can't afford to have Britney take any more time off," a source tells Star. "They have all become completely accustomed to the high life, thanks to her, and they don't want that to end."

Even in 2007 – when Britney barely worked – the singer made a mere $737,000 a month, court documents revealed. But thanks to her hit CD Circus, personal appearance fees and the launch of yet another fragrance, Hidden Fantasy, she's now making more than twice that amount.

And she will need the extra cash. Insiders estimate that in 2009 she'll end up spending a phenomenal $7.4 million on her entourage alone – including family, psychiatrists, agents, bodyguards, stylists and touring performers!

"Britney spends the bulk of her earnings on her staff," one industry insider reveals. "She refuses to be alone – ever." Her $100,000 a year assistant Brett Miller is a constant companion – and sources reveal she has just rehired longtime aide Felicia Culotta.

Hanging with Brit has its perks. " She treats them to manicures, pedicures, massages and clothes," the insider adds.

…During her promotional tour for Circus, she traveled with her management team, her dad, Jamie, her brother Bryan, dancers, stylists and makeup artists- and they got first-class treatment everywhere.

…Dad Jamie gets more than $200,000 per year for acting as conservator of her estate, while her brother Bryan – who married Graciella Sanchez, one of Britney's managers – is paid the same handsome sum for helping oversee her trust. "Sometimes, Brit wonders why she has to pay her dad so much, because there are days when all he does is watch sports and make grits and pie," says the insider. And Britney also hands out $180,000 a year to her mother, Lynne.
[From Star magazine print version, March 2, 2009]
The article goes on to say that Larry Rudolph, Britney's manager, rakes in about $1.5 million a year from his famous client, while her bodyguards make about $150,000 a year each. K-Fed receives about $480,000 a year in child and spousal support from his famous ex – and now that he's agreed to allow their sons to join Britney on tour, he's getting an extra $5,000 a week. I'm not sure why. But as you can see, Britney Spears is a one-woman economic stimulus package – of course everyone wants to keep her working!
Britney is shown performing on 12/2/08. Credit: PRPhotos