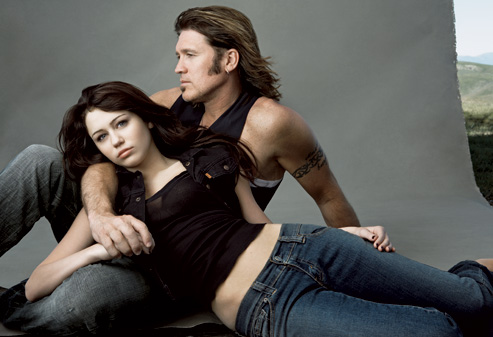 In October Celebitchy reported that Miley Cyrus was getting a whopping $4 million for her autobiography. I know, I'm still upset about it too. According to the Huffington Post, Cyrus' work has turned into more of a memoir (I had to Wikipedia the two to distinguish the exact difference, and it turns out it's that a memoir is less structured… which makes sense, coming from a teenager).
The Associated Press got an advanced copy, and discovered Miley is pissed at the media for implying that there's something creepy about her relationship with dad Billy Ray.
Miley Cyrus doesn't like to admit it, but she's bothered by people who think there's something wrong with the bond between her and her dad, singer Billy Ray Cyrus.

"The media has said some stuff about my dad and me being too close and too cuddly for a father and a daughter," the 16-year-old actress-singer writes in "Miles to Go," a new memoir. "For me and my dad it's not weird at all."

Cyrus' memoir, written with Hilary Liftin, will be published next month by Disney-Hyperion Books. The Associated Press purchased a copy put on sale early.

She doesn't directly mention last year's photo shoot for Vanity Fair, when she is shown reclining against her father, his arm around her shoulder, both of them somber and bare-armed _ an image many found suggestive. But she does write that she loves her father (who co-stars on her "Hannah Montana" show), isn't afraid to show it, and "we don't let other people tell us what expressions we're supposed to have on our faces when we take a picture together!"

Acknowledging that fame inevitably attracts criticism, she writes of being hurt by comments posted about her on the Internet and concludes that some people are "so full of anger, hatred and bitterness."
[From the Huffington Post]
Just because someone points out that Miley has an unusually close relationship with her dad doesn't mean they're filled with "of anger, hatred and bitterness." I suppose it can depend on the context of what was said, and I'm sure it's natural to get defensive over something like that. Miley and Billy Ray don't have to alter their relationship to make it look like something more distant so that everyone else feels more comfortable with it. And similarly, the rest of the world doesn't have to smile and zip their lips while acting like there's nothing unusual about their father/daughter relationship.
Honestly I see that it provides fodder for jokes, but for the most part I think it's nice that they're so close. People can and will twist things, and that sucks for any 16-year-old. Most of us have to go through it on a high school level, but Miley has to deal with it in a much more public way. So it's logical that her reaction is going to be a bit bigger too. I'm not sure that it's appropriate to label everyone else some version of sad and pathetic, but it is understandable.
Photos are from VanityFair.com, from Miley's cover shoot last spring.