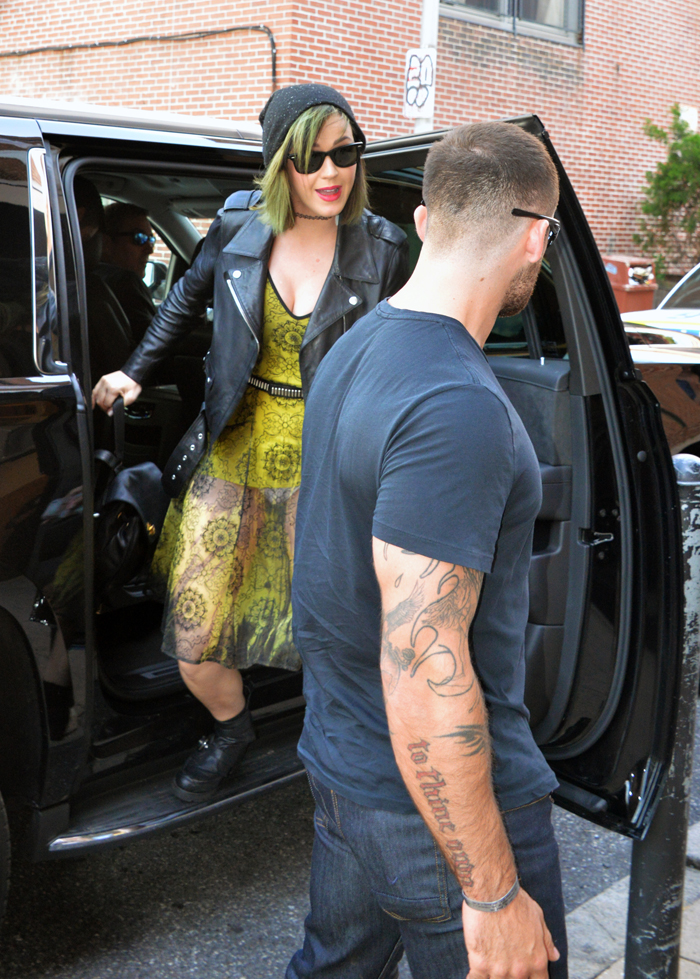 Katy Perry recently made a tour stop in Philadelphia and went hog wild at the museums. This is a photo of her outside the Mütter Museum of medical oddities. (This reminds me that she visited the Salem Witch Museum outside Boston last week.) I've never been to either of those museums. I'm surprised Katy didn't go to the Please Touch museum. That's not a knock! She's into that cutesy stuff, and she'd probably dig it. Philly has the best museums out of any city that I've ever visited (even better than NYC). The Franklin Institute, Academy of Natural Sciences, and Eastern State Penitentiary were all fantastic attractions. Plus there's the Liberty Bell stuff and Betsy Ross' house. Philly is just an awesome city with so much stuff to do.
Anyway. Katy has a new collaboration with Staples called the "Make Roar Happen" campaign, which raises money for school supplies. She decided to "pay it forward" because of her biggest regret in life (besides all of her bad-boy exes). Katy wishes she had a better education. She dropped out of high school in 9th grade, and her education was very spotty throughout her childhood. Katy blames "half-Christian, half-education, I-don't-know-what-they-were schools" and a series of childhood relocations. Her parents are flaky, so I'm not surprised to hear they didn't make education a priority. Here's Katy's thoughts on the situation:
Katy's biggest regret: "I'm kind of bummed at this stage that I didn't have a great education because I could really use that these days."

Her parents' evangelical lifestyle contributed: "I was being pulled out of school even in the middle of school and sometimes being home-schooled. Sometimes we were sent to these really half-Christian, half-education, I-don't-know-what-they-were schools."

One teacher made a difference: "There was a teacher named Agatha Danoff who was my vocal teacher and music teacher at the Music Academy of the West. It was very fancy and I didn't come from any money … and she always used to give me a break on my lessons. I owe her a lot of credit and I appreciate that she looked out for me when I didn't have enough money to pay. She believed in me, so this is how I could pay it forward from that one experience."

Katy's solution: "I've learned to educate myself at this stage and how to continue my education at any age. I'm going on 30 and I'm still very thirsty for information. On tour, we go to different museums and get to soak up all kinds of different cultural experiences."

Performing at the White House for the Special Olympics: "It was an incredible honor and a learning experience. I was very moved by one girl in particular who came up to me and was telling me that she wanted to be seen not for her obstacle, but she wanted to be seen as a mother that she is, a daughter that she is, a sister — all these other things that she is, not just because she has an obstacle in her life. It was very touching to me … I felt a sense of purpose and I don't always feel that way."
[From Yahoo!]
Many of us give Katy a hard time for being vapid. She's certainly culturally insensitive and could do a lot better in that area. A lack of education is no excuse for the racial caricatures she presents onstage and in her videos. Her general vapidity is another story. She wasn't brought up to value education, and that upsets her. Her partnership with Staples is a worthy cause — school supplies grow more expensive every year, and hopefully some parents will get help in that department. Staples is so expensive though, right? Target's prices are much better.
Here's Katy at the Rocky statue outside of the Philadelphia Museum of Art. She was dressed as a pepperoni pizza. Adrian!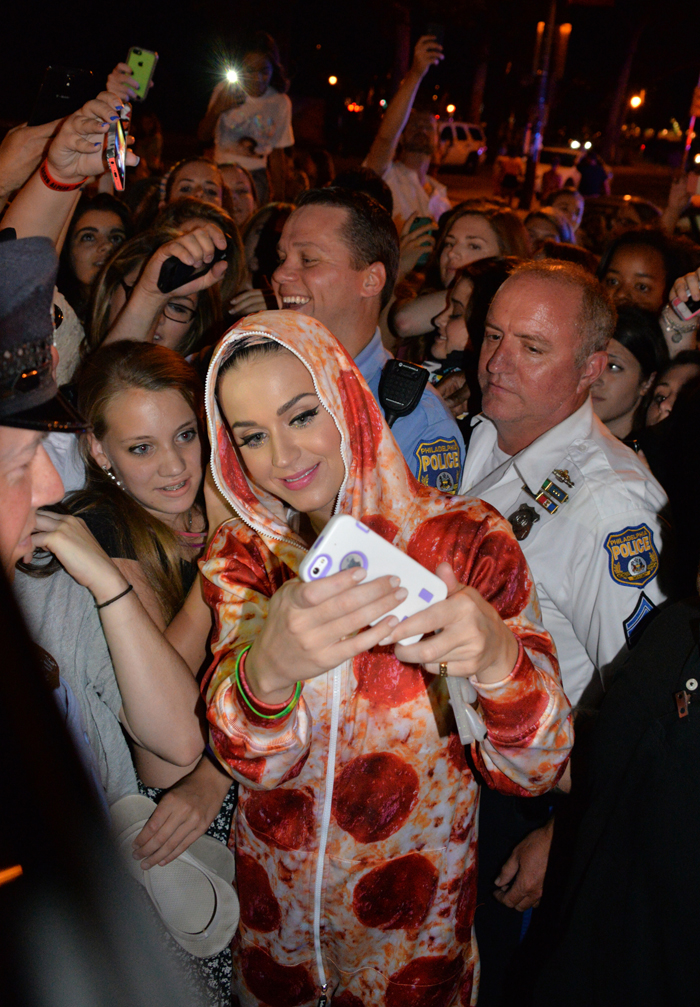 Photos courtesy of Fame/Flynet & WENN