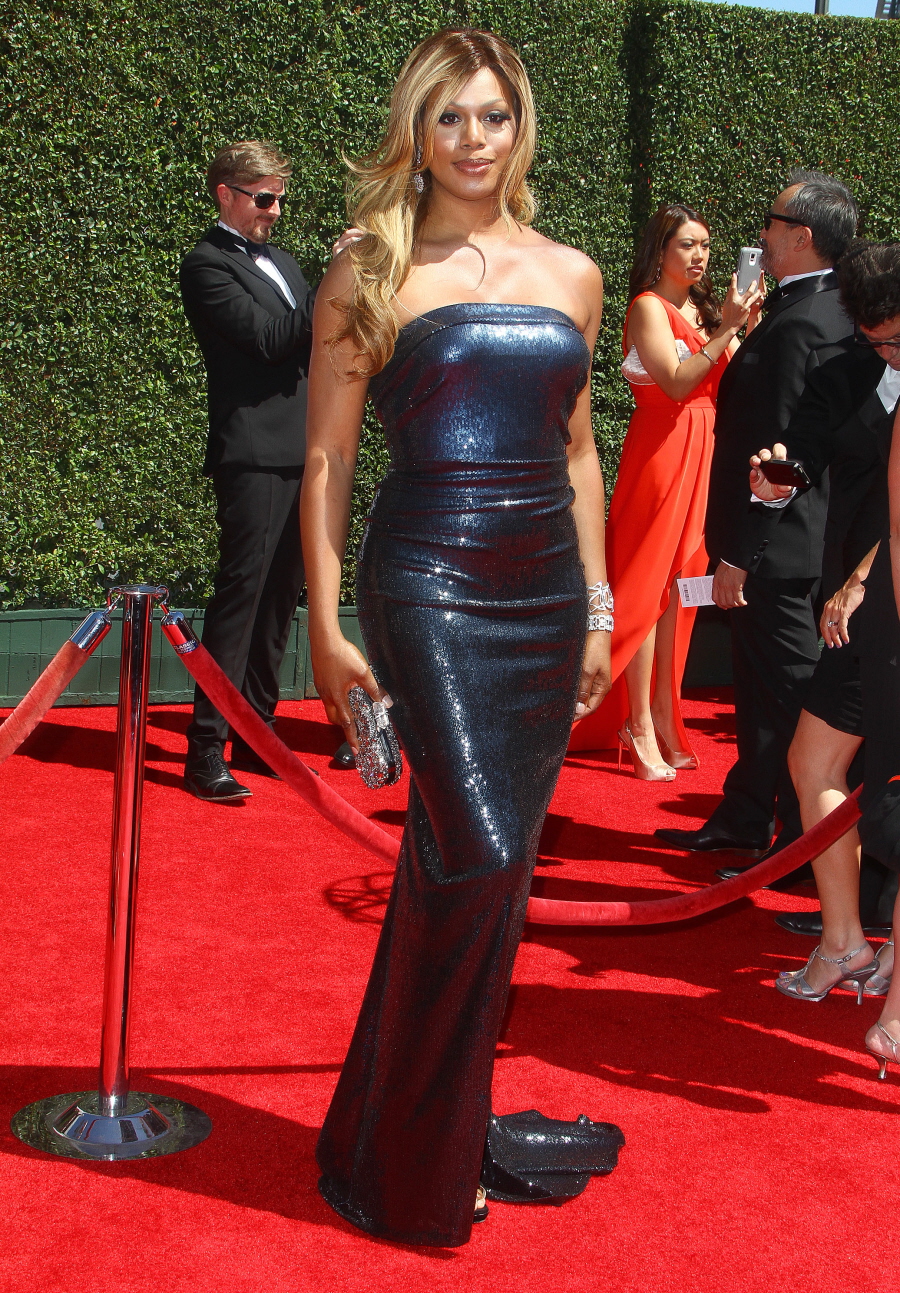 Here are some photos from this weekend's Creative Arts Emmys, which are just the awards for all of the technical, behind-the-scenes people in television for the most part. The Creative Arts Emmys have added categories to bait some bigger-name celebrities to show up, which is why I'm covering some of the photos. If you'd like to see the full list of winners, go here to E!. Lots of wins for True Detective, lots of writing awards for HBO and The Colbert Report. Anthony Bourdain won something. Uzo Aduba won "Outstanding Guest Actress In A Comedy Series" for her work as Crazy Eyes in Orange Is the New Black. Allison Janner won "Outstanding Guest Actress In A Drama Series" for Masters of Sex, which if you've seen the first season, you know why. Janney was AMAZING in MoS.
Here is Laverne Cox, who looks like a goddess! Laverne wore this glittery Donna Karan Pre-Fall 2014. Great color, great fit, great look overall. But Laverne usually has great styling – she really knows how to pull a look together.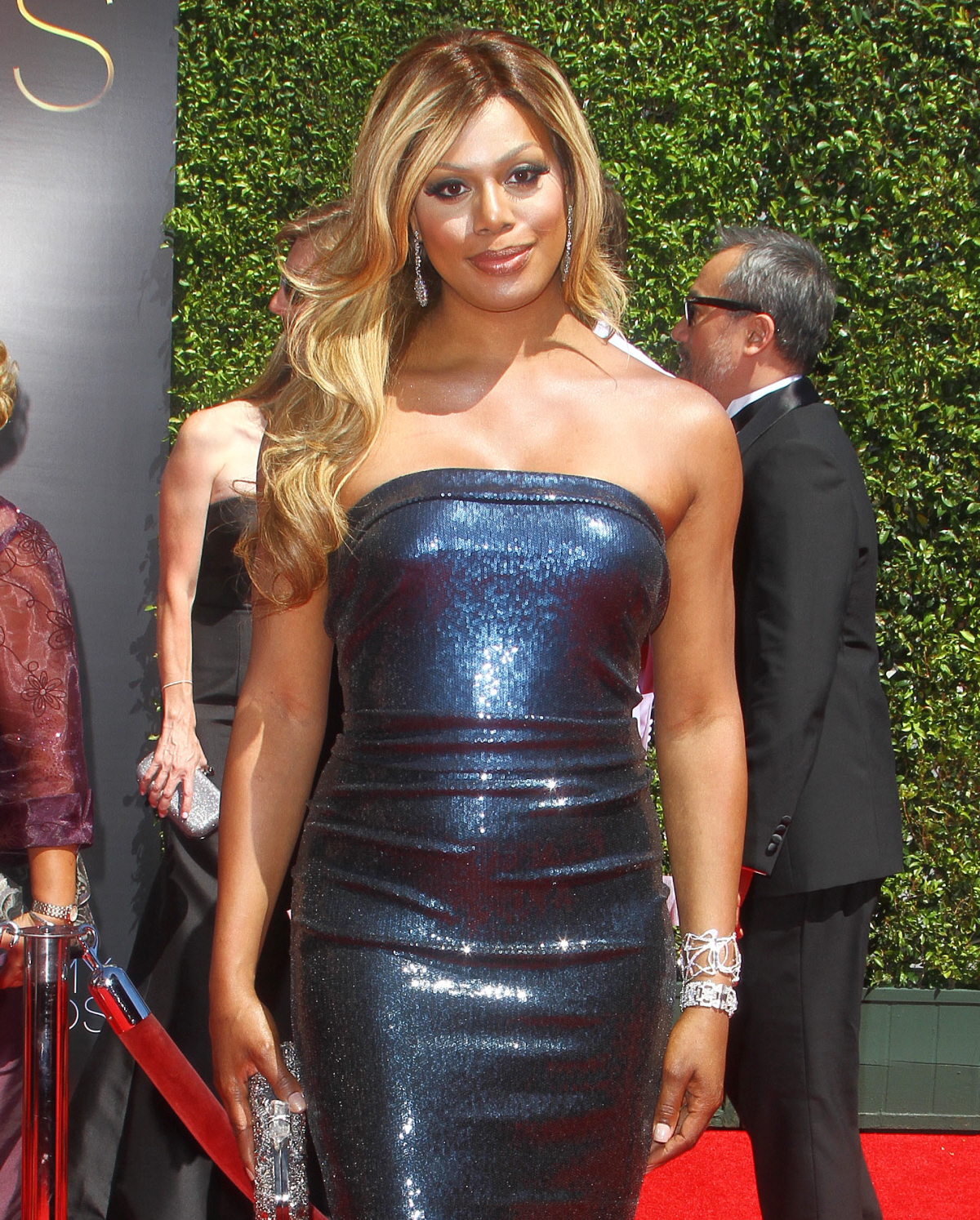 Heidi Klum in Sean Kelly. Don't yell at me, but I actually like this. I get tired of Heidi's architectural looks, so it's nice to see her in something fun and loose.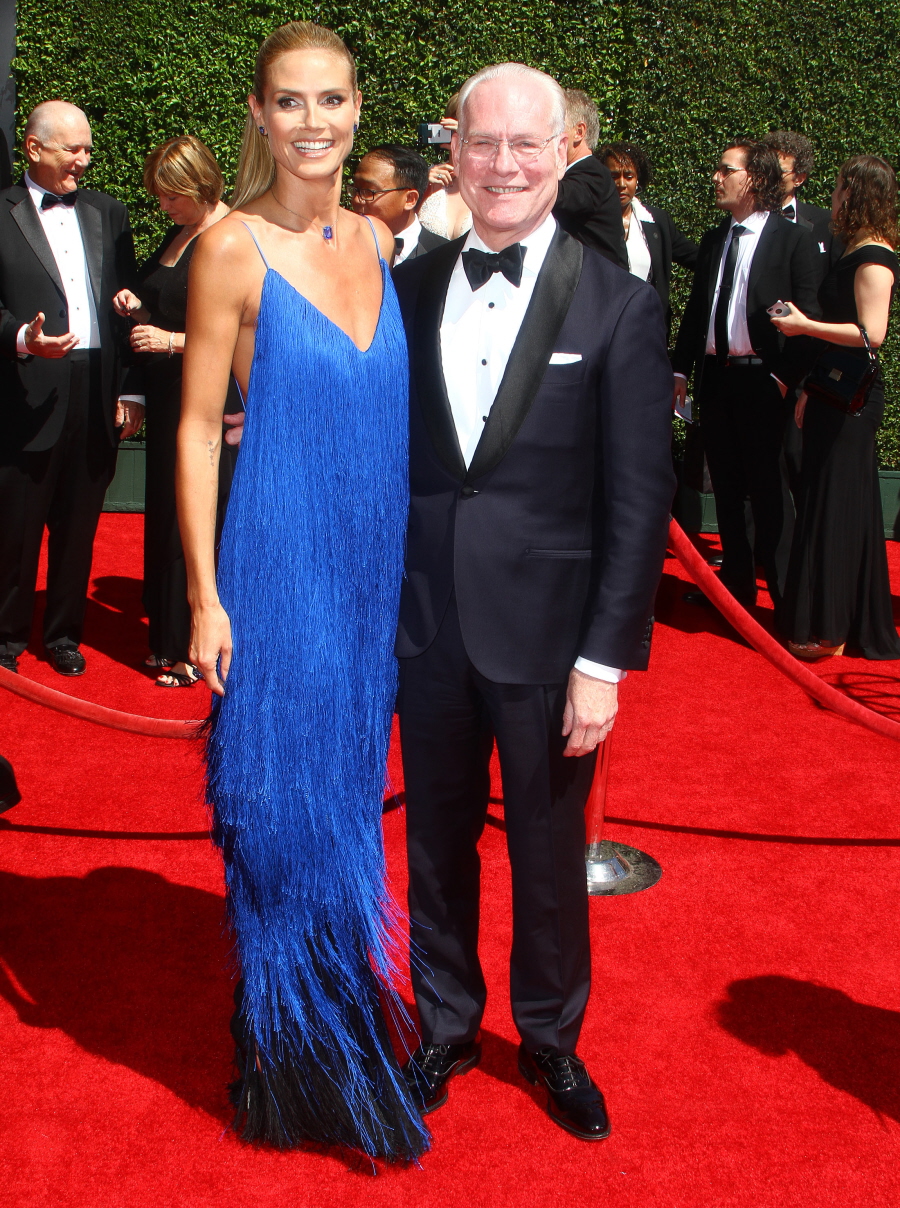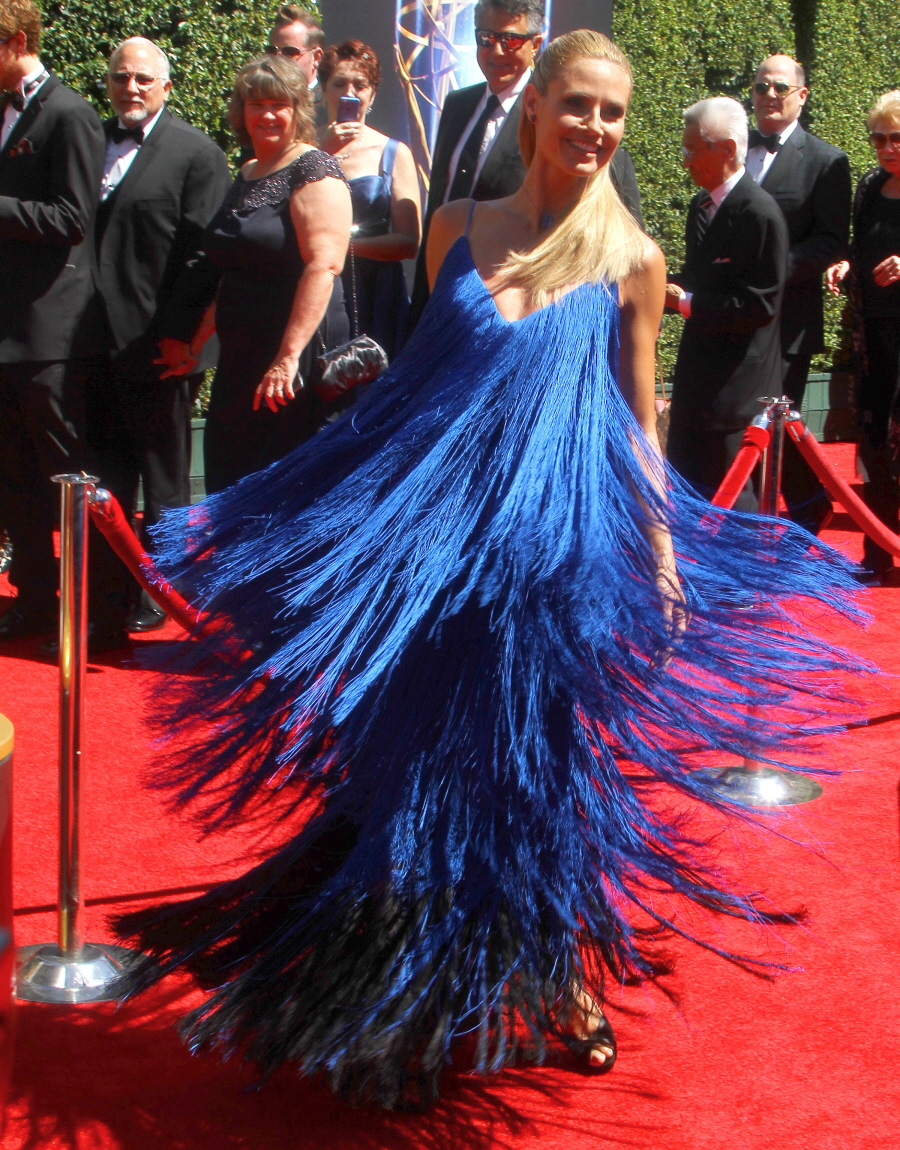 Uzo Aduba is wearing a Costume National dress. She really decked out and she looks really great. When she won her Emmy, she broke down and cried on stage too.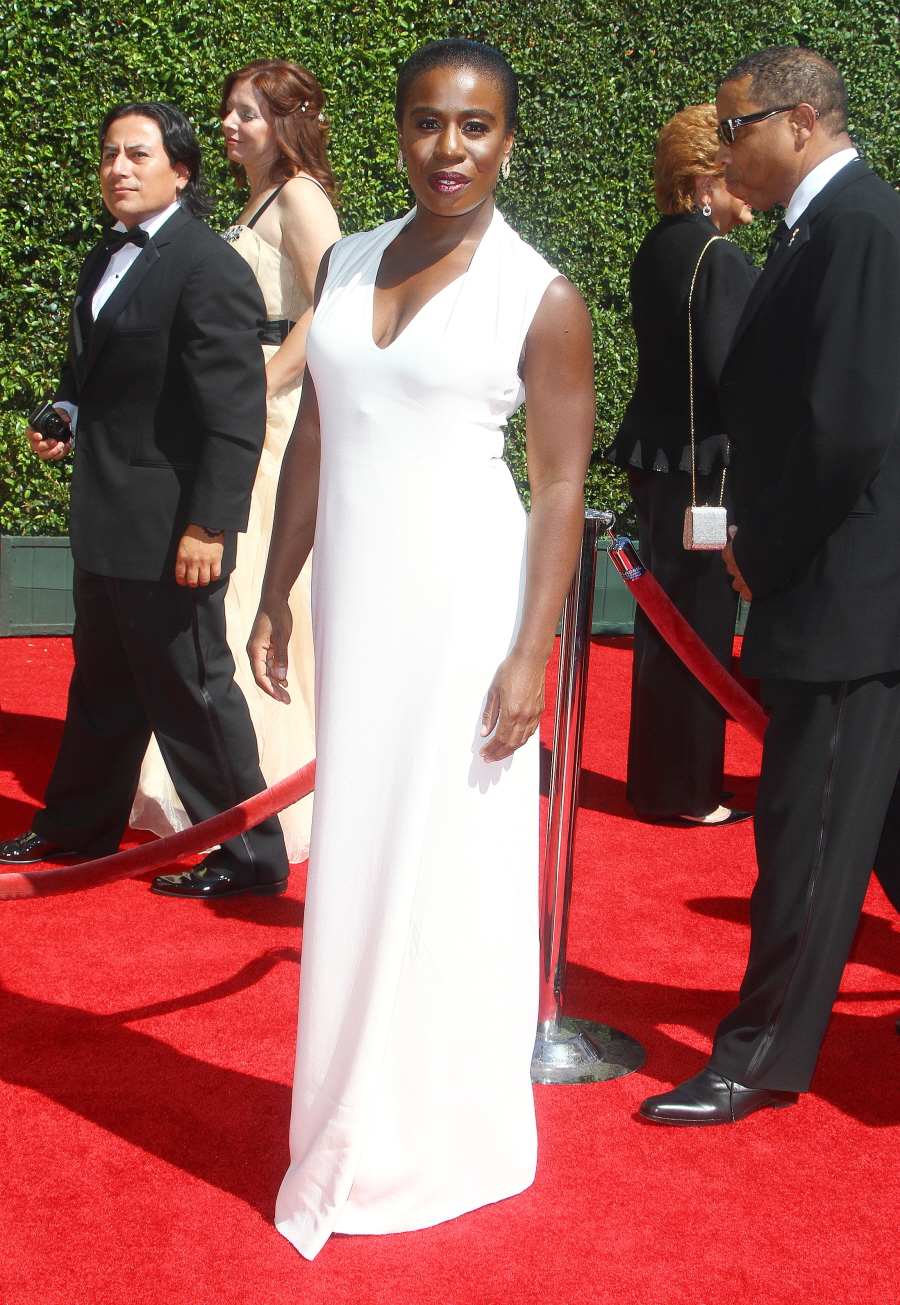 Allison Janney is perfect. She's a tall, lanky woman who knows how to dress her proportions. Plus, she's just one of the greatest actresses around.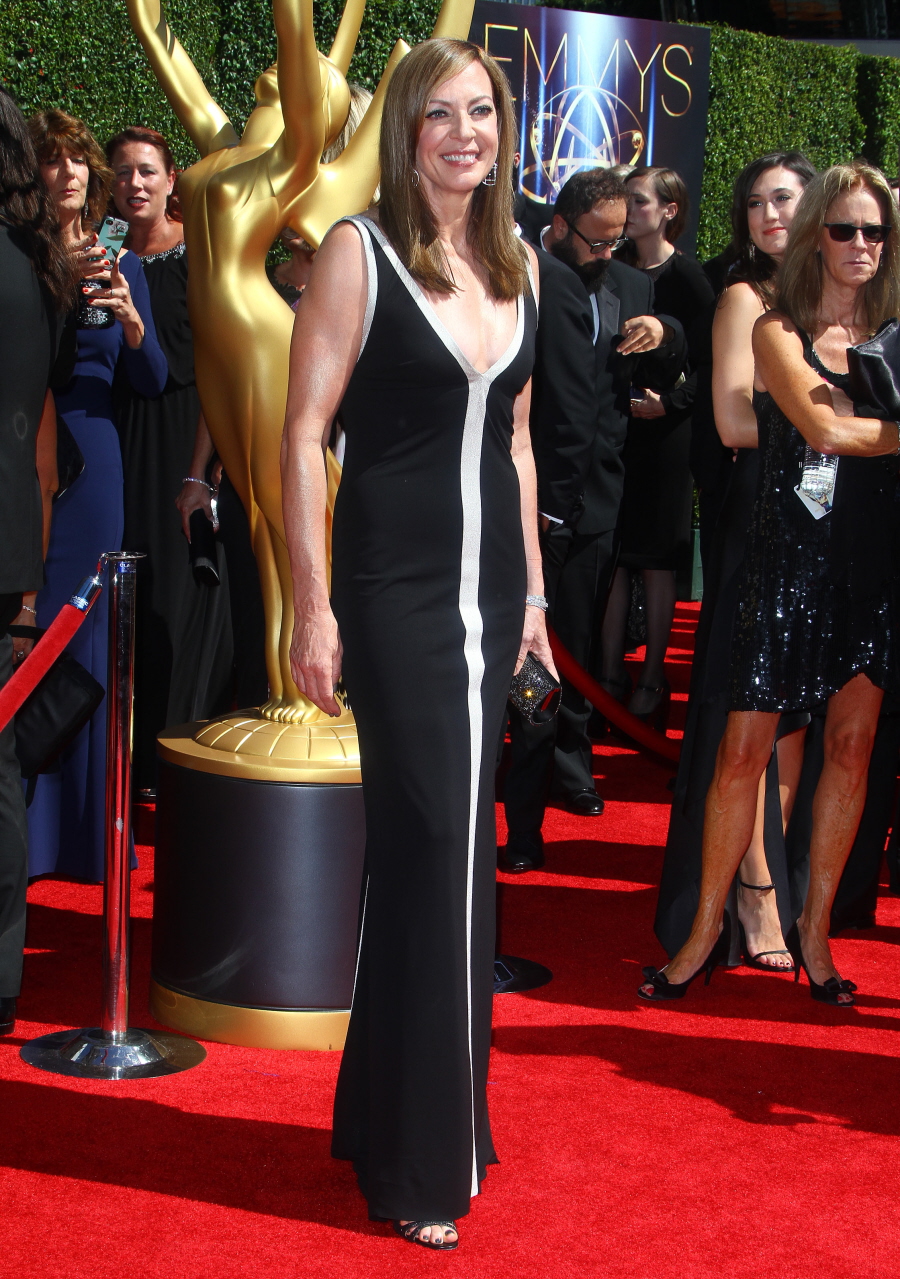 Kate Mara in Dior. The white looks like a repurposed LL Bean quilt and the yellow looks like stiff apron material. Just because the label says "Dior" doesn't make it a great design.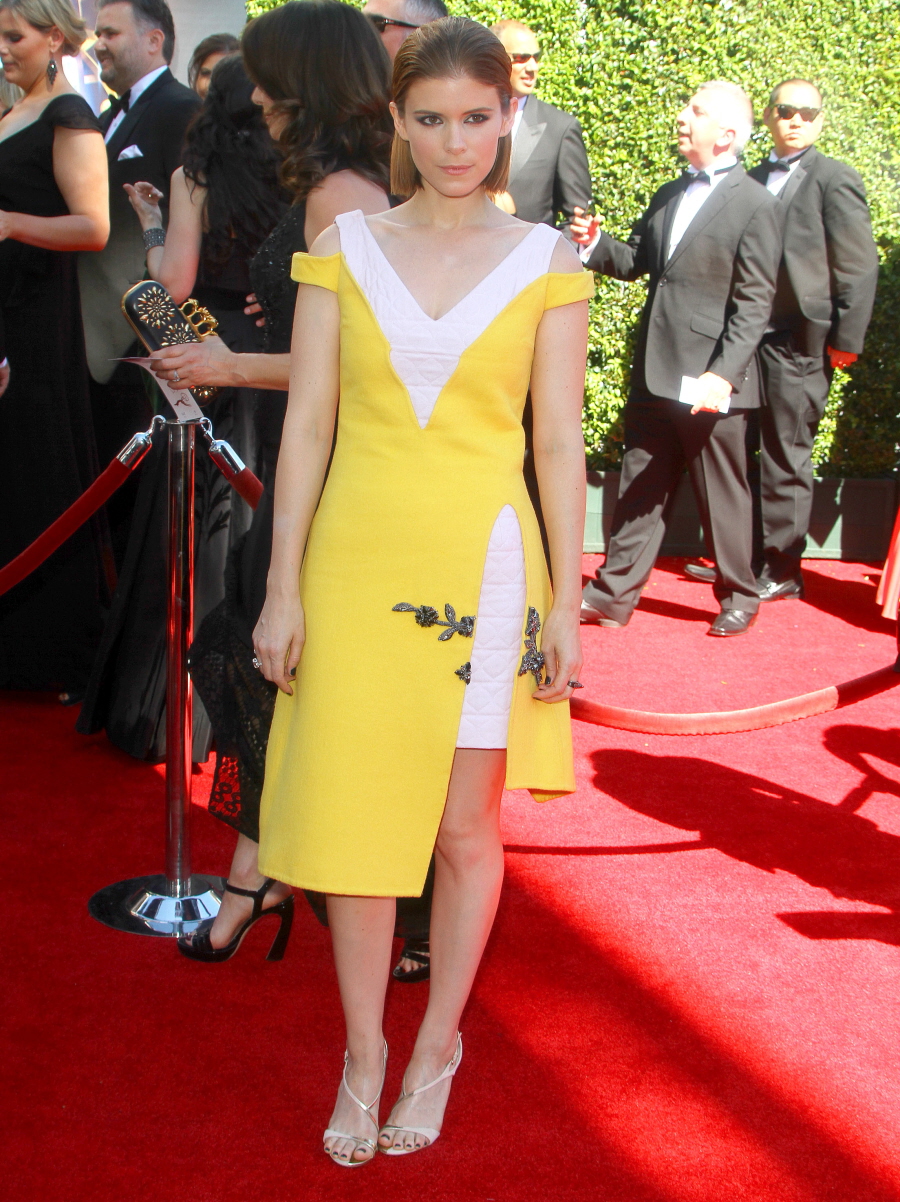 Jenny McCarthy in Stella McCartney. This dress is so budget-looking and Jenny looks like Vanna White.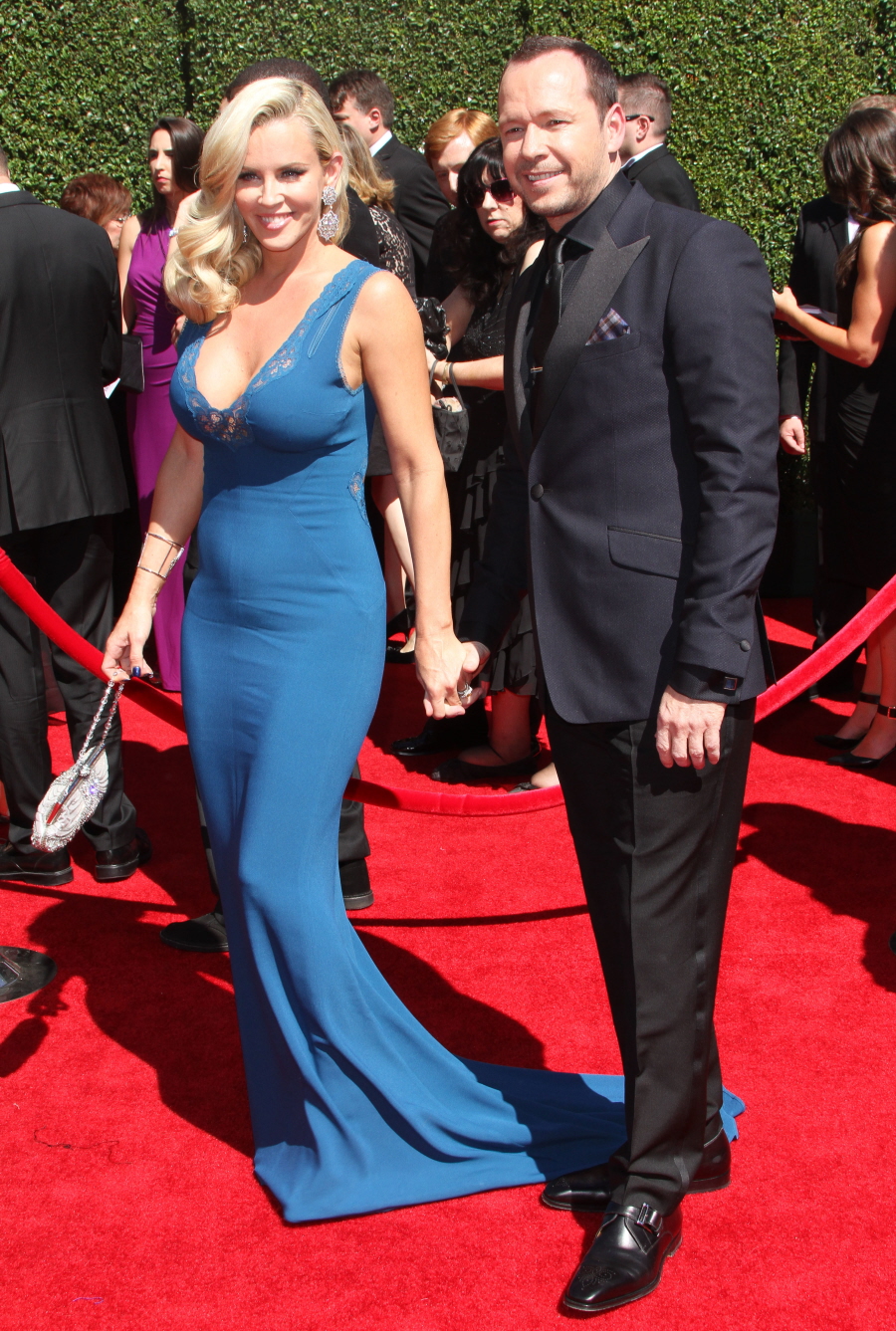 Cat Deeley in Sachin + Babi. I'm sure some people will love this, but I don't. I think it's that peculiar kind of look that Sarah Jessica Parker popularized – like, the overgrown ballerina. Blah.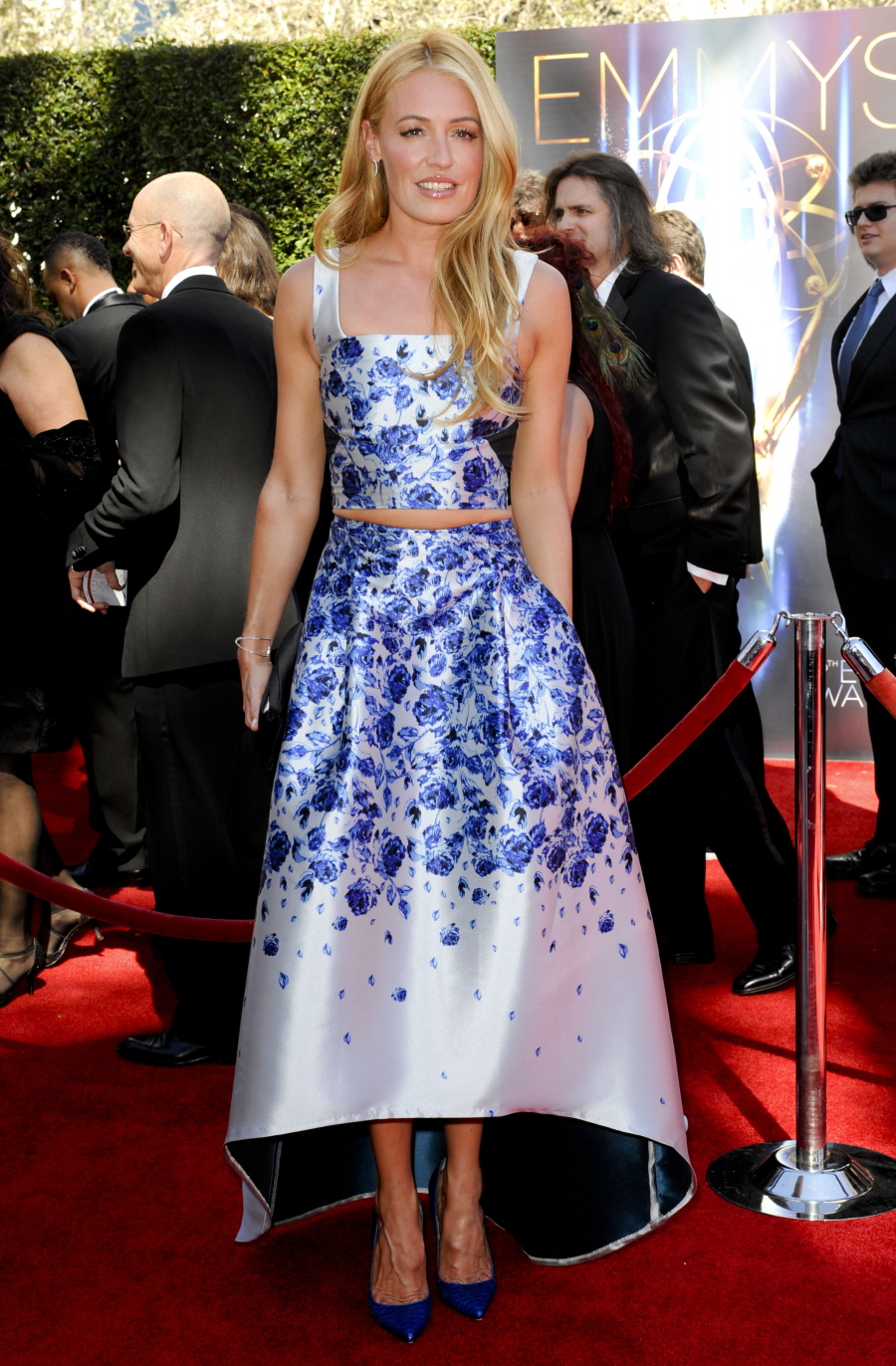 Nikki Reed in a boring Versace. The fit is awful too. Maybe is it was tailored correctly, I might actually like it.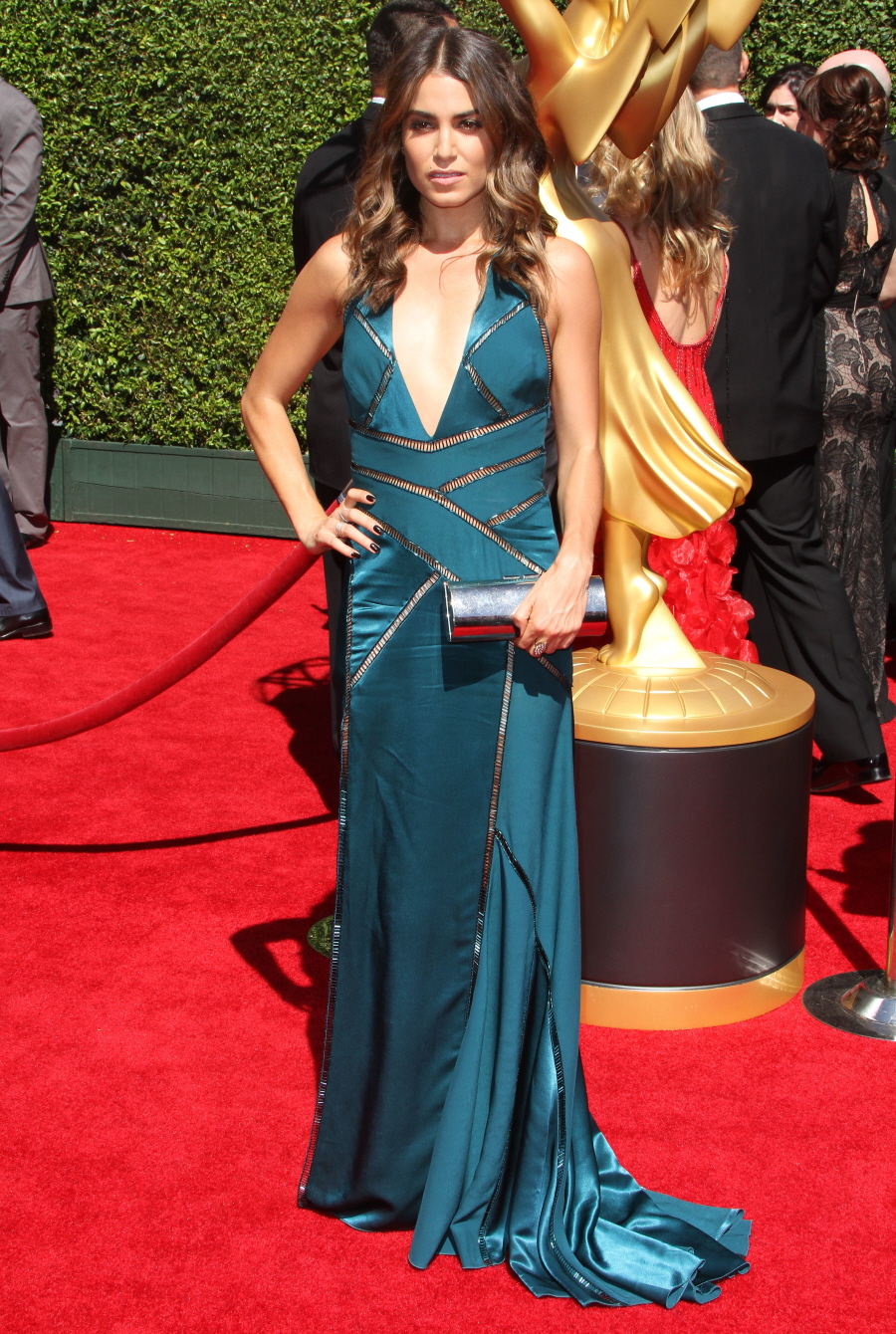 Bellamy Young in Naeem Khan. This would have been so much better with any other neckline. This halter/t-neck is not working. Imagine it as a strapless with a sweatheart neckline, or even with a straight neckline and spaghetti straps. It would have been so much better.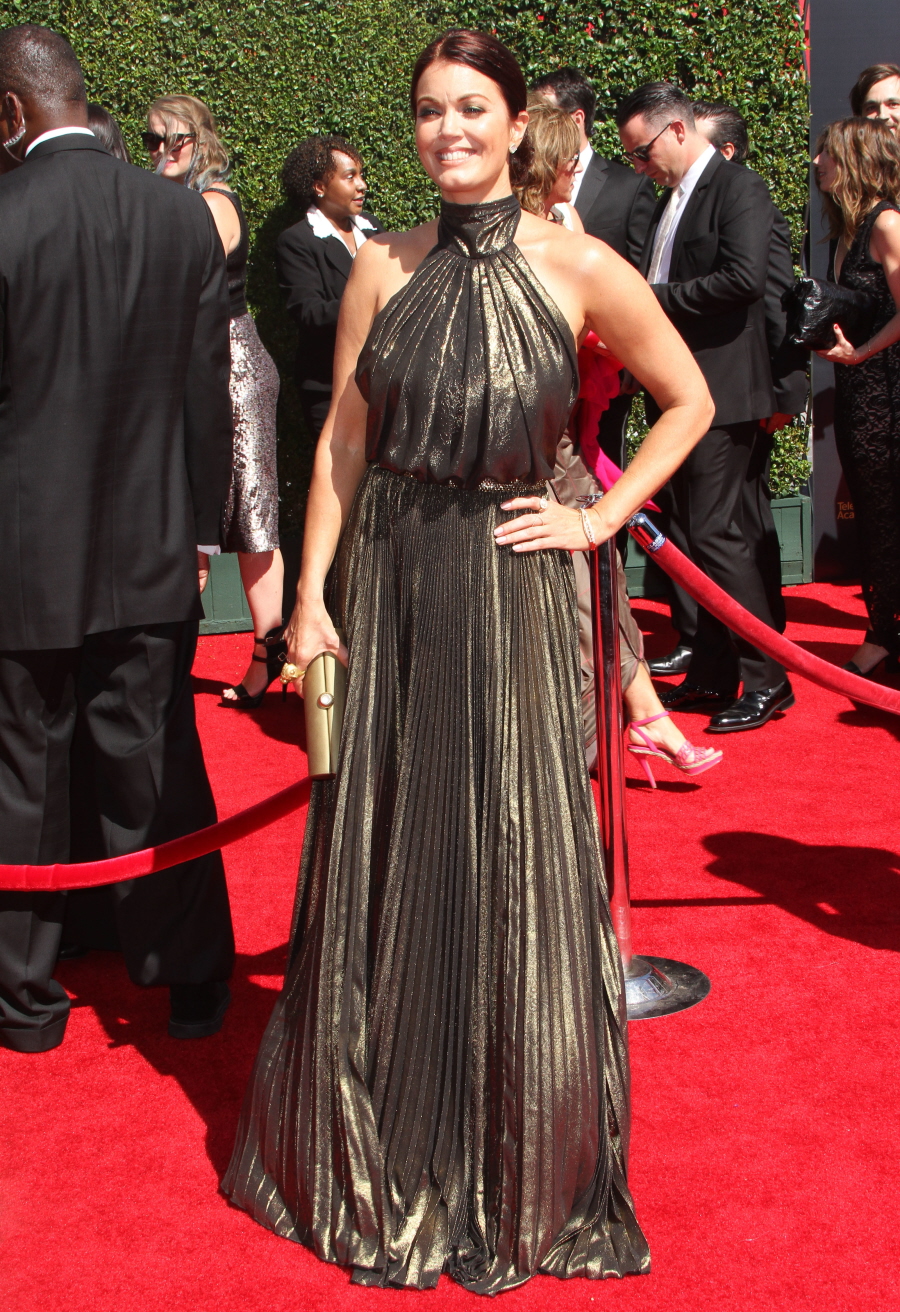 Photos courtesy of WENN, Fame/Flynet.