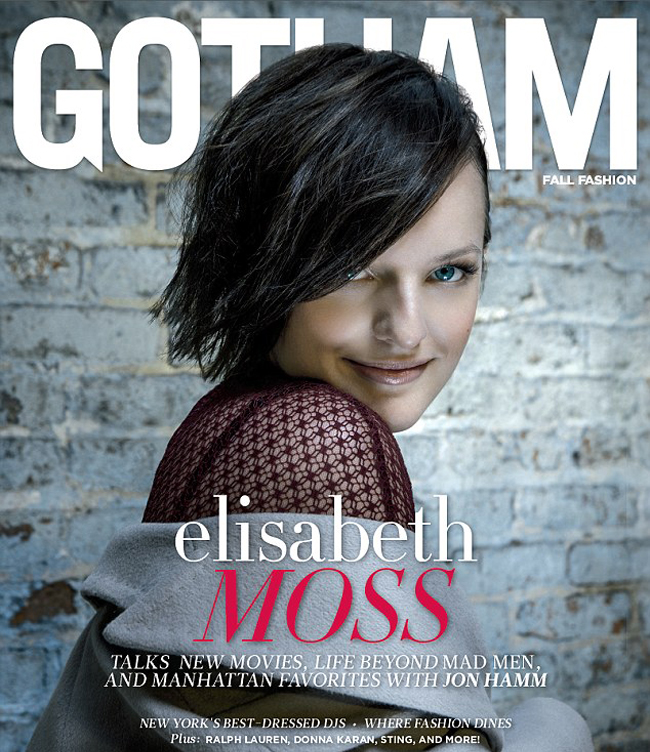 Elisabeth Moss covers the September issue of Gotham magazine. She's wearing a slate overcoat by Jason Wu on the cover, and you can see the coat in the editorial too. She also wears a gorgeous Dior suit and some Burberry Prorsum pieces. Elisabeth looks beautiful and moody in this shoot. The styling is bold and much more adventurous than most shoots we see of her.
Elisabeth is promoting her new indie flick, The One I Love (a script-less movie), like crazy. She's been doing the rounds, and I'm still scratching my head over her dry-cleaned pajamas. This Gotham interview was conducted by Lizzie's Mad Men co-star (and good friend), Jon Hamm. Their rapport is interesting, but I'm only including Elisabeth's answers here. Let's get to it:
Moving on from Peggy Olsen to new characters: "It's a lot scarier. We've had so much time to live with the characters on Mad Men. We've grown and changed with them."

The One I Love had no script? "No, there was a 50-page 'script-ment' as they called it, which had the general structure, some scenes, and the last act. We would shoot 15 pages a day and a lot of that would be improv. You kind of took it scene by scene."

Born in LA, she considers herself a New Yorker: "I've lived there off and on for 12 years now. I have always lived in the East Village. I don't know why. Originally it was the cheaper apartments and I just stayed. It's where I know where everything is. That's my neighborhood. The Bowery Hotel has always been my place; I lived there for a couple of months. Gemma is my favorite restaurant. Fourth Street has a great bar that I used to spend way too much time in. I like it down there, although I'm thinking of moving elsewhere."

Her favorite part of NYC: "I love going to the theater. I can't get over that feeling when you're walking down a street in the 40s, with rows of theaters on either side. It's 7:30 pm and you're going to see a play, and so many people are also going to go see plays, which I think is so cool. There's an excitement and there's buzz. It brings me back to when I've done Broadway and makes me wish I were backstage in my dressing room getting ready. You can go to beautiful places, neighborhoods, and parks in many different states and countries, but there's nothing like the theater district for me."

What makes her happiest? "I don't know if this is the best answer, but working really makes me happy. I have been lucky to work with really great people. I haven't had many scarring experiences at work. I've had hard times; that's for sure. Not everyone I've worked with has been a f—ing angel, but I am happiest when I'm at work. I know what I'm doing. Regardless of what else is happening in my life, I can go to work and things are okay."

Who does she want to work with? "I think as far as actors, my girl crush is Marion Cotillard. She would definitely top my list. As for filmmakers, I would kill to work with the Coen Brothers. And Spike Jonze. And then there are your big guns, whom everyone would like to work with, like Scorsese and Baz Luhrmann."

Who would she invite to dinner? "Charlie Chaplin, because I love his work. But also because you never got to hear him talk much. I would also say Edward Hopper [the painter]. Marion Cotillard, to add some beauty to the dinner. And you."
[From Gotham]
Ooh, I wish there was more of a mystery about who Elisabeth was talking about on the "actors who are not fun to work with" question. She must have been talking about Jeremy Piven. He famously dropped out of Speed the Plow on Broadway with "mercury poisoning." That caused his fellow cast members, including Elisabeth, a lot of grief. Lizzie later spoke of the situation by calling Piven "highly unprofessional." She also ran into him at the Globes when he was supposedly sick. Piven's story was incredibly fishy. I wonder if Lizzie was thinking about any other co-workers as well. Hmm.
It's weird how Elisabeth mentions her love of alcohol in this interview. A lot of you picked up on that with her Us 25 things list. Scientologists are allowed to drink, but they're not supposed to drink within 24 hours of auditing sessions. Lizzie is 2nd generation CO$, so she's been in it for life. A lot of celebrity members pick and choose what to follow, so I guess Elisabeth disregards the drinking rules. If I was stuck with Xenu, I'd break the rules and drink too.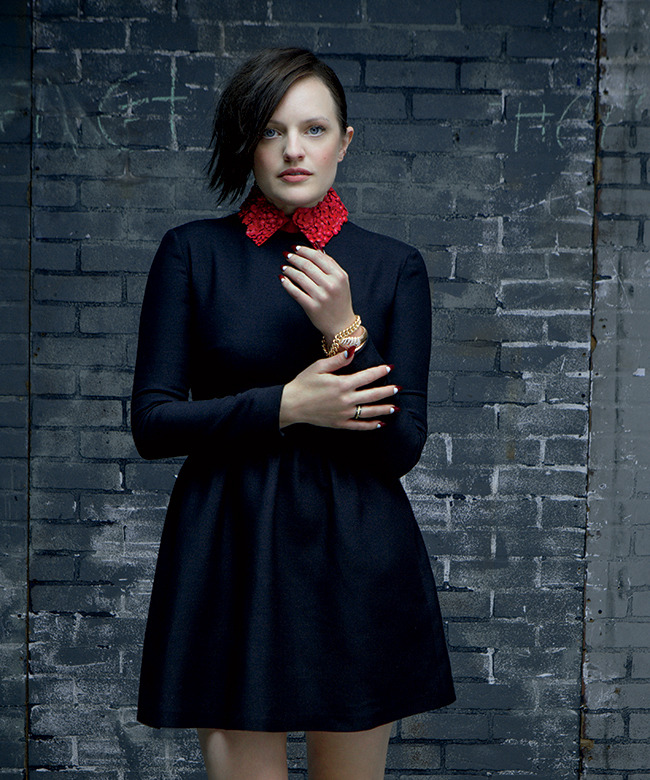 Photos courtesy of Gotham