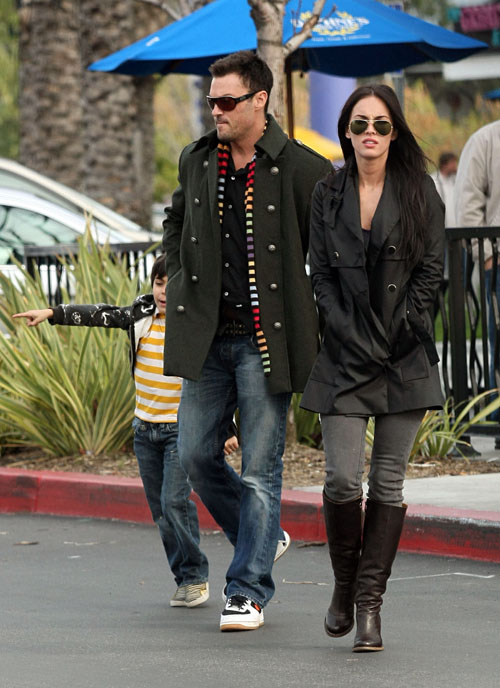 "Transformers" sexpot Megan Fox and her fiance, Brian Austin Green (better known as David Silver, the rapper wannabe on "Beverly Hills 90210″) have split, according to Us Weekly. Breakup rumors began rumbling late last year, when Megan and Brian were spotted having arguments in public, Megan stopped wearing her engagement ring and also attended a handful of events with no date. Most notably, Megan presented at the Golden Globes and walked the red carpet solo. When she was asked about Brian, she seemed irritated. Both Fox and Green are citing that age-old Hollywood relationship killer: their respective careers.
Megan Fox and fiance Brian Austin Green have split, Usmagazine.com has learned.

"The relationship had run its course," an insider tells Us exclusively. "It's completely amicable, and they are remaining friends."

Fox, 22 (who'll reprise her role as Mikaela in this June's sequel Transformers: Revenge of the Fallen), and Green, 35 (a regular on Fox's Terminator: The Sarah Connor Chronicles), now "are both focusing on their careers," the source adds.

The couple — who have tattoos of each other's names — met in 2004 and, as Us first reported, got engaged in November 2006.

Last November, Fox told Us that the wedding plans were still on.

"It's not going to be a big wedding," she told Us at a GQ bash. "I'm not one of those girls. If it happens, it will be very low-key and quick and unplanned."
What does she mean, "One of those girls?" One of those girls who has a big wedding? Or, is she one of "those girls" who drops her less-famous fiancee just as her career is heating up? Well, if I'd known they had tattoos of each other's names, I would have predicted this a long time ago! Everyone knows that's the kiss of death. Well, that, along with the fact that Megan is about to be a huge star and is plastered on the cover of every men's magazine in the universe, while poor David Silver is the answer to a 90′s trivia question and his TV show is about to be canceled for low ratings. It's kind of like "A Star is Born," only instead of Barbra Streisand and Kris Kristofferson, it's an Angelina Jolie wanna-be and a guy famous for deflowering Donna Martin. It is kind of sad, though. Brian Austin Green is probably the last "regular guy" Megan Fox is going to date. And by regular guy, I mean "decent looking has-been with a recurring role on a Fox TV show." From here on in, she'll be hanging off the arm of rock stars, directors and pretty boys. Mark my words.
Brian Austin Green and Megan Fox are pictured taking a walk with Brian's son, Kassius. They don't look too happy, do they? Photo credits: Fame.