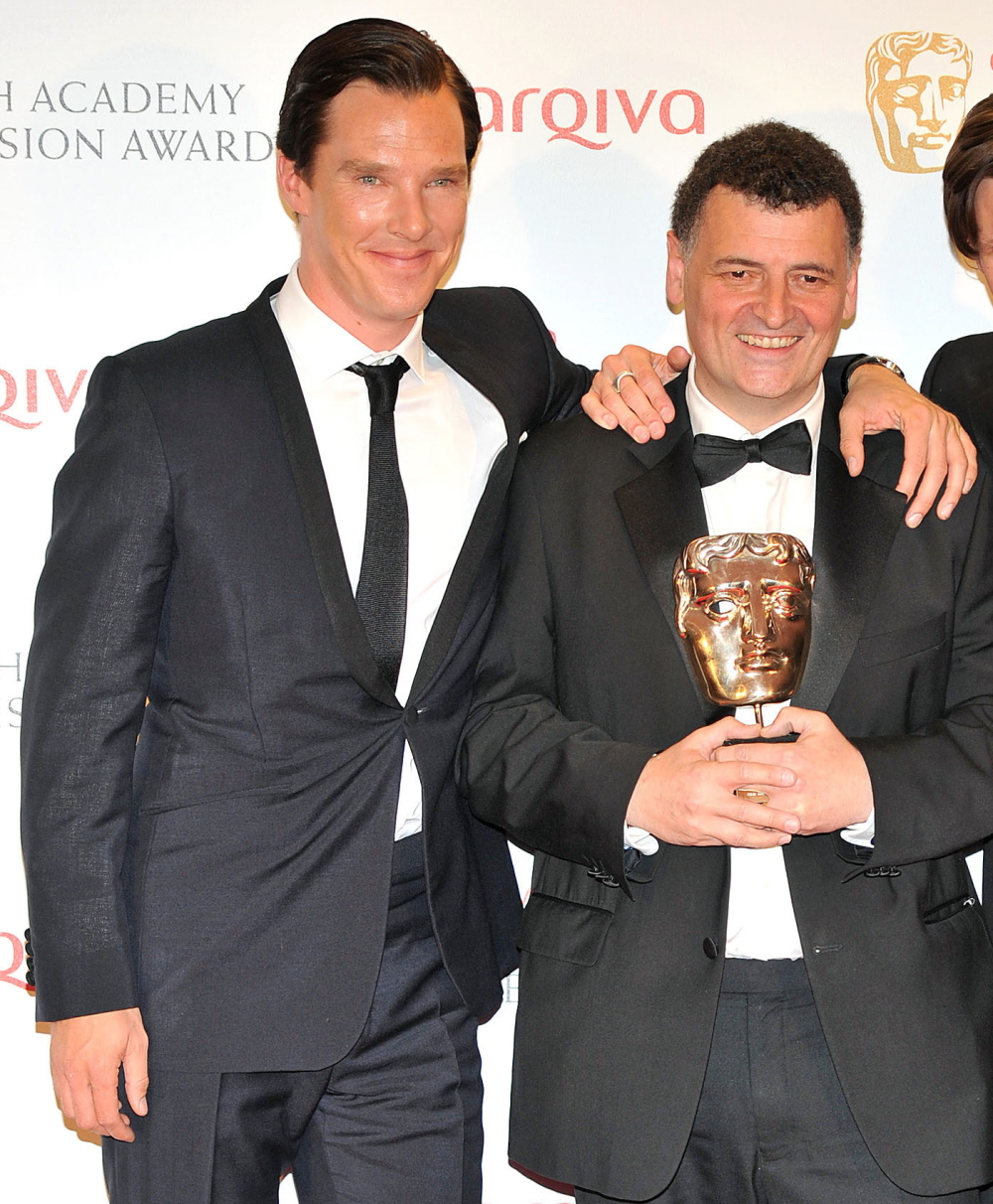 Steven Moffat and Mark Gatiss were both in attendance at Monday night's Emmys. Moffat even picked up a Screenplay Emmy for Sherlock, His Last Vow, which… I mean, I'm a loonie but I think His Last Vow was the weakest of Season 3. If I was in charge of things, I would have made The Sign of Three the Emmy screener. But still, it worked. Sherlock won Best Screenplay, Best Supporting Actor and Best Actor. And Martin Freeman and Benedict Cumberbatch were no-shows. SADS. And then to make matters even worse, when Moffat was speaking to reporters after his win, he teased Season 4 of Sherlock even though we won't even get to see one friggin' episode (a Christmas special) until December 2015. Here's what he had to say:
Sherlock was a big winner at the 66th Primetime Emmys, taking home three awards (to go with the four the show earned at last week's Creative Arts ceremony), including trophies for stars Benedict Cumberbatch and Martin Freeman. In celebrating his win for writing for a miniseries/movie or dramatic special, executive producer Steven Moffat dropped some hints backstage about the British drama's anticipated fourth season, which begins production in January 2015… Moffat was confident that the new season would be even more gasp-inducing than the previous year, which ended with an unexpected resurrection of a character presumed dead.

"We have a plan to top it — and actually I do think our plan is devastating," he teased. "We practically reduced our cast to tears by telling them the plan. Honestly, Mark [Gatiss] and myself are so excited with what we've got coming up, probably more excited than we've ever been about Sherlock. … Honestly I think we can [top the last season]."

Moffat spoke of the surge of Emmy recognition the show has received in its third year.

"We've won outside of America, which is a place," Moffat deadpanned. "We were just starting to think that that phase of our lives was dying down because as shows get older they don't win as often — just like people. We're delighted that we've made it here and hopefully this gets more people watching. That'd be great."

He remained mum on when the new episodes would be premiering. "When they go out is up to the BBC," he said. "And I am their loyal servant. I simply do what they ask me."

Moffat reassured that the creative team behind the show will continue returning to Sherlock, no matter how busy they may be with other projects. "What's happening with Sherlock is unusual," he admitted. "We will keep coming back to it."

Moffat also joked about Cumberbatch's Emmy no-show, saying he was "too big to come to the Emmys."

"Give him hell for that," he deadpanned.
Moffat's words have some wondering if a major character is going to die in Season 4. Like, would they kill off John Watson? No. I don't believe they would do that. As much as I have mixed feelings about Moffat, he respects Arthur Conan Doyle's canon too much to deviate that drastically from the original stories. But! I wouldn't rule out killing Lestrade or even Mrs. Hudson. But it will probably be Mary, right? Because – as I only recently learned – Mary dies in the books. Mary will die and John will be devastated.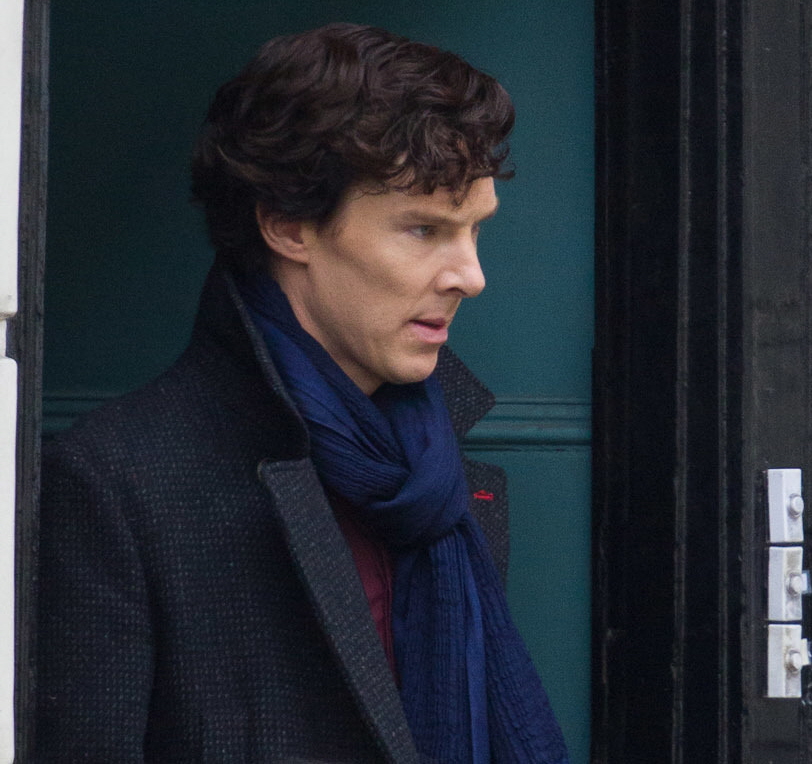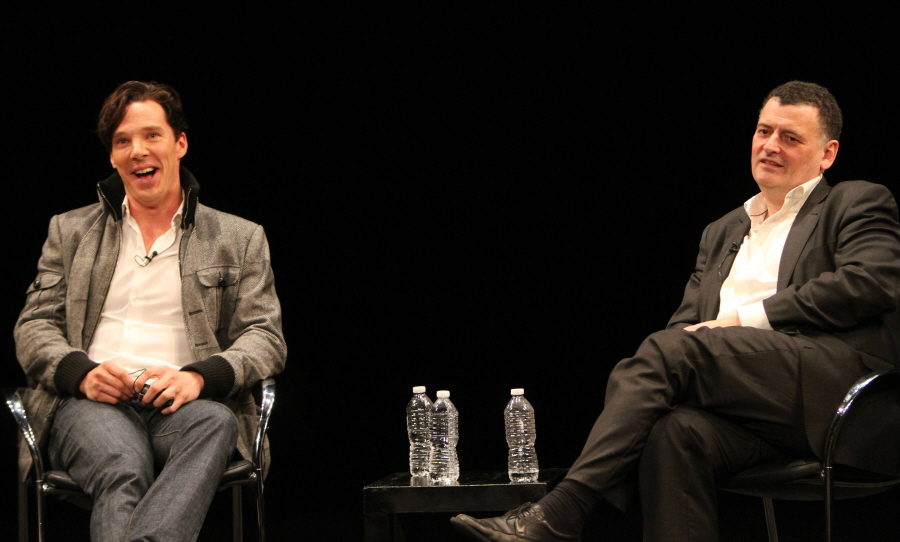 Photos courtesy of WENN.