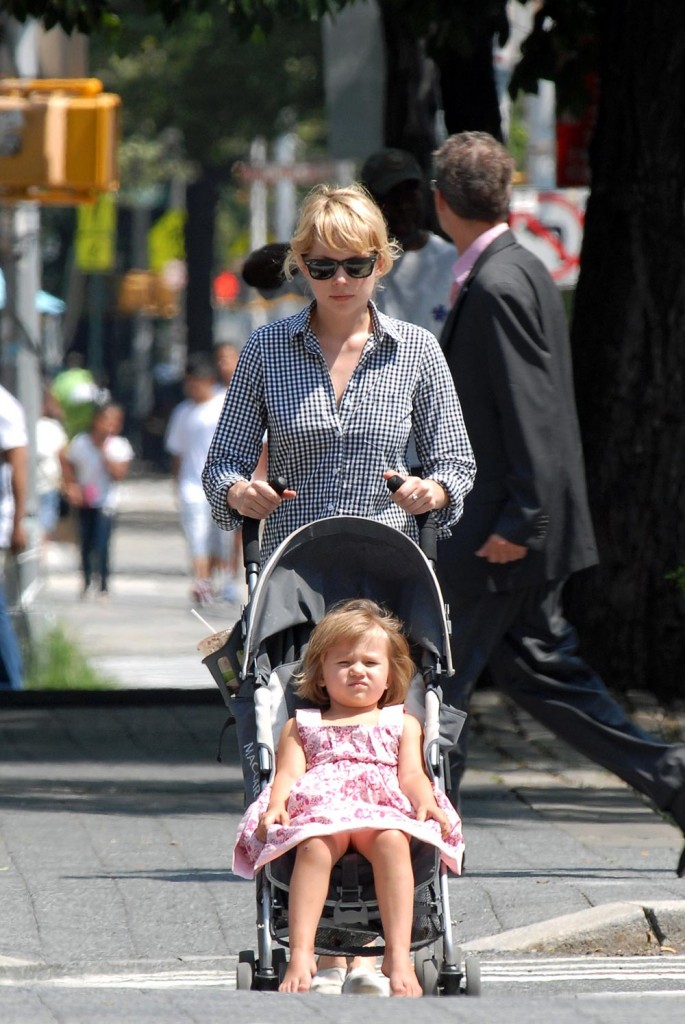 Michelle Williams and her daughter with Heath Ledger, 3-year-old Matilda, did not attend the Oscars this week. There has been a great deal of speculation about whether there s a conflict between the Ledger family and Heath's former partner. I don't think there is, I think Michelle feels a genuine desire to be away from the celebrity lifestyle, and to protect her daughter from it. Here's an except from an interview she gave promoting her independent film Wendy and Lucy where she talks about her need for privacy.
Williams is widely – and with some justification – regarded as one of the most promising young actresses of her generation. Yet, since last May, she has not made a single film.

She has, for now at least, given up acting for a life of, as she puts it, "cooking, baking, cleaning and sewing" as a stay-at-home single mother to three-year-old Matilda.

"As a young actress, you feel this intense pressure to work," she says. "Everybody says 'The time is now'. But I can be 28 and take a year off. Hopefully there'll still be something there to go back to."

What remains unclear is whether, if there didn't turn out to be anything to go back to, she would actually mind. "Now [being a successful film actress] comes with so much baggage," she says. "It has lost its appeal for me. It used to be a refuge and now it's a hassle." She is clearly torn.

While she believes the "working mother thing is kind of a fallacy – it's hard to do both things well", she worries that her life "might end as a pile of dishes" if she doesn't soon get back in front of the cameras.
I admire Michelle for staying at home and caring for her daughter at a time when it must have been so hard for both of them. Michelle had just come away from her own Best Supporting Actress nomination, taking this time off has been a genuine career sacrifice for her. She is not A-list in the sense that her career will be waiting for her at the same level it was prior to her break.
Williams has long been famous for shunning celebrity culture. She moved to Brooklyn years before it became very cool and says she feels "very detached" from Hollywood.

She has no plans to attend Sunday's Oscars ceremony in LA and says she would never consider living there.

"I wouldn't raise [Matilda] there. For all the obvious reasons – being the daughter of…," she pauses. "Being an actor's daughter. It's a town that's about one thing and I want her to have options."

She says she'd like her daughter to be a doctor when she grows up although, right now, if Matilda gets her way, she'll be a cowgirl.

Yet Williams has not totally removed herself from showbusiness circles. She is currently romantically linked to the film director Spike Jonze.

"I don't really want to talk about that," she says, when the subject of Jonze comes up.
If that gorgeous little girl inherits her father and mother's looks, I can see that she would absolutely be pushed into acting in Los Angeles, by casting agents who want to nab the exclusive of getting Heath's daughter in her first role to gain attention, for their own gain and not Matilda's. I can't help but think that for a 3-year-old, it's a bit early to be encouraging them to follow any one career path, although we all want our children to do their best in their endeavors. Michelle isn't quoted directly so perhaps she was responding in a joking manner, or to a direct question, or maybe Matilda currently has a strong interest in playing 'doctor'. Maybe she's just a pushy mom who wants her daughter to be a doctor!
Michelle and Matilda are shown out in NY on 8/19/08. Thanks to Bauergriffinonline for these photos