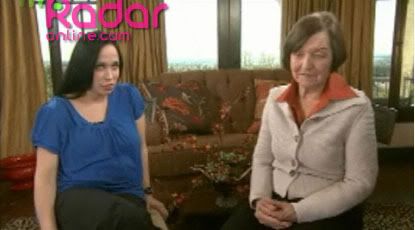 Yesterday we covered what turned out to be part one of Radar Online's taped argument between Octomom Nadya Suleman and her mother, Angela. Angela has worked for the better part of a decade caring for Nadya's six older children. Angela and her ex-husband, Ed Doud, realized their daughter was obsessed with having babies and asked her IVF doctor to please stop working with Nadya. They had to declare bankruptcy and move in with their daughter when the financial stress of caring for her ever-increasing number of children got to be too much. Angela is set to lose the family home to foreclosure on March 5.

Nadya never told her mother about a single one of her pregnancies until it was obvious
In the interview, Angela said that Nadya never told her that she was pregnant with any of her children, and called her "sneaky." She explained that when she asked her daughter about her growing stomach this time, she said it was a "tumor."
Nadya responded as we've grown to expect from her – she got pissy.
Nadya: "I don't apologize for having all my children and I never would."
Nadya plans to make enough money from her book
As for how she's going to get the money for care for all these kids, Nadya said, "I'm a good writer, and I always planned on writing book about the challenges associated with raising a child with autism and the other kids." Her mother asked "How are you going to find time to write?"
"Middle of the night," Nadya answered. "If I can experience something so extraordinary that people can't even wrap their minds around it… I feel as though that has given me the strength….
"I have to wrap myself in a bubble and my family and not allow other people's perspectives to affect me… that would be the epitome of selfishness to consider having even one more."
On whether she'll stop having kids: she has no choice
Her mother said "She's obsessive compulsive and she needs to keep doing this. Is 14 enough?"
Nadya hesitated and Angela rolled her eyes, "Well, I don't have any frozen embryos and I think… I keep hearing the word responsibility… so I have no choice. I have to delve completely into the role of motherhood."
On people telling her the octuplets should be given up for adoption
[Gets indignant] "I have to disagree with anyone who has the audacity to say that any of these children should be adopted. I have more love for these children than I think almost… well many parents would have just as much love. This is something that I find to be really a joke… this is so sensationalized it's not real to people…
"People can't comprehend just like my mom can't comprehend why I'm not worried. I do have strong faith that I will find a way."
This isn't the end of this very staged argument and Radar promises more segments to come. I've just watched Suleman's dad's interview on Oprah and will be covering that shortly. It's hard to resist this story of the delusional child hoarding sociopath, the modern equivalent of the old woman in the shoe. Oprah's Dr. Oz had some well spoken harsh words for Suleman that seemed to echo a lot of people's thoughts on the matter.
You can watch the video on RadarOnline.