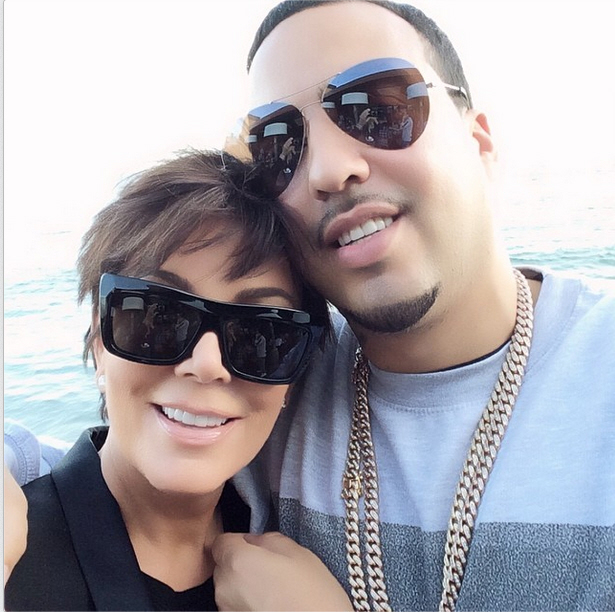 When Khloe "Pinocchio Butt" Kardashian first got with French Montana months ago, there was gossip around the ass farm that Kris "Lucifer's Homegirl" Jenner didn't care for French. Something about French not being good for Khloe's image or something. Kris always denied those stories and now we know why: because she was looking to sign on as French's manager. The Cycle of Asses has come full-circle. Or something.
Life & Style has exclusively learned that the Kardashian momager is getting a new client: Khloé Kardashian's boyfriend, French Montana!

Kris Jenner "is planning on helping French with his management, the same as she did with Lamar Odom," an insider reveals in the new issue of Life & Style — on stands now. "He's excited about it and is looking forward to working with her."

"Kris really likes French and is happy to help out," the insider dishes to the mag.
It's never fails to skeeve me out that Kris Jenner signs on to "manage" all of her daughters' boyfriends/husbands. That pimp runs a tight ship and she gets her 10% from EVERYBODY. And if they don't give up a percentage to Lucifer, they get the back of the pimp hand. So what is all this about? I have no idea. But I did find this interesting article about French's appearances on the reality show(s).
There's a bit of French resistance building over at E!. Network executives are "moaning" that Kardashian matriarch Kris Jenner has promised French Montana, her daughter Khloe Kardashian's boyfriend, a big fat paycheck to appear on "Keeping Up With the Kardashians." Montana, 29, who has been dating the reality star since early May, has already appeared on the show and is expected to be a recurring guest on spinoff "Kourtney and Khloe Take the Hamptons," scheduled to premiere next month. And sources say the platinum-selling star doesn't come cheap.

We're told that Jenner, an executive producer on both programs, did the deal directly with Montana, without much input from anyone else.

"The way that the Kardashians' (show) is set up is very unusual. It's the only show that I know of where a producer can say, 'Here's the cast and this is what they're getting paid,' " said our source. "Usually to add a cast member to a show, you'd have to fire a cast member to keep the budget balanced. But in this case, Kris just offered French Montana a check to be in the show. He's expensive, and some people at E! just don't think he's worth the money. I've heard execs moaning about it, saying, 'We're just paying so much for him!'

Montana recently explained to Confidenti@l how he got hired for the show. "Me just being a part of her life, they recorded me," he told us, "and asked me for my permission to air my footage out, and they wanted to give me a check to do it, give me a contract, make me a part of it."

It's understandable that network number crunchers wouldn't be thrilled about signing big checks right now. "KUWTK" ratings have slipped from a series high of 3.1 million viewers in season five to just 2.2 million for the Aug. 10 episode. Reps for Montana, Jenner and E! declined to comment.
That's interesting. But I still don't know what all of this means except A) no one is really interested in French Montana but Kris negotiated a fat paycheck for him anyway and B) Kris know gets a percentage of French's fat paycheck because THE PIMP MUST GET PAID. At all times. That's an interesting little "back end" deal that Kris has managed to get, isn't it?
Speaking of back ends (gross), here are some photos of Kris out and about this week. Ignore the cameltoe and answer this question: does Kris have a new Pinocchio Butt?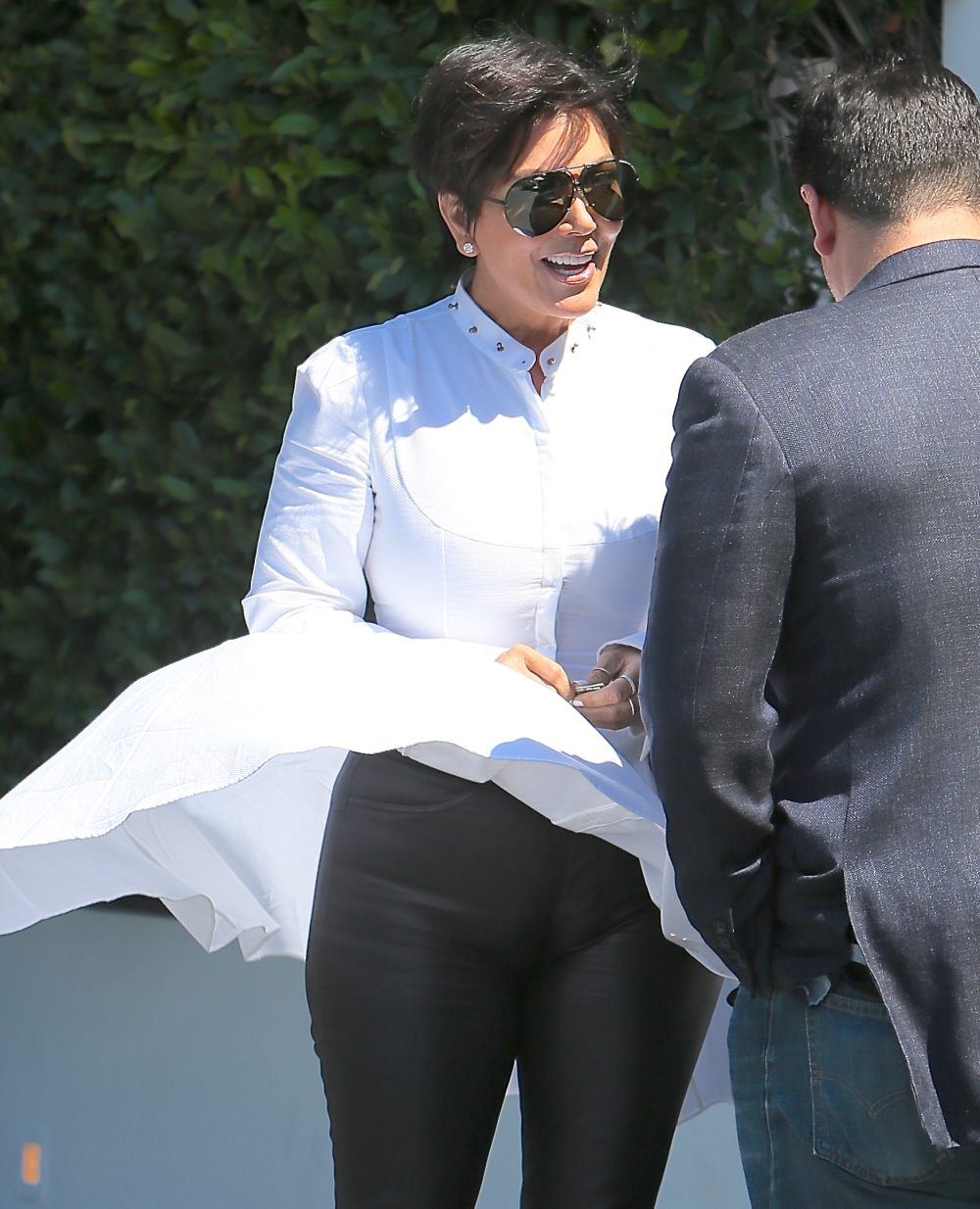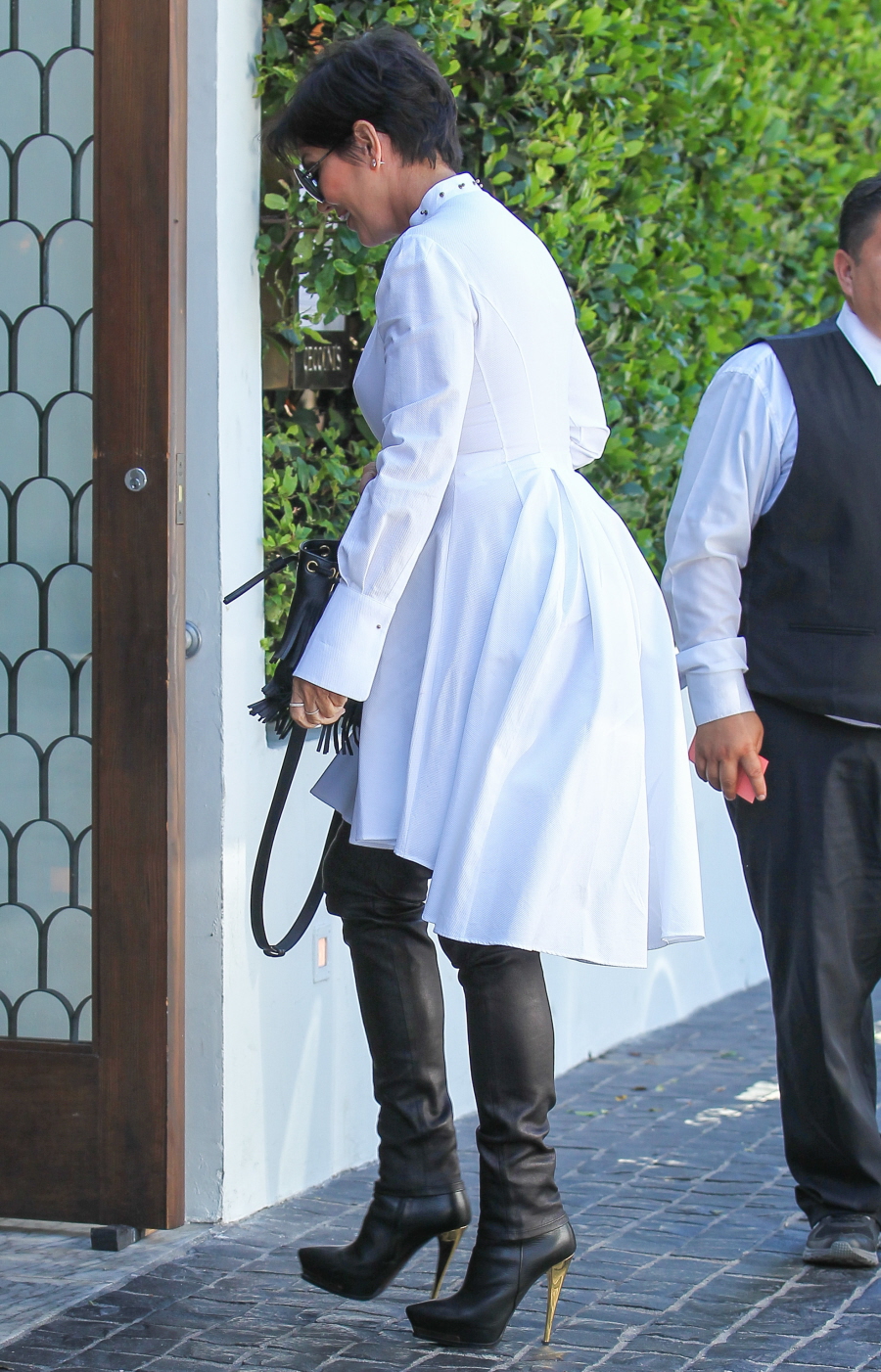 Photos courtesy of Kris Jenner's Instagram, WENN.