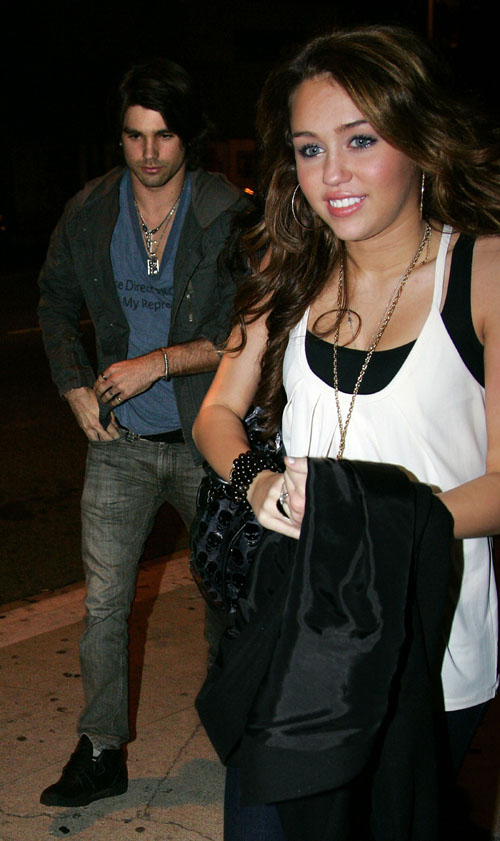 In public, they put on quite a show to look like the perfect family, but sources say that behind closed doors, the Cyrus family is just as dysfunctional as everyone else. The root of the problem is 16-year-old Miley and her 20-year-old boyfriend, Justin Gaston, who is now living with the family. Apparently, dad Billy Ray and mom Tish thought that having the pair under their roof together would be a good way to monitor their underage daughter and make sure things don't get too physical. But the plan backfired, according to reports. While Billy Ray appears in public to be crazy about Miley's man, behind the scenes, the stage dad is fuming.
Ever since her 20-year-old boyfriend, Justin Gaston, moved into the family home in Toluca Lake, Calif., Miley's been battling with her parents, dad Billy Ray and mom Tish have been quarreling, and even her little brother and sister have been ganging up on her, sources tell Star.

"Miley's mom and dad bicker non-stop," a friend of the family reveals. "They thought having Justin in the house would make it easier to keep an eye on him and Miley, but they're having a hard time because Justin has no boundaries."

The friend says that Justin – a former underwear model and wannabe singer who insists that he and Miley do not sleep together – walks around the house in nothing but his briefs, angering Billy Ray. And he has a ferocious appetite, so he repeatedly raids the family refrigerator! "Justin recently devoured an entire apple pie that Billy Ray was looking forward to eating when he got home," says the friend. "Unfortunately, all he found when he got home was the empty tin."

That's not the only battle being wages in the Cyrus household. "Billy Ray and Tish are having a tough time managing all the drama that comes with having a teenage superstar for a daughter," says the friend. "They don't only fight about Justin. They fight about Miley's money, Miley's career and Miley's increasingly rebellious behavior."
[From Star Magazine print version, March 2, 2009]
All together now: Boo hoo! Only an idiot would think that allowing your teen daughter's 20-year-old boyfriend to move in is a good idea. As for the claim that they aren't sleeping together – it's not the sleeping that they should be worried about. Clearly, Miley is unsupervised often enough to take inappropriate photos of herself and post them online. What else is she capable of doing, especially with a 20-year-old who likes to parade himself around in underwear? Now these moron parents have the nerve to be surprised that it's not working out? What did they think was going to happen? As for fighting over their daughter's money and career – let's not forget who pushed little Miley into the spotlight in the first place. These two stage parents pulled out all the stops to get their kid famous, and now that she is, they'd better learn how to deal with it fast or she's going to end up as yet another child star cautionary tale. If they can't handle the pressure now, just wait until Miley pulls that old child star stunt and has herself legally emancipated. You all know it's coming! I think we all know how this story will end – Hollywood roadkill, folks. This is just chapter one.
Justin Gaston tags along with the new Mickey Mouse Club – Miley Cyrus and Disney pals Semi Lovato and Selena Gomez – as they dine at trendy, pap-friendly Koi restaurant. Wonder how long it will take for underwear-boy to get sick of playing with little girls? Photo credits: Bauergriffin.