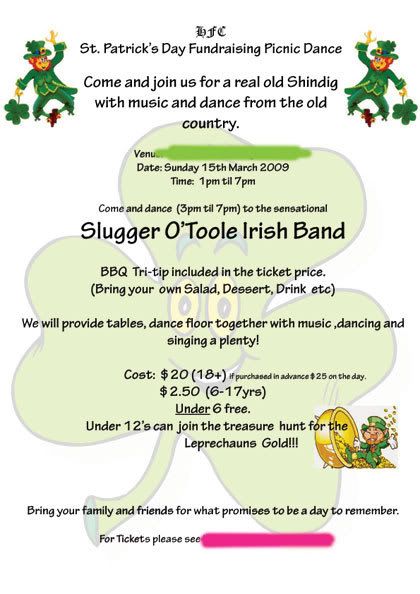 According to RadarOnline, the flyer above is for a fund raiser St. Patrick's Day party organized by Mel Gibson at his church. They're going to be having beer kegs at the event and Mel's wife of 29 years, Robyn, does not approve. Mel had a high profile DUI incident in the summer of 2006, in which he went on a bizarre anti-semitic rant against the arresting officer. He was said to have attended AA meetings afterwards, but he's been seen out at events since looking like he's on the sauce again. If Mel goes to this party he'll hopefully have a ride home.
Mel Gibson, who's battled the bottle for years, is throwing a boozy St. Patrick's Day party at his church in Agoura Hills, east of Malibu, even though his wife Robyn worries it's a terrible idea, RadarOnline.com has learned.

The Oscar winning actor/director has previously said he's "battled the disease of alcoholism for all of his adult life." In 2006, he was arrested for a DUI, to which he plead no contest and was sentenced to 3 years probation.

The party, a fundraiser for the church, is planned for Sunday, March 15th at his private Holy Family Chapel.

Even though Gibson may not take a drink, a source says: "Robyn thinks serving booze at the party is a flat-out bad idea and that Mel is just asking for trouble."

The all-day bash will include kegs of beer and partiers can also bring their own liquor.
[From Radar Online]
Kaiser told me that she wanted to cover this, but all she was doing was making sugartits jokes in her mind so she thought she'd pass. Maybe now that the news is out Mel will be forced to stay home to drink his green beer and the Malibu police can rest easy.
Gibson was on Jimmy Kimmel live after the Oscars, in which he made the controversial statement that he didn't think Heath Ledger's death was accidental. He also expressed remorse that he hadn't reached out to the young actor like he had to Britney, although he took no credit for Britney's recovery.