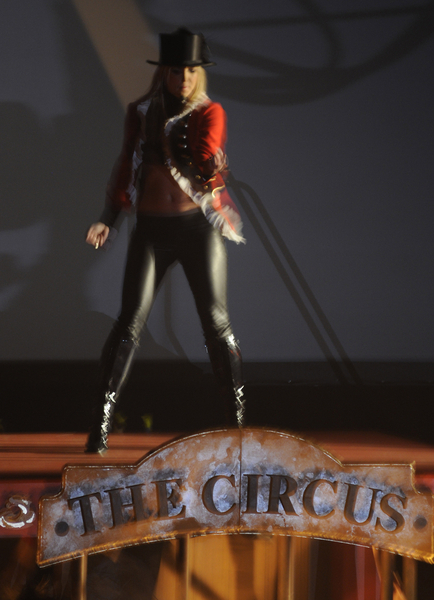 Britney Spears' family stepped in last year to get the singer's life back on track. This refocusing did not center entirely on getting her into a better mental place – it was also about getting her back on the top of the charts and regaining her position as the Queen of Pop, possibly at the expense of her mental health. As soon as she showed signs of getting better, her camp began planning a Britney comeback tour, which they have aptly titled "Circus." Leaving no room for error, they have gone all out on the production of the show, complete with a stage made of three rings; acrobats and contortionists; magic tricks involving Britney being sawed in half, disappearing, and reappearing; and of course, the music itself. In all, it sounds like it's shaping up to be a mind-blowing concert.
"Right away, she got into the boxes and into the magic contraptions to learn the stuff, and she's so excited about this tour and all the elements that are in it," illusionist-comedian Ed Alonzo, "the Misfit of Magic" (and former Saved by the Bell diner owner) who will be doing a number with Spears on her Circus tour, tells E! News.

The pop star will serve as Alonzo's assistant in the bit.

"We're going to be doing the classics of magic but a little high-tech," he said. "We'll be doing a little dissection, transposition, a vanish, an appearance—and if I do a trick, she doesn't just hold the props, she's actually getting inside the big boxes or I am slicing her up."

Sounds a bit risky, which is perhaps why Team Spears decided to leave the tricks to a professional.

I "made [the tricks] really easy for her…but there are some complicated things that she is doing that you would think a contortionist would have to do, or a trained magician's assistant," Alonzo said. "But because…she's a dancer, it really makes sense to put her in the magic, and it works and she's really, really good at it."

"Some of it's pretty scary, but she gets right in there with no reservations," he added.

Alonzo wouldn't divulge which Spears tunes would be accompanying his mini magic show, but—news flash—he did assure us that the overall show will feature "the best music of Britney that people have loved over the years and, of course, brand-new favorites from the new album."

And, like us, Alonzo has only seen Spears in warm-up clothes and sneakers during rehearsals, although she has been testing out different pairs of heels here and there.

The three-ring circus-inspired set is "exactly what you would see in a big giant Vegas production show, but it's going to be on the road," he said, and anywhere from 75 to 100 crew members and performers are usually around at any given time.

"It's going to be an amazing concert for people to watch," he said. "It's like watching a big Cirque du Soleil high-tech circus, but with a really focused star in the middle of all of this."
[from E!]
Talk about a big production. When you're thinking about building a comeback for a pop star like this, you have to go big or go home, and Poppa Spears clearly took this to heart. The last thing they wanted was a dud. There's a lot of pride and a lot of money hanging in the balance here.
In the documentary Britney did with MTV, "For the Record," I remember her saying that working keeps her sane. She's only really happy when she's recording an album or working on a concert. And while it's good that she knows what makes her content, you have to wonder if the happiness she feels when working is really just a front. As long as she keeps busy, she doesn't have to deal with her real deep-seated issues. Even though the woman is 27 years old, her father is legally in charge of her finances and her bodily person, and people from her past are still trying to get back into her life.
Happily, she will be around her boys during the tour. None of us really know what kind of a mother she is in private, but they're her children, and it's good that she will have a "home" to come back to after her concerts. Hopefully being around her family will help get her life, not just her career, back on track.
Photos are of Britney performing on 12/2/08. Credit: PRPhotos