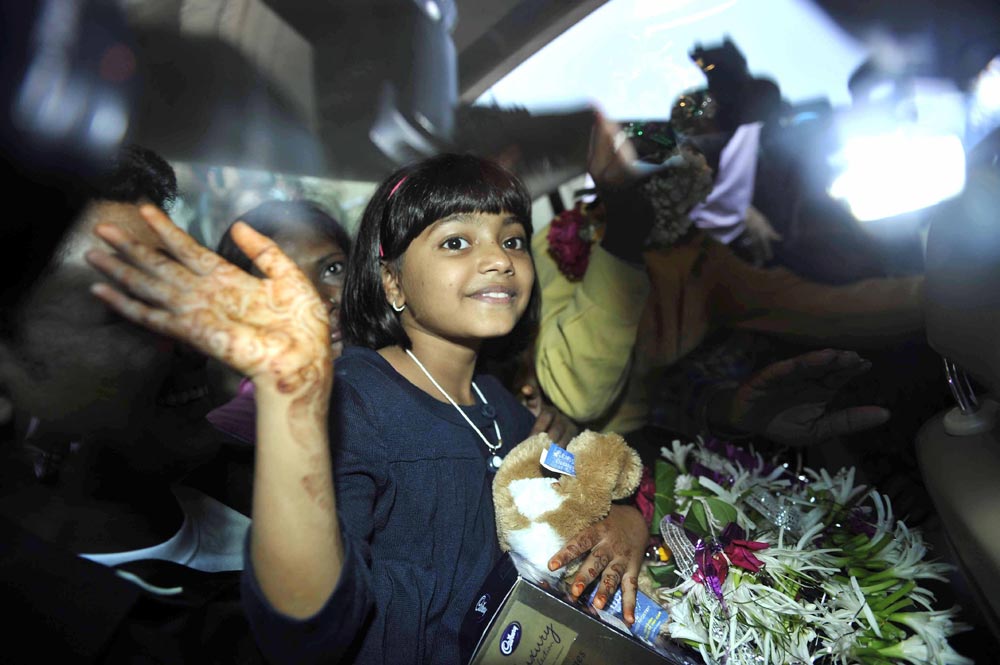 Anyone tuning in to the E! Red Carpet Oscar show saw the most adorable Indian child actors ever. The brave little souls from Slumdog Millionaire faced down Ryan Seacrest and his barrage of inanities, and probably even more from the other entertainment news outlets. The kids were cheerful and polite, if a little confused. But they bore it all well, and at the end of the night, they got to climb up on-stage as part of their film's Best Picture win.
The day after the Oscars, the kids got a special treat – they got to go to Disneyland, which was probably a lot of fun for them. Then, after their whirlwind American visit, they returned home Mumbai, where they were greeted as conquering heroes. I saw the footage of this on MSNBC, and it was startling – there was a huge crush of people. But once again, the kids were brave, and even answered questions from the awaiting journalists. The Daily Telegraph has more:
Slumdog Millionaire's child stars Azhuruddin Ismail and Rubina Ali have flown back to Mumbai from Los Angeles after their Oscar success. They headed straight back to the slums just days after being on stage to collect the film's Best Picture award at the ceremony on Sunday.

They went from riches-to-rags again as two silver Mercedes swept them and their parents through the city and dropped them out at their homes in one of Mumbai's dirtiest slums.

Azhuruddin, 10, was reluctant to leave the comfort of the air-conditioned cars as he was greeted by crowds at his home. Rubina, 9, clutched a small fluffy brown toy bunny and pair waved and blew kisses to the crowd, showing off their newly acquired red carpet skills.

Neighbours had put on a party for Azhuruddin, with large speakers playing the hit Bollywood songs from the film, but the planned celebrations turned into a chaos.

Azharuddin, who plays the young Salim in the film, was accompanied by his mother in LA and was greeted at the airport by his father who suffers from TB. The young actor said he had the time of his life in America.

"It was amazing," he said. "I was signed autographs and was given a smart suit to wear. I didn't understand much but it was fun. I did not know what the Oscars were before I went."

"I was asked to sign autographs and everything. I felt like Shah Rukh Khan (one of Bollywood's biggest stars). Danny-uncle (Danny Boyle) took us all around America. It was great to see him again. We went to Disneyland. I loved it so much."

On Tuesday, Mumbai's housing body announced they were giving the two families a flat each because they had made the country proud. However, for now, Azaruddin and Rubina are back from the red carpet and straight into the slum.

The movie's two Indian Oscar winners, composer A R Rahman and sound engineer Resul Pookutty also were met by cheering throngs who showered them in flower petals as they arrived in their home towns.

Rahman, who won Oscars for musical score and the best song "Jai Ho" – "Be Victorious" in English – led the dancing crowd in chants of "Jai Ho!"

"They (the fans) almost killed me with their love," he said after landing in the southern city of Madras. Pookutty was also overwhelmed by his reception.

"I never expected something like this," he told reporters. "This is history being made," he said of his award.
From The Daily Telegraph
It sounds really incredible, doesn't it? And I love, love, love that they call Danny Boyle "Danny-Uncle". It's a very Indian thing, to treat Danny as a family member, and to refer to their director in such an affectionate, familial way.
The Daily Telegraph makes mention of the fact that the kids were dropped off in their slums homes, but I saw an interview with Dannny Boyle immediately after the Oscars, where he said that the kids and their families were definitely getting new homes. Maybe it's going to take a little time for all of that to happen.
This must be such an extraordinary time for everyone involved in Slumdog Millionaire. The Bollywood film industry is so huge, and many Bollywood stars would enjoy a breakthrough to Hollywood films. On the same note, Hollywood would love to have a foothold in the Indian film market – increasing Indian interest in Hollywood films could bring in hundreds of millions of dollars a year for Hollywood. It's so interesting that this film is, by many accounts, the breakthrough that Bollywood and Hollywood were looking for.
Photo Credit: BARM/Fame Pictures