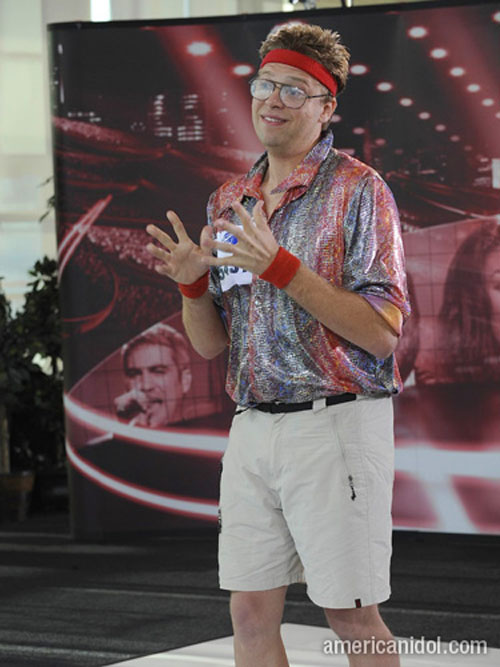 The over-the-top stylings of contestant Nick Mitchell – aka Norman Gentle – was the high point of last night's live "American Idol" broadcast. If you thought last week's contestants blew their chances by picking bad songs and singing them horribly, then this week was absolutely excruciating, with a few exceptions. After misguided contestants absolutely butchered hits by Coldplay and Sara Bareilles, the audience desperately needed some humor to erase the pain of several wretched performances. Enter Nick Mitchell, whose alter ego Norman Gentle has confounded the judges and won over legions of fans.
"American Idol" hopeful Nick Mitchell didn't win over the judges with his singing, but his over-the-top style clearly qualified as comedy.

Mitchell left the judges laughing and nearly speechless Wednesday after he wailed a show-stopper from the musical "Dreamgirls." He came on as the flamboyant alter ego he has christened Norman Gentle.

Simon Cowell called the performance "atrocious" and "horrific," and his three fellow judges didn't argue.

The acerbic Cowell had no kinder comments for Matt Giraud: "verging on a horrible performance."

And Jeanine Vailes moved the gentler Randy Jackson to say that her performance's "best part was the end, when it was over."

But all wasn't lost.

Red-haired, full-throated Allison Iraheta wowed the judges.

"This is a funny show tonight," marveled Jackson when the 16-year-old Los Angeles native was done. "First, we had comedy, we got some bad singing. You just blew it out the box!"

"From now on, you can be sure you're great," raved Kara DioGuardi.

On Wednesday's live broadcast, the second group of 12 contestants were vying to be among this season's dozen finalists. The night's top three vote-getters will be revealed on the Fox series' Thursday episode.
Nick, who has been compared to Jerry Lewis and Andy Kaufman, admits that he originally auditioned for the show because he is a sketch comedian and was looking for exposure. He had no idea his character would take off the way it has. And given the abysmal performances from serious contestants last night, there's a good chance Norman Gentle could be part of the Top 12 – a move that would probably make Simon Cowell's head explode. Which makes it even more awesome. Look, everyone knows this show is a joke – for once, it's refreshing to see a contestant who's in on it. Go, Norman! Click here to see video of Norman's hilarious performance.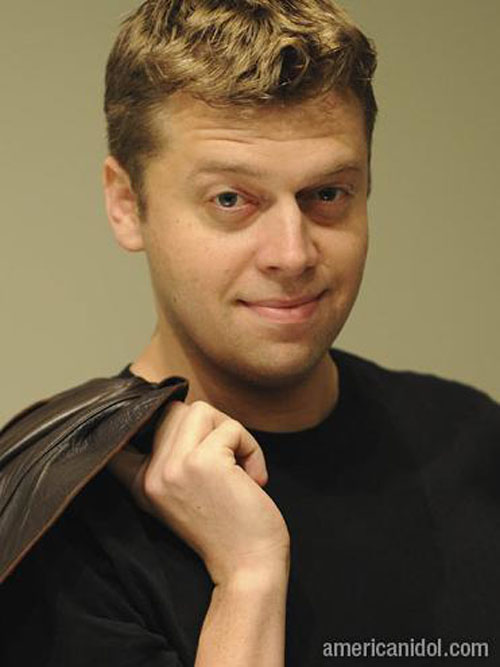 Images of Nick Mitchell and his alter ego, Norman Gentle, courtesy of AmericanIdol.com.