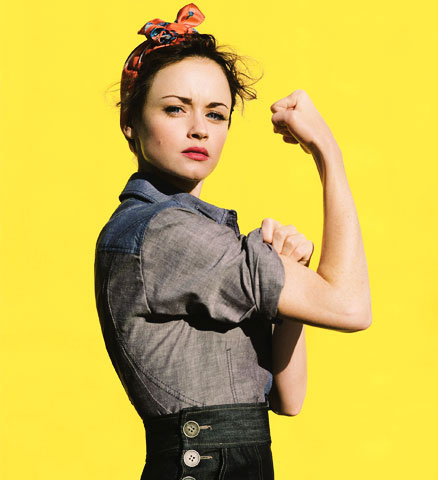 Glamour magazine has done what I think is a pretty cool photo shoot featuring twelve of Hollywood's biggest female celebs as American icons. And all but one of them (Lindsay Lohan) are women that are fairly smart and have their act together.
They've got Lohan as Madonna, Camilla Belle as Mary Tyler Moore, Emma Stone as Carrie Bradshaw, Emma Roberts as Audrey Hepburn, Alexis Bledel as Rosie the Riveter, America Ferrera as Dolores Huerta, Alicia Keys as Michelle Obama (who did a much better job than Tyra Banks), Elisha Cuthbert as Brandi Chastain, Hayden Panettiere as Amelia Earhart, Paula Patton as Billie Holiday, Chanel Iman as Althea Gibson, and Odette Yustman, Spencer Grammer and Rumer Willis as the women of Woodstock.
They've also got the requisite quotes from the ladies about the women they're portraying.
Alicia Keys on Michelle Obama: "She has worked hard for everything she's accomplished, and done so with grace and humility. So many women and girls can identify with her story."

America Ferrera on Dolores Huerta: "She saw her own opinion and voice as [something as] powerful as any man's."

Chanel Iman on Althea Gibson: "She showed women…you can be sweaty, be gorgeous and do a great job."

Hayden Panettiere on Amelia Earhart: "She proved that anything is possible. If you want to fly a plane, fly a plane…. No one can tell you no."
[From Glamour.com]
I really liked this photo spread. It was something creative, though obviously not totally innovative. But it's so much more interesting than another posed shot of an airbrushed starlet "relaxing" at home. I can't wait to see what they look like in the print version of the magazine.
Images via Oh No They Didn't.