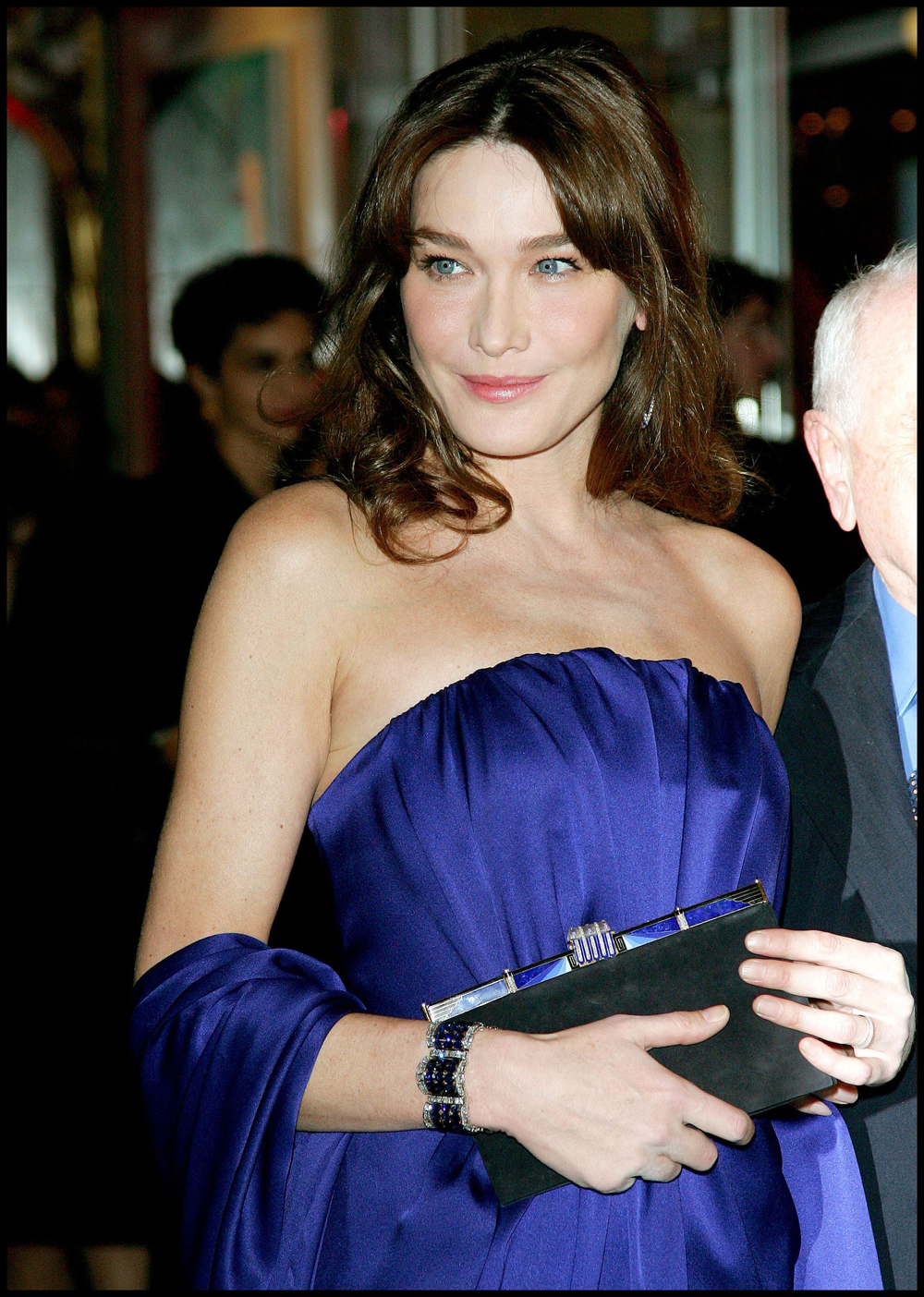 Carla Bruni, supermodel/singer/man-eater/France's glamorous First Lady, has made the mainstream French establishment gasp. For like the millionth time. Carla gave an interview to the magazine Madame Figaro, and she said that if she doesn't get pregnant soon, adoption is on the table. Carla says she's "not obsessed by blood ties".
President Sarkozy and Carla just celebrated their first wedding anniversary. They were married after a whirlwind three-month courtship. Sarko (his press nickname) had been married twice before and already has three children. Carla has one 7-year-old son, whose father was one of her many glamorous and controversial conquests, a man who is still in her life.
In the interview, Carla alludes to the fact that she and Sarko has been trying to get pregnant. The 41-year-old also says she's "not going to fight against nature", which I guess is a way of saying that she and Sarko don't want to go through any fertility procedures to get pregnant. The Daily Mail has more:
France's first lady Carla Bruni-Sarkozy says she would like to have a baby and if that does not work out she would be happy to adopt one.

The comments, made in an interview with the magazine Madame Figaro, come just over a year after the supermodel-turned-pop star married President Nicolas Sarkozy. Asked whether she wanted a baby, 41-year-old Bruni-Sarkozy said: 'I would like that, but I don't know if it will be possible at my age… If it's not possible biologically, I will adopt one. I'm not obsessed by blood ties. I think you can form strong bonds without that.'

Bruni-Sarkozy has a 7-year-old son from a previous relationship while her husband, who is 54, has three children from his two previous marriages. There has been intense speculation in the celebrity press about whether the Sarkozy couple planned to try for a child.

'I would love to have a child but I'm not going to fight against nature. I already have one and my husband has three, so you can't really say we are desperate for children,' she said.

The pair met in November 2007, just weeks after Sarkozy divorced from his second wife Cecilia, and tied the knot less than three months later. Their whirlwind romance captured the public imagination in France and abroad, generating dozens of glossy magazine covers, but many criticised Sarkozy for putting his private life first at a time when the country was facing economic difficulties.

Turning to a vein of commentary that has run through French media coverage of their relationship, Bruni-Sarkozy said it was not true she had more highbrow cultural tastes than her husband.

'There is this stereotype about the right in general and my husband in particular: that they lack culture,' she said. 'One day I read an article saying that my husband never read a book. The man who wrote the article must live with us since he knows that my husband never reads! The truth is that my husband spends all his free time reading.'

The bookworm Sarkozy was currently reading works by the philosopher Jean-Paul Sartre, the 19th century novelist Alexandre Dumas and the Roman emperor Marcus Aurelius, the first lady said.
[From The Daily Mail]
Jean-Paul Sartre's writing is over-rated. Carla should suggest Sartre's lover, The Second Sex author Simone de Beauvoir for a good read.
Back on topic, this little piece of information is sure to throw the French – and probably the entire European – media into a tizzy. At first, the attention on Carla and Sarko's relationship was almost entirely negative. But a few months into their marriage, something changed. The French people, and everyone who met Carla, started seeing her as her husband's best asset. Carla travels with her husband, she's always decked out in beautiful clothes, and she's actually not that political, so she's not vying with her husband's agenda. She's sort of like a really glamorous, sexy version of Laura Bush. Or something.
Here's Carla Bruni-Sarkozy attending the Fashion Dinner for AIDS benefit at the Pavillon d'Armenonville in Paris on January 29th. Images thanks to WENN.com.