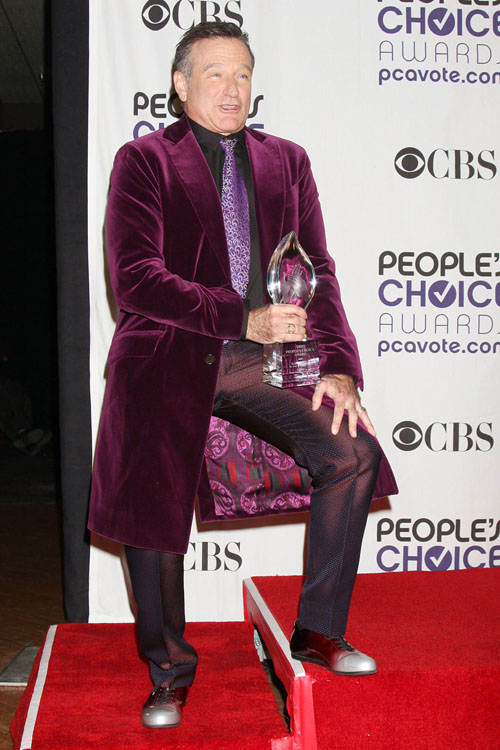 Manic comedian Robin Williams experienced chest pain and shortness of breath earlier this week while in Florida. The comic is in the midst of a new stand-up tour, "Weapons of Self Destruction," which many have heralded as a return to his early roots as a zany, R-rated stand-up performer. Williams had to cancel shows and checked himself into a local hospital, where he remains under observation in the Intensive Care Unit. Yikes!
Frantic funnyman Robin Williams was hospitalized with heart trouble Wednesday in South Florida.

He's in the ICU.

According to the Miami Herald, the comedian, 57, complained of shortness of breath yesterday.

He canceled all four South Florida performances of his one-man show "Weapons of Self Destruction" after doctors evaluated him and recommended a week of rest.

Williams has been on an 80-city tour since September and has done shows in 11 cities over the past three weeks.

That's a lot of traveling and a lot of shows.

He reportedly will be back on stage Monday in Jacksonville, Fla.

Slow down, Robin!
Robin is rather young to be having heart trouble – he's not even 60 years old. But he has been very candid about drug and alcohol abuse earlier in his career. Seriously – watch those old reruns of "Mork and Mindy" and you will wonder how you didn't know back then that the guy was a total coke-head! Anyway, those years of hard living seem to have caught up with him. If his past comedy routines are any indication, Robin needs to be healthy in order to do all those spazzy, physical bits. Hopefully he is on the mend and will take his doctor's advice. A heart attack is no joke.
Just for the hell of it- one of my favorite Robin Williams' stand-up routines: Robin Williams Enjoy!
Here's Robin with his son Zachary in NYC. Photo credits: WENN.