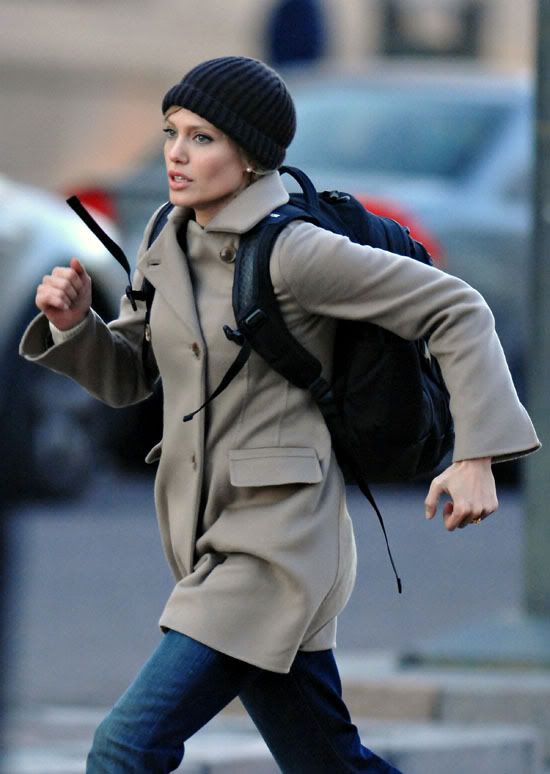 Now it's time for the latest installment of The Brangelina Saga. We've seen Angelina in a couple of wigs. Shocking. We've heard about Brad's meeting with Nancy Pelosi. Sweet. Now OK! Magazine has some sources in Washington, DC, where Angelina is filming scenes for Salt. What do these sources say? Is she having an affair? What does her hair look like? Any mutterings of the scheming kitty Murder McMeowington? Anything?
The biggest news is that Angelina and co-star Liev Schreiber were seen "laughing" in between takes. Oh my God, sex! Affair! Laughter! And oh, yeah, Angelina does her own running stunts. Read the breathless account from OK!:
While main man Brad Pitt is getting ready to chat with Nancy Pelosi this afternoon in Washington D.C., Angelina Jolie is in town too, busy on the set of her new movie Salt, and she seems to be enjoying herself!

"She's having a lot of fun and joking on set with the stunt double. She's in a great mood and was laughing with [co-star] Liev Schreiber in between takes," a witness tells OK!.

"There were some fans who were watching her shoot and she was waving to them."

And true to form, Angie isn't sitting back and letting anyone else do the hard work for her when it comes to action-packed sequences for the movie.

"She's been filming a sprint scene this morning where she runs down the street and before she ran, she runs in place to get warmed up," the source reveals. "She was doing all of the stunts herself but her stunt double was walking her through everything."
[From OK! Magazine]
So the way I read that last part, I thought that the stunt double was showing Angelina how to run down a street. Maybe the stunt involves more than that. Hopefully.
Who thinks Angelina and Liev are already hittin' it? They would look cute together. Not as cute as her and Brad, but Liev might be fun for a fling. I doubt it's happening, but let's see what the tabloids make of it next week.
Here's Angelina Jolie on set yesterday in New York. Credit: AAR/Fame Pictures.