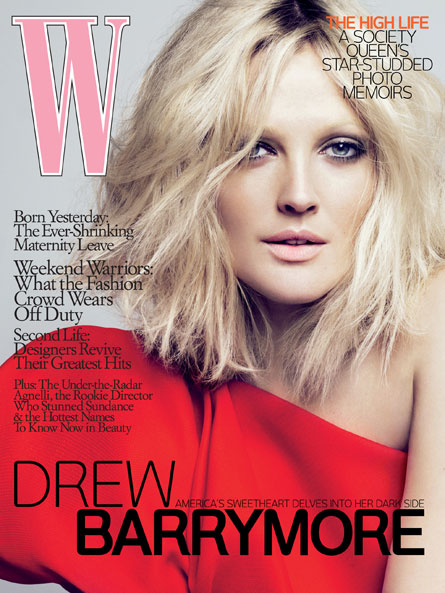 Drew Barrymore has just directed her first feature film, Whip It, starring Marcia Gay Harden, Ellen Page, and Jimmy Fallon. She's about to make a dramatic debut in the HBO series Grey Gardens about the Onassis family, where Drew will play Edith Beale. She recently sat down with W to discuss her projects, her life, and her relationships. Here are some highlights:
On being happy
Such is the range of her appeal that she has claimed the covers of Playboy, Seventeen and Ladies' Home Journal; this past February, Barrymore beat out Jay Leno and Oprah (Oprah!) to win Greyhound's first-ever survey to name America's favorite celebrity road-trip buddy. Barrymore calls herself an optimist but is the first to concede that she works hard to be happy. "I get out of bed with a spring in my step like, I'm going to f—in' rock this day," she says. "I'm going to make people happy. Here I go."

How playing Edie brought out her dark past
The self-doubting Edie, by turns withdrawn and theatrical, liberated her from playing that part. "I was excited to bring my own pain to something," says Barrymore, without a hint of any of it. "I mean, contrary to my happy-go-luckiness, I have so much darkness in there. Playing Edie, I felt like s—. I thought, I'm afraid beyond anything I've ever known. I'm miserable; I'm scared; I feel sick all the time. And I was like, Good! At least I have somewhere to put it. You know what? I'm not f—in' happy all the time. I like making people feel good, but it was great not to have to please anybody. I was out there for myself and for her."

Wanting to feel as cut off from the world as Edie had, she didn't use her cell phone or laptop or watch TV, and she read only Edie's journals and favorite Nathaniel Hawthorne novel, The Marble Faun. The actress insisted that everyone on set call her Edie, and as Edie, composed journal entries and letters to Long on a typewriter. (Her best friend and producing partner, Nancy Juvonen, sent Barrymore a formal letter, addressed to Edie, to invite her to her wedding to Jimmy Fallon.) Fearing she might "snap," Sucsy recalls, he suggested she return to playing Drew on Saturdays. Her dresser, Kent Cummins, an old friend of hers, confided to Sucsy, "Even the Saturday-night Drew wasn't the full Drew."

On her relationships with her mother and father
When I ask if she sees her mother, Barrymore gives the only terse answer in the interview. "No contact," she replies. Her father, John, an alcoholic actor, left before Drew was born and was absent for much of her childhood, though they forged a bond when he was dying of bone-marrow cancer, and Barrymore, then 29, paid for his care. "He was so feeble, I could actually nail him down," she says sardonically. "He was such a flighty bird—unattainable and off doing his own thing. I'm sure it's affected my relationships with men. I'm sure I'm sadder about it than I admit, but I accept that a lot easier than my mother's and my relationship, which is more tumultuous."
[From W]
The interview is very well-written and I would recommend checking it out. Her latest projects sound very diverse and I'm interested in seeing both her directorial debut as well as her turn as a dramatic actress.
Drew's latest film, Whip It is about a 17-year-old girl, played by Ellen Page of Juno fame, who leaves her small-town mother and finds herself on a roller derby team. Drew says the movie is about "finding your tribe," and it seems like it has a lot of parallels to her own life – she, too, has been forced to find a "family" outside of her own blood. Her next project will be directing How to Be Single, based off the novel of the same title.
Although she is trying to establish herself outside the realm of romantic comedies, it seems like after playing such a dark and intense character like Edie, she is reverting back to the tried-and-true for the time being. If Drew wants to be a real dramatic actress as she ages, it's probably best to ease into it – by doing one or two rom-coms for every dark role. That will make the transition much smoother.
Here's Drew meeting some friends at "iO Film" in Hollywood on February 27th. Images thanks to Fame.com.