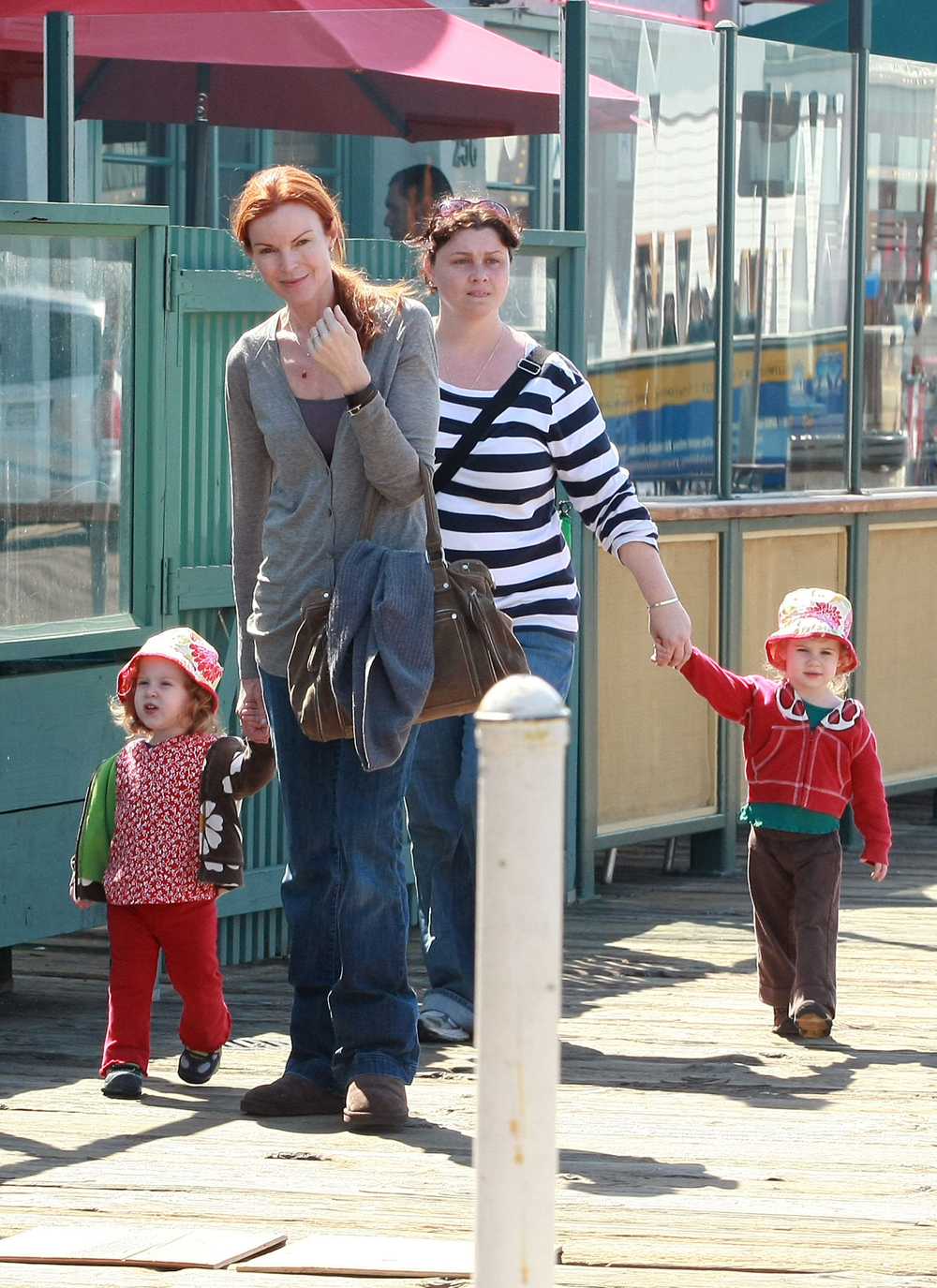 Marcia Cross has always struck me as one of those very careful mothers – not quite as Stepford Wife as her character on Desperate Housewives, but she dresses Eden and Savannah, her two-year-old twins, in matching outfits and always seems put together. In an interview with People, she says that it's a little scary how articulate her girls are, and that she has taught them to be very vocal.
"They are big talkers," Cross told PEOPLE at Mott's and Feeding America charity event in New York Monday. "They happen to be very verbal girls and I think that comes from me. Their mom is pretty verbal."

Now that her girls, who turned 2 last month, can express themselves, Cross, 46, enjoys every minute engaging them in conversation. "It's wonderful that they can tell me what's going on with them and have conversations. I just love it," said the Desperate Housewives star. "When we go to the park one of my daughters will say, 'The dog scares me mamma.' Or after their birthday party a few weeks ago, one of them said, 'Too many people mamma.' "

In fact, they seem to have inherited their mother's tendency to talk things over. "Recently both my daughters were sitting on the steps in our home, and one of them said, 'Let's talk about it mamma,' " recalled the Emmy-nominated actress. "I thought, where did they learn that? Then I realized it was from me. I thought, Oh my God, what have I done to them at 2 years old?"
[From People]
She also talks about only feeding her daughters organic, healthy food, and the fact that her girls don't know what cookies are – though they got a bite of an organic cupcake at their birthday.
At home, making sure her own children eat healthy foods is a high priority for Cross. "I keep them away from junk food. They don't know about cookies yet so everything they eat is healthy," she said. "They've had a bite of an organic cupcake for their birthday but it's always healthy foods – especially now before they find out about junk food."
[From People]
It's important to feed your kids the right kind of food, but you can't keep them away from junk food forever. It's critical to instill a love of healthy foods, so that they won't binge on ice cream and chips, but will reach for nutritious things when they want a snack. Denying your kids unhealthy food completely isn't the answer because eventually they'll rebel. Still, we're talking about 2-year-olds here, and at that age they don't have much say over their food intake anyway. The girls sound (and look) absolutely adorable, and it's nice to hear someone talk about their kids in a realistic way, unlike Jennifer Lopez, whose publicist fed her some lines to tell the press.
Sadly, though Marcia finds a lot of joy in her children, her husband has been diagnosed with what may be terminal cancer. Our thoughts go out to her and her family.
Here's Marcia taking Savannah and Eden to the Santa Monica Pier to play with the games in the amusement park on March 7th. Images thanks to Fame.com.