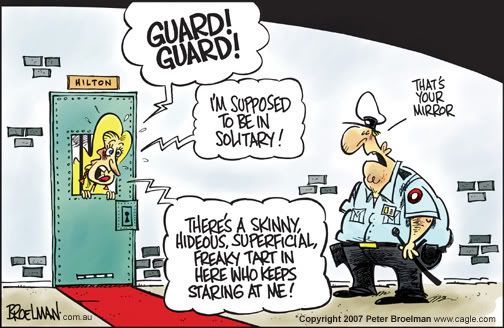 Copyright 2007 Peter Broelman – www.broelman.com.au, www.cagle.com
Another jail for Paris, shorter sentence
Paris Hilton was moved to another jail, which Sheriff Baca calls a "better facility," the Twin Towers Correctional Facility in LA.
Her sentence has been moved back to 23 days, and I'm assuming she gets credit for the extra two "days" served due to the before midnight and after midnight timing of her check-in and release, which amounts to 18 more days.
Why Paris got put back in jail
Sheriff Baca referred repeatedly to the medical document in his hand while giving a press conference about Paris' early release. He said "We've been overruled by the judge, I accept that, and we'll keep her in county jail."
He also cited overcrowding and said that low level offenders are routinely let out early with most serving about 10% of their sentences.
The real reason Paris got put back in jail seems to be because Judge Sauer was pissed that he was kept out of the loop and not consulted on Paris' release. He was never given a copy of the medical report that got her transferred home.
He said that he never approved the Sheriff's release and during Paris' hearing he kept mentioning that no one had yet sent him the paperwork for Paris' medical condition despite telling him he should receive it on Wednesday:
The judge interrupted several times to say that he had received a call last Wednesday from an undersheriff informing him that Hilton had a medical condition and that he would submit papers to the judge to consider. He said the papers never arrived.

Every few minutes, the judge would interrupt proceedings, state the time on the clock, and note that the papers still had not arrived.
[AP article from NY Daily News]
Paris' Mystery Medical Condition
Paris was on medication before she was in jail, Sheriff Baca said, but had not taken any during her jail stay.
Baca said that "this lady has some severe problems" and that "I can't trust her tenuous status."
Baca also said that he reassigned Hilton based on "her severe medical problems," and confirmed TMZ's original story that her condition was mental. Baca said that her "increasingly deteriorating problems" were evaluated and added, "This lady has some severe problems."

Baca added that she was medicated when she originally entered the jail system … and "I can't trust her tenuous status," referring to her mental state. "She had a severe problem," said Baca, "I need more cooperation from the courts and from the city attorney's office."
[From TMZ.com]
Intense speculation has any one of several conditions affecting Paris. There's a "friend of a friend" report that Paris has "blistering anal lesions" from a herpes flare-up, which could be suggested by the story that Paris wasn't taking her medication in jail.
There's another report by a "friend" that she suffers from intense claustrophobia, and there are the expected rumors about a nervous breakdown and suicide risk for Paris. She was also said to have a rash on her body.
Judge vs. Sheriff in sentencing battle
It seems that because Paris is a high-profile case, the judge was particularly irked by the Sheriff letting her out early. If she was an average inmate, this type of release would go unnoticed, and it seems to be a common practice.
The county doesn't make nonviolent, low-level offenders like Paris serve out their full sentences. In fact Michelle Rodriguez was in jail for just hours out of a longer sentence for her second DUI, a probation violation of her first DUI, while serving at the same facility as Paris .
Michelle Rodriguez vs. Paris Hilton
Michelle Rodriguez spent four hours and 27 minutes in late May, 2007 at the Century Regional Detention Facility out of a 60 day sentence. She was jailed for violating probation for her first DUI by getting another DUI in Hawaii. Her parole violation was arguably more severe than Paris', her original crime was worse, and her sentence was certainly longer. But she still got out earlier than Paris did. Paris also had a medical excuse, while Rodriguez claimed to be doing fine in jail and was let out due to the nature of her crime.
Rodriguez also has more driving-related legal trouble than Paris. Rodriguez was arrested twice in 2003, in July and November, for a moving violation while drunk and for leaving an accident. And each time she had a suspended license!
If Paris wasn't uber-famous, she might be home enjoying takeout and having friends over right now.
Paris did get to enjoy some In-N-Out Burger during her brief sojourn from jail, and she also ordered in a private spray tanning session. At least she got some decent food and her orange glow on before heading back to the pokey.
Update Thanks to commentor Nilla for reminding me that Paris was originally sentenced to 90 days and that she violated parole twice, not once like Rodriguez. She also chose to do time in the special section of the jail, unlike Rodriguez who served time in the general population where overcrowding is a problem.
Inset court sketch of Paris thanks to Flynet Online. Header image by Peter Broelman and used by permission of the artist.