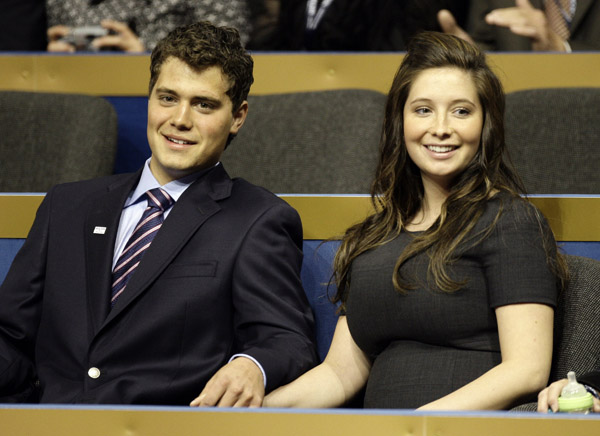 Levi Johnston gave an impromptu press conference last week, saying that he and Bristol Palin had broken up "a while ago". This weekend Gov. Sarah Palin, Bristol's mother, gave a brief statement about her daughter, saying that she was "doing great". But it looks like that wasn't all we had to hear about this whole situation. Levi has given an interview to Good Morning America, in what I can only guess is an attempt to clear the air and come out of the situation looking like the good guy.
Levi says that he wasn't "mature enough" and that he and Bristol decided it would be "better for us to separate for a while." He also messes with the timeline again. Last week, Levi claimed that they had split "a while ago" and now he's saying they split "a week, two weeks ago". I don't think two weeks is "a while," but whatever, Levi. People has more:
Nineteen-year-old Levi Johnston, the former fiancé of Bristol Palin and father to her child, has had to grow up fast, but says in a new interview that he needs to "mature" before considering marriage.

"It's just us not, me not being mature enough, or something, and having a kid and thinking … it could be better – better for us to separate for a while," Johnston, 19, said in an exclusive interview at his Alaska home with Neal Karlinsky of Good Morning America.

As for whether a reconciliation with Alaska Gov. Sarah Palin's eldest daughter is possible, he said, "We'll see how it is … We'll just remain friends for now. We're both cool with that decision, and we'll see."

Of the break-up that happened "a week, two weeks" ago, Johnston admitted, "We were just, we were in a fight. And trying to see if we can make things work. But this is what it kind of ended up turning into."

Palin, 18, gave birth to a son, Tripp Easton Mitchell Johnston, on Dec. 27, and Johnston says he sees his son regularly – and it has changed his life.

"I'd give anything for [Tripp], to be with him," he said. "[There are] a lot of changes when you're a father, when you hold him for the first time, you know. I don't do a lot of things I used to anymore, I'll tell you that."

He added: "Yeah, [I'm] growing up a lot. So, it's fun. It's good times."

Asked if he felt any pressure from the Palin family, Johnston said, "No, not at all."
[From People]
So Levi didn't feel any pressure to marry Bristol? Perhaps not in the long run. In the short-term, during the campaign, I'd say he was definitely being pushed into marriage, or at least saying that he would marry Bristol at some point. After the election, maybe the Palin family gave the meth-dealing Johnston family a second look and decided that they were "white trash" who would destroy the their own political future.