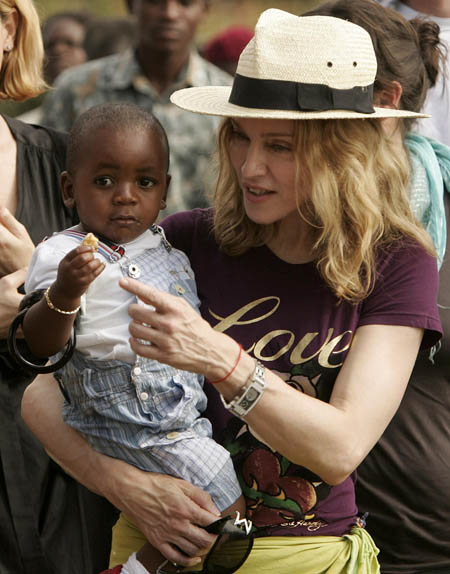 Madonna is considering adopting another child. And no, not Jesus Luz. Madonna gave an e-mail interview to Malawi's Nation newspaper, and she says that she's considering adopting another child from the country. Her son David Banda, now three and a half, was adopted from Malawi in 2006, though the legal wrangling for the adoption took more than a year.
Madge puts conditions on the adoption she's considering, however. She says that she would only go ahead "if I had the support of the Malawian people and the Government." We'll see about that. Star has more:
No daddy? No problem! Newly divorced Madonna says she may adopt another child from Malawi — despite the controversy surrounding her earlier adoption of young David Banda.

"Many people, especially our Malawian friends, say that David should have a Malawian brother or sister," Madge said in an email interview in Malawi's Nation newspaper. "It's something I have been considering, but would only do, if I had the support of the Malawian people and the Government."

In 2006, Madonna began adoption proceedings for then 13-month-old David, whose father put him in an orphanage following the death of his wife. Malawi previously banned non-residents from adopting — despite having an estimated one million children in the country orphaned by AIDS.

A Malawian court approved the adoption of David last year. Madonna added that she wants to keep her son — who has older siblings Rocco, 8, and Lourdes, 12 — connected to his homeland.

"It is a big priority for me to educate my son about the world, but always to stay connected to his Malawian culture," she said. "He has a big map of Africa in his room with lots of arrows pointing to Malawi."

The 50-year-old singer is single after divorcing Guy Ritchie last year. As of late, she's been making the scene with 22-year-old Jesus Luz.
[From Star Magazine]
I seem to remember something about Malawian adoption regulations giving a higher priority to married couples as opposed to single parents. It's not unusual – many countries do that with foreign adoptions. My guess is that Madonna will probably get her way, just like she did with David Banda. And, surprise, surprise, she might get some more attention! But I'm sure that's not why she's doing it, right?
Here's Madonna with adopted son David in Malawi in April, 2007.