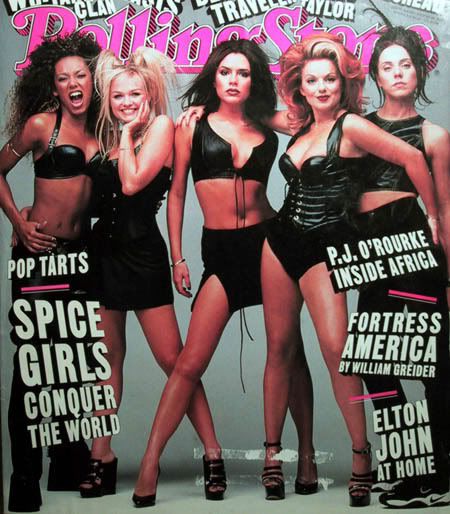 Now, I may be alone in this, but I love the Spice Girls. Still. It wasn't a passing fancy for me, I love Girl Power and cockney accents and fun scandals, like pinching Prince Charles on the bottom, rather than the girls of modern times, who seem to marry the wrong people and end up in rehab. Victoria Beckham was still known as Posh Spice and for singing, although she never smiled back then either, and Mel B hadn't even met Eddie Murphy. And do you remember how much we all cared when Geri left the group first?
So when I heard this come out of Mel C's mouth, I got out some Wannabe and had a little dance.
"For the first time ever, there is some truth in the rumors. We've been discussing it and it could possibly happen," the 33-year-old singer, known as Sporty Spice, told British Broadcasting Corp. radio.

"I've always said, 'I don't want to do it, the past is the past. It was amazing, it was magical. We could never re-create it,' " she said. "But this year people have been talking about it and some of the girls have expressed an interest in doing it."

Mel C, who was born Melanie Chisholm, added: "There is just so much great feeling out there and I just thought, 'You know what, I don't want to be the person that stops it happening or stops it being a five-piece.' "

However, she added: "If the Spice Girls were to get back together it would be for a very short space of time. It would be a final goodbye and a 'thank you' to all the fans all over the world."
What times they were. Hope the rumoured new song, titled 'Woman', is as good as 'Wannabe'. Check it out here.
Geri, aka Ginger Spice, is keen enough on this reunion too. She's apparently trying to get her hands on her old Union Jack dress.
Pictures from Wallpaperbase.com and Kandi-O.com