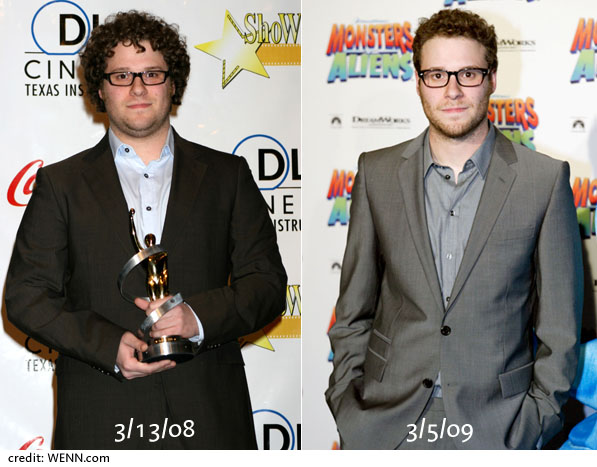 When Seth Rogen signed on to play the Green Hornet, he knew he would have to tone up his somewhat chubby, stoner body. Like so many men, his svelte transformation seemed to happen overnight. Sidenote: why can men lose weight with such ease while women struggle with this endless dieting and working out all of their lives? Anyway, Seth's thinner, more athletic body wasn't all good for him. He got the role he wanted, but he lost some of his fanbase.
Seth claims that strangers come up to him to compliment his new body, but some people are peeved. Seth believes he was some sort of icon for chubby guys, which is probably the truth. A lot of guys wished they had a body like Gerard Butler in 300, but a lot of guys know they resemble Seth Rogen in Pineapple Express. PR-Inside has more:
Actor Seth Rogen is struggling to accept his newly svelte figure – because he's let down the legions of chubby men who looked up to him.

The funnyman slimmed down to star in forthcoming comic book move The Green Hornet, and has to cope with strangers approaching him about his weight loss.

And Rogen admits not all of the comments are complimentary.

He says, "That's the weird thing about losing weight, strangers (compliment) you. It does (make me uncomfortable) a little but I don't know them…"

"I think for chubby guys, I was their guy so they were like, 'I can be chubby. Seth Rogen's chubby, so who cares.' But now I'm not so chubby anymore. So now they're like, 'I have to lose weight.' I've let them down. I've blatantly sold out. It's only for money."
From PR-Inside
At least Seth owns it. I love that he says "it's only for the money." Perhaps after his gotten all of the "svelte" roles out of his system, he'll go back to being everybody's favorite chubby stoner.
I've mentioned it before, but I really don't mind chubby guys. I prefer a guy who isn't always working out or watching his carbs or preening in the mirror. While Seth Rogen in any form isn't my ideal guy, I bet he wouldn't mind if you ordered dessert on a date.
Note by Celebitchy: Here's Seth Rogan with scruff on 3/5/09 and with a full beard and looking like he gained a little weight back on 3/22/09. Maybe he's more comfortable that way. Credit: WENN.com