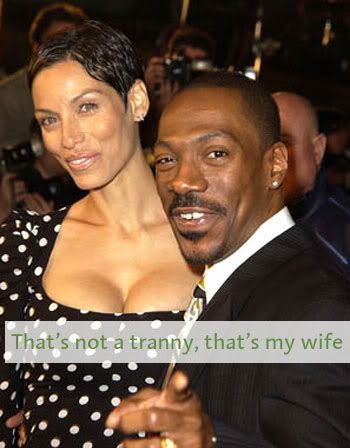 New details about Eddie Murphy's past may come out in the divorce proceedings with his wife of 13 years, Nicole. Page 6 speculates that she may fight the prenup, citing Murphy's infidelity with various street trannies.
In 1997, Murphy was caught by West Hollywood police with a transvestite hooker in his car. He told his wife that he "stopped to help a person crying." Several other hookers sold tales of Murphy's solicitation to the tabloids, and all of them were convinced to recant, with one exception:
Paul Barresi, a private detective who claims he was hired for damage control by Murphy when the scandal broke, tells Page Six: "I called [Murphy attorney] Marty 'Bull Dog' Singer and told him I could round up all the transsexuals alleging sexual dalliances with Murphy." And they would all recant their stories.
"In less than 10 days," Barresi says, "I got them all to sign sworn, videotaped depositions, stating it wasn't Murphy himself, but rather a look-alike, who they'd encountered – with the exception of Suiuli." In 1998, she fell to her death from her L.A. roof.
Atisone Suiuli was the tranny found in Murphy's car in 1997. After being caught by police, she had proof that she was with Murphy and wouldn't change her story. How convenient for him that she died soon afterwards.