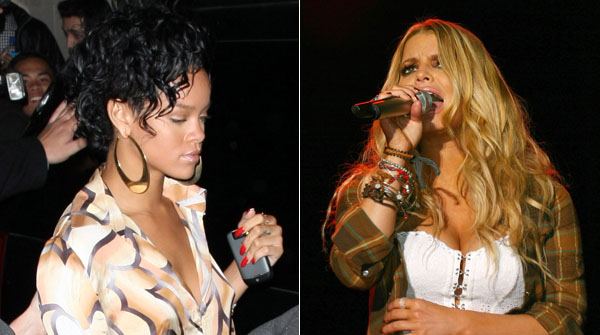 If you believe the National Enquirer, Jessica Simpson is upset because a letter of encouragement she sent to Rihanna after the Chris Brown attack went unanswered. Simpson has said that she was in an abusive relationship in the past but has not disclosed the nature of the abuse or named the person who hurt her. Her song "Remember That" is about surviving abuse.
[Jessica Simpson] announced during a concert that any woman being abused should "take your heart and run," then sent a note to Rihanna with advice, according to insiders>

"But Rihanna ignored Jessica's letter," an insider told The Enquirer.

"Actually, she was kind of shocked that Jessica had the nerve to try to get involved in her very personal problems…

Prior to Jessica reaching out to Rihanna, the pair were acquaintances but not friends.

"Jessica doesn't have a mean bone in her body and she definitely had good intentions, but her appeal to Rihanna was misguided and a little tacky," said the source.

"Jess is acting like an expert on domestic violence, and it's strange that she'd write a letter to a woman she barely knows, offering advice and a sympathetic ear. Jess took a gamble and now she's hurt because Rihanna didn't bother to acknowledge the correspondence."
[From The National Enquirer, print edition, April 6, 2009]
If this is true, you wouldn't really expect Rihanna to run out and call Simpson back or anything. She went back to Brown and thought she could handle it her own way. It seems unknown if these two are still together, and there are promising signs that Rihanna has walked away from Chris. She's been seen out alone on the town several times and recently got a small gun tattoo on her lower right rib, which could have been a sign that she's ready to defend herself against predators like Chris who can turn on you at a moments notice.
You can imagine Simpson doing this with only good intentions. When even Rihanna's friends and family can't get through to her, some person she barely knows isn't going to be successful at it either. That's the insidious nature of this type of abuse, it's not something other people can convince you of until you're ready to acknowledge it yourself. Either way, I don't blame Rihanna for not knowing which way to turn and just feel sorry for her.
Photo credit: WENN.com