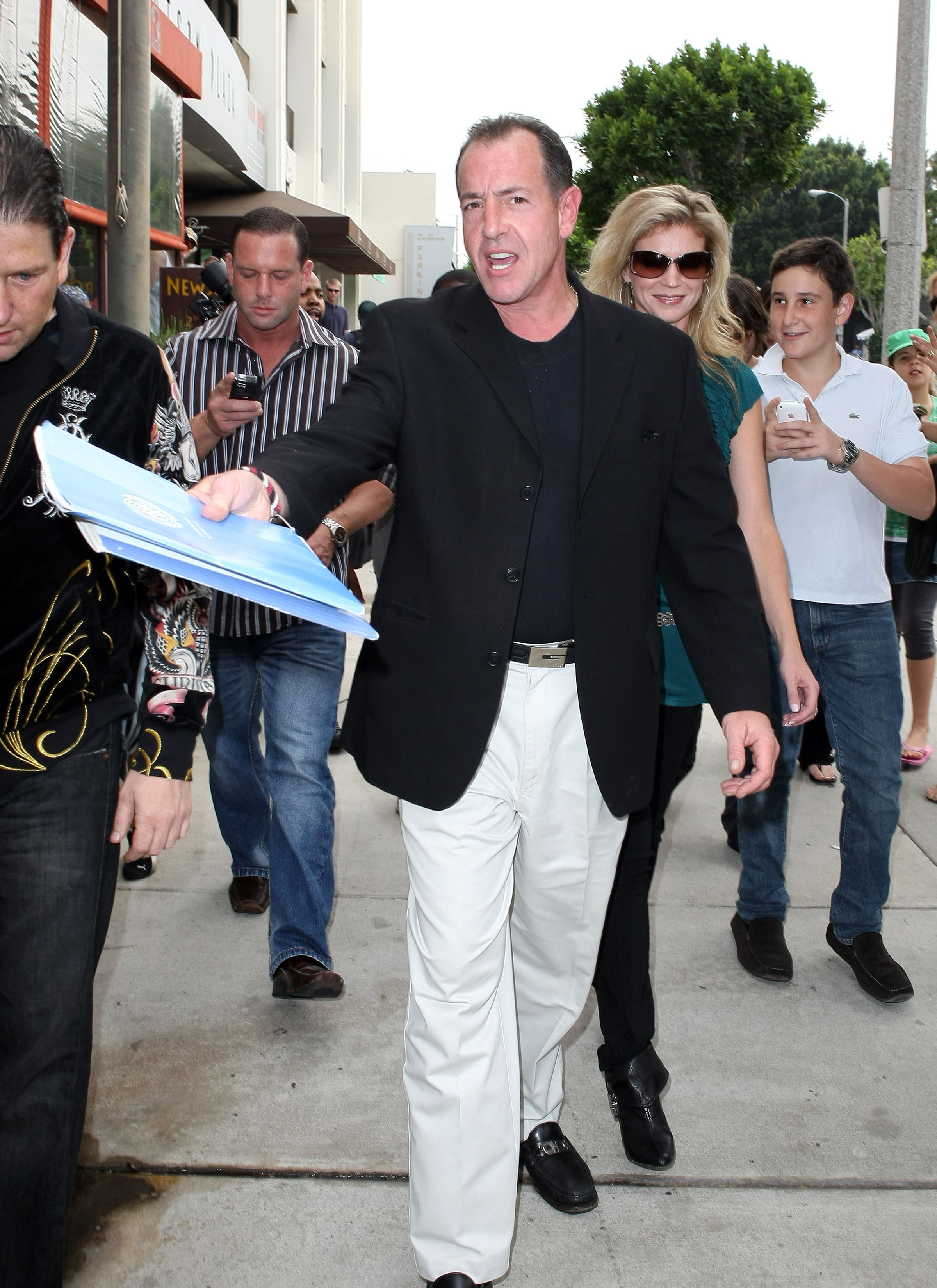 Michael Lohan wants to be the next Jamie Spears. Spears is widely credited with saving daughter Britney's career – and possibly her life. And crazy former jail bird Michael Lohan thinks he's the guy to do the same thing for his messed up, wasting away daughter Lindsay. He's gone on one of his epic internet rants about all the things that are wrong with her life that he's going to fix. You know, because he's such a model of perfection himself.
Lindsay Lohan could end up even worse off than Britney Spears, the troubled actress' father has said.

Former Wall Street trader Michael Lohan says the Mean Girls star is spiraling into a personal disaster even worse than that of the Toxic hitmaker – and is now pleading with his famous daughter to see sense before it is too late and split from her lesbian partner Samantha Ronson.

He says, "She's [Ronson] using her and bringing her around the wrong places.

"No matter where they go in the world, where Samantha drags Lindsay to her little DJ events, there's always a big blow-up. Ever since Lindsay left rehab where she really got her life back together, Samantha has come back into her life and in it all went wrong for her.

"Lindsay was very vulnerable and Samantha seized on that and manipulated her."

Now Michael is hoping to follow Britney's dad's example and take control of his daughter's affairs.

He adds, "Finally Britney's father did take control and she got her life back together.

"But Britney didn't have Samantha Ronson in her life. Lindsay is my daughter and I love her but I'm not there to be a friend, I'm here to be a parent.

"If Lindsay doesn't like that or is angered by what I have to say, quite frankly I don't care because." [sic]
[From Showbiz Spy]
Okay a few points here. True, Britney didn't have Samantha Ronson in her life. She had Sam Lutfi and Adnan Ghalib. No matter how evil Michael Lohan claims Samantha may be, Lutfi plus Ghalib still equals 20 Ronsons. There is just no comparison. Second, if Michael is trying to be Lindsay's parent and not her friend, then he should be saying these things to her privately, not via the internet and various media outlets. I'm sorry, does Jamie Spears have a blog I don't know about? Come on.
The difference between Lindsay and Britney is that Britney's parents were able to pull it together and help her when push came to shove. There are definitely those who believe they're in it for themselves, and I can understand the argument either way. But they are, if nothing else, two people of at least average intelligence who were able to save their daughter.
No way in hell could Dina and Michael ever do that. We could make a bunch of arguments about why, but frankly what it comes down to is they're both too stupid. And they can't understand what's going on with their kid not only because they lack the intellectual capacity to do so, but because they each have so many psychological issues of their own. It'll never happen.
There is no one in Lindsay's life who can save her but herself. And I have a hard time believing that's going to happen.
Let's not forget that this is the man who wants to save Lindsay. Enjoy the nipples.