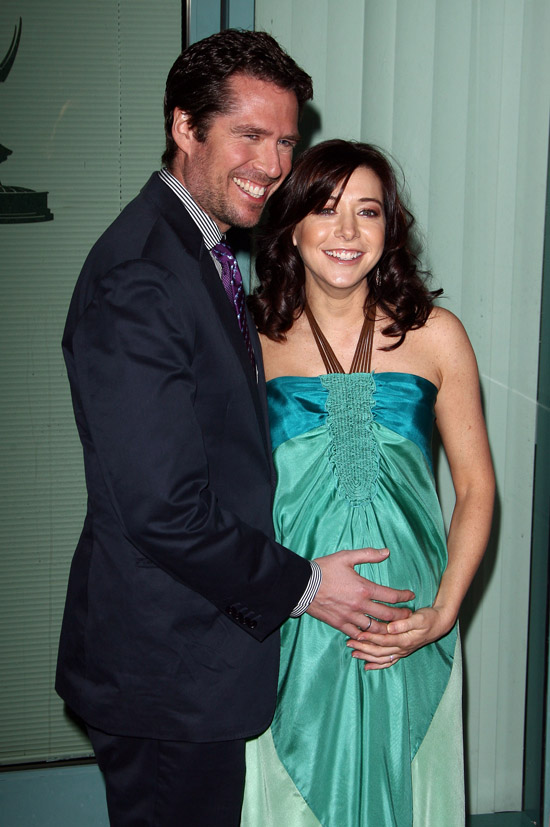 Alyson Hannigan, 35, and her husband, actor Alexis Denisof, 42, welcomed their first child last week in LA. Their daughter Satyana Denisof was born on Alyson's birthday, March 24:
It's a girl – and she shares her birthday with her mom!

How I Met Your Mother star Alyson Hannigan and her husband, actor Alexis Denisof, who kept the gender of their baby a secret during pregnancy, have welcomed a daughter, her rep tells PEOPLE.

The girl is named Satyana Denisof and was born March 24 in Los Angeles, which also happens to be Hannigan's birthday. "They're very excited, and mom and baby are doing great," says the rep…

This is the first child for Hannigan and Denisof, 42, who met on the set of Buffy the Vampire Slayer during the 1999-2000 season and were married at the Two Bunch Palms resort near Palm Springs, Calif., in 2003.
[From People]
That's cute that Alyson had a baby on her birthday! If you're going to have a child within a week or two of another birthday in your family, it may as well be the same day so that you can have one big party. My husband's birthday is very close to Christmas and I usually have a little guilt like I'm not making it special for him because I'm preoccupied with the holiday. I would love to have a big combined party for birthdays like that.
Satyana is a unique name that I haven't heard before, but it's also pretty and non-stigmatizing, unlike many other celebrity baby names. Congratulations to Alyson and Alexis and we're looking forward to seeing little Satyana out and about.
Photo is from 1/27/09. Credit: Juan Rico/Fame Pictures