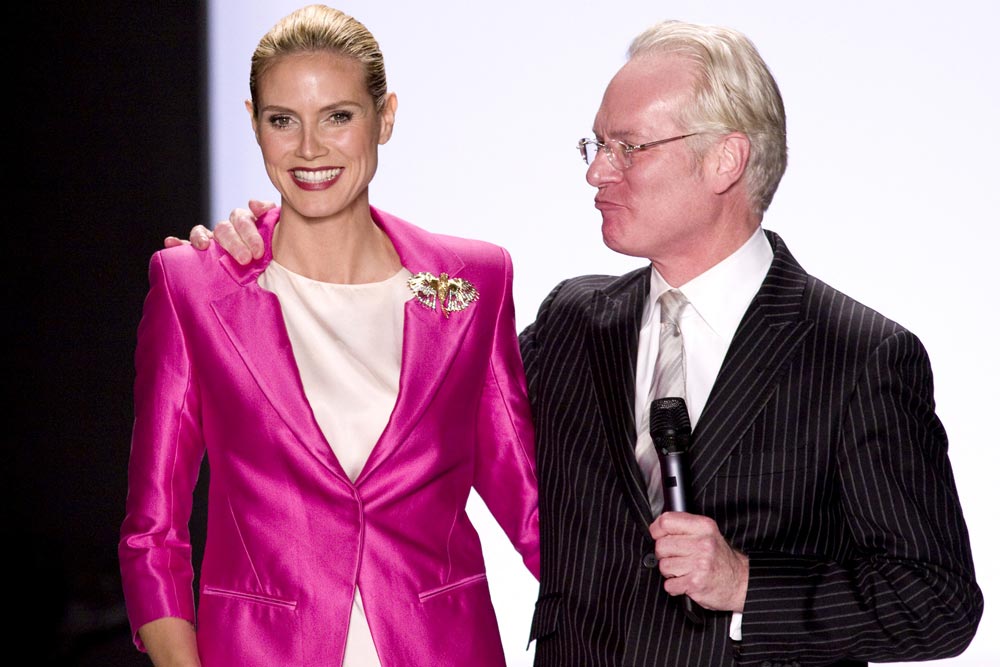 Bravo, Lifetime and the Weinstein Company have reached a deal on Project Runway. Finally! I'm going through withdrawals. The details are still a bit sketchy, but People Magazine is confirming that the Weinstein company has basically paid off Bravo/NBC Universal to ship the valuable Project Runway property over to Lifetime.
The sixth season that will appear on Lifetime – reportedly this summer – has already been filmed, even though Heidi Klum and Tim Gunn had no idea if it would actually air anywhere. People has more:
Project Runway is returning to television this summer — and it will air on Lifetime.
According to the network, legal battles surrounding beleaguered reality show's already-filmed sixth season have been amicably resolved.

"The Weinstein Company will pay NBCU for the right to move Project Runway to Lifetime. All of the parties are pleased with the outcome," the networks say in a joint statement.

Changing gears, the upcoming season of Project Runway relocated from New York to Los Angeles, though it will continue to be hosted by Heidi Klum and judged by Michael Kors and Nina Garcia. Tim Gunn will also mentor the designers. As usual, the finale was shot during fashion week – this year, in February.

But ongoing legal disputes prevented producers from revealing any information about the cast, and the three final collections were shown blindly, with their designers unidentified. International Herald Tribute editor Suzy Menkes acted as the guest judge at the show.

In addition, sources close to the show have told PEOPLE that Project Runway's season 6 will utilize "local resources" in Los Angeles — namely focusing more on Hollywood — and will feature appearances by Christina Aguilera, Eva Longoria Parker and Rebecca Romijn.

Project Runway producer Harvey Weinstein expressed his appreciation for the resolution to the legal battle. "I want to personally congratulate Jeff Zucker and NBCU on their success in the litigation and thank Jeff for resolving this in a professional manner," he said in a statement.

According to Lifetime, the network will also air a companion series, Models of the Runway, alongside Project Runway. "All of us at Lifetime are thrilled to move forward with Heidi, Tim, Nina, Michael, The Weinstein Company and the entire Project Runway team," network president and CEO Andrea Wong said in a statement. "We are proud to add these shows to our growing slate of original programming."
From People Magazine
This deal is the product of more than a year of legal wrangling. It all started when Harvey Weinstein (executive producer of PR) thought he could get more money from Lifetime. Lifetime jumped at the chance to own the valuable ratings smash and cult-like favorite. Bravo/NBC was like, "Oh no you didn't!" and thus, lawsuits were born.
It's also wonderful to see that the deal includes Tim Gunn, who is basically the real star of the show. I like Heidi and everything, but I love Tim. Last season's weak contestants almost killed me, but I was still hooked, so it's good to know I'll be getting my fix this summer!
Phoots are of Heidi Klum, Timm Gunn, Michael Kors and Nina Garcia on 2/20/09. Heidi Klum is also shown on Rodeo Drive doing a photoshoot yesterday, 4/1/09. Credit: WENN.com