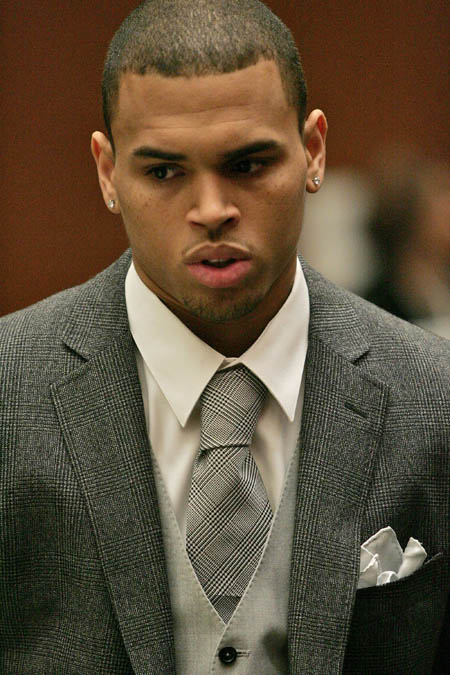 Chris Brown is expected to cop a plea at today's arraignment for the February 8 brutal beating of girlfriend Rihanna. According to TMZ and The Daily News, his lawyer and prosecutors are close to working out a deal:
Chris Brown's lawyer and the prosecutor in the Rihanna case have been engaged in "serious" plea bargain negotiations and according to one source, a "deal is close."

We know Brown will plead not guilty tomorrow, however the plea may just be a formality.

Sources say Rihanna has made it clear she does not want to testify in the case and wants Brown to cop a plea. We're told one of the reasons she's in Barbados right now is because "she wants to be as far away from this case as possible."

As we first reported, Brown was inclined to plead either guilty or no contest to a misdemeanor, provided he got no jail time — but since we broke that story, the D.A. and Mark Geragos, Brown's lawyer, have gotten down to the nitty gritty.

We do not know if Brown changed his view and would accept jail time to avoid a trial. Brown will be in court tomorrow for the arraignment.
[From TMZ]
This TMZ report is somewhat confusing as it doesn't make sense that he's working out a deal by pleading not guilty. The Daily News reports that Chris will plead not guilty to two of the felony charges, including making criminal threats, but that he will negotiate over the felony assault charge. They claim that he hopes to avoid jail tiem.
Despite the nature of the crime it's doubtful that Brown will spend any time behind bars. It's a shame because if he went up to a stranger and beat her senseless like that he probably would have been locked up for a while.
Meanwhile Rihanna is in her native Barbados, where she was seen partying with the Prime Minister. As we reported on Friday, many outlets are declaring that she's finally kicked Brown to the curb. Hopefully they're correct and she's moving on with her life.
Here's Chris Brown, in court on 3/5/09. Images thanks to WENN .