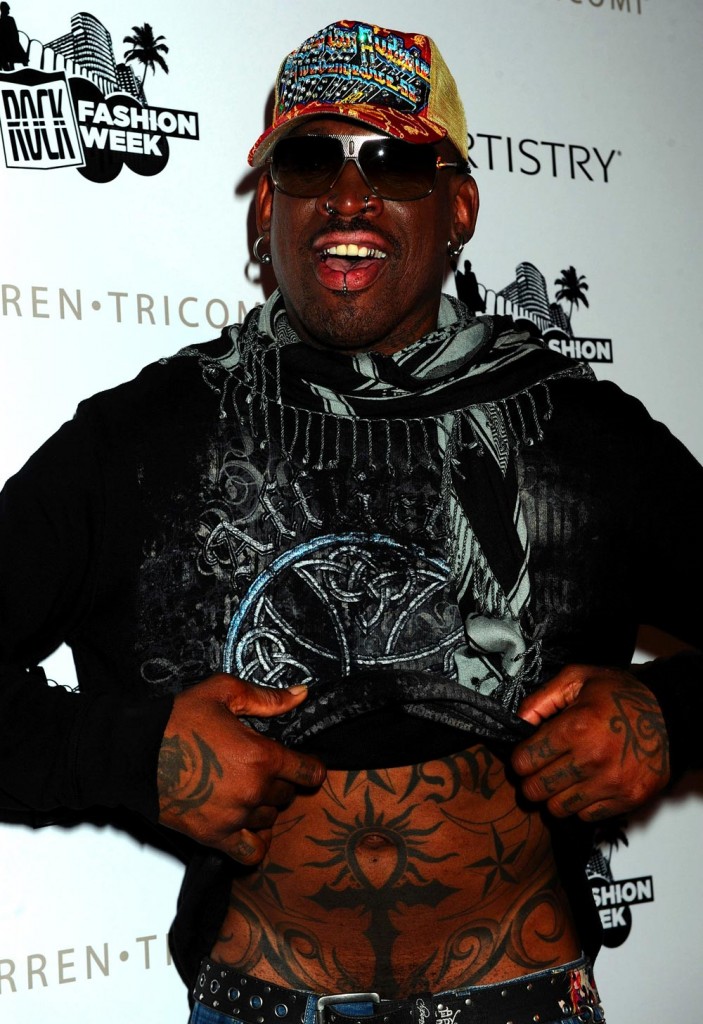 Dennis Rodman was visiting the London Hotel in West Hollywood last Friday when he proceeded to grope female guests, scare children, and yell obscenities. Security promptly escorted him out of the building. Rodman was also recently kicked off of Donald Trump's Celebrity Apprentice due to his out-of-control behavior. The episode on which he was kicked off was a sort of intervention episode with Rodman promising Donald that he would get help for his problems. Sounds like he didn't follow through on that promise.
Sources tell TMZ Rodman was asked to leave the London Hotel in West Hollywood on Friday after several guests complained about his behavior. We're told Rodman was slapping and groping female guests, as well as yelling obscenities. And get this — our spies tell us he even scared the children.

A hotel staffer told us, "He is the most obscene and out of control guest I've ever seen up here."
[from TMZ]
He was probably drunk at the time – he went to rehab last year. As we have seen, it often takes several stints in rehab to finally kick an addiction – especially for celebrities, for whom the pressure to party is so strong.
This latest news is not going to make his life any easier. In April last year, he was arrested on charges of domestic battery, which his rep said was brought on by drinking and missing his kids. Oddly enough, this arrest was also made at an LA hotel. He then went to rehab in Florida for a while, and upon exiting agreed to do Celebrity Apprentice. He's still on probation for the domestic battery arrest, so for his sake hopefully this incident won't affect his legal situation. I can't imagine, with him having been in rehab and with the battery count on his record, he's been getting to see his kids very often. This recent incident will probably cut down on visitation time even more. And if missing them leads him to drink like his rep would have us believe, things are not looking good for him. Let's hope he gets the help he needs.
Dennis Rodman is shown in Miami on 3/27/09. Credit: WENN.com