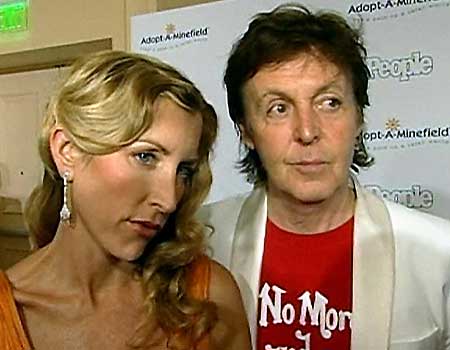 According to News of the World Paul McCartney has agreed to go on a holiday with his ex-wife Heather Mills.
After a year of bitter wrangling Heather suggested the American break with three-year-old daughter Beatrice as "family bonding time".

A source close to Paul, 65—whose classic Beatles hits include Fool on the Hill, We Can Work It Out and Help!—said: "Incredible as it may seem the idea looks like a goer.

"It won't be a conventional family holiday, there's still tension.

"But if they go to Macca's Hamptons mansion in New York, as they're thinking, they'll be away from prying eyes and pretty much on neutral ground."
As a child of divorce, all I can say is that it's a good thing they can afford to rent a huge place to stay – lots of space for avoiding each other. So far, the Mills-McCartney divorce has not been a very amicable one, although things have been quiet in recent months. Probably because they've been in separate countries while she appeared on Dancing With The Stars.
In other Macca news, his former Wings band mate Denny Laine is set to write a book. They formed the group in 1971, but fell out in 1980 after Paul's arrest for marijuana on tour in Tokyo.
What kind of rockstar has a falling out over an arrest? I thought you had to get arrested before they'd let you in to the Hall of Fame? And smash up a hotel room, not to mention behave inappropriately with groupies. I want sordid tales of life on the road dammit!!
Paul McCartney's fashion designer daughter Stella is also pregnant again, with her third child. She has two other children, Miller born February 2005, and Bailey born December 2006. They're a boy and a girl respectively, since like most celebrity babies it's hard to tell by their names.
Thanks to The Bosh and Fox News for these photos.