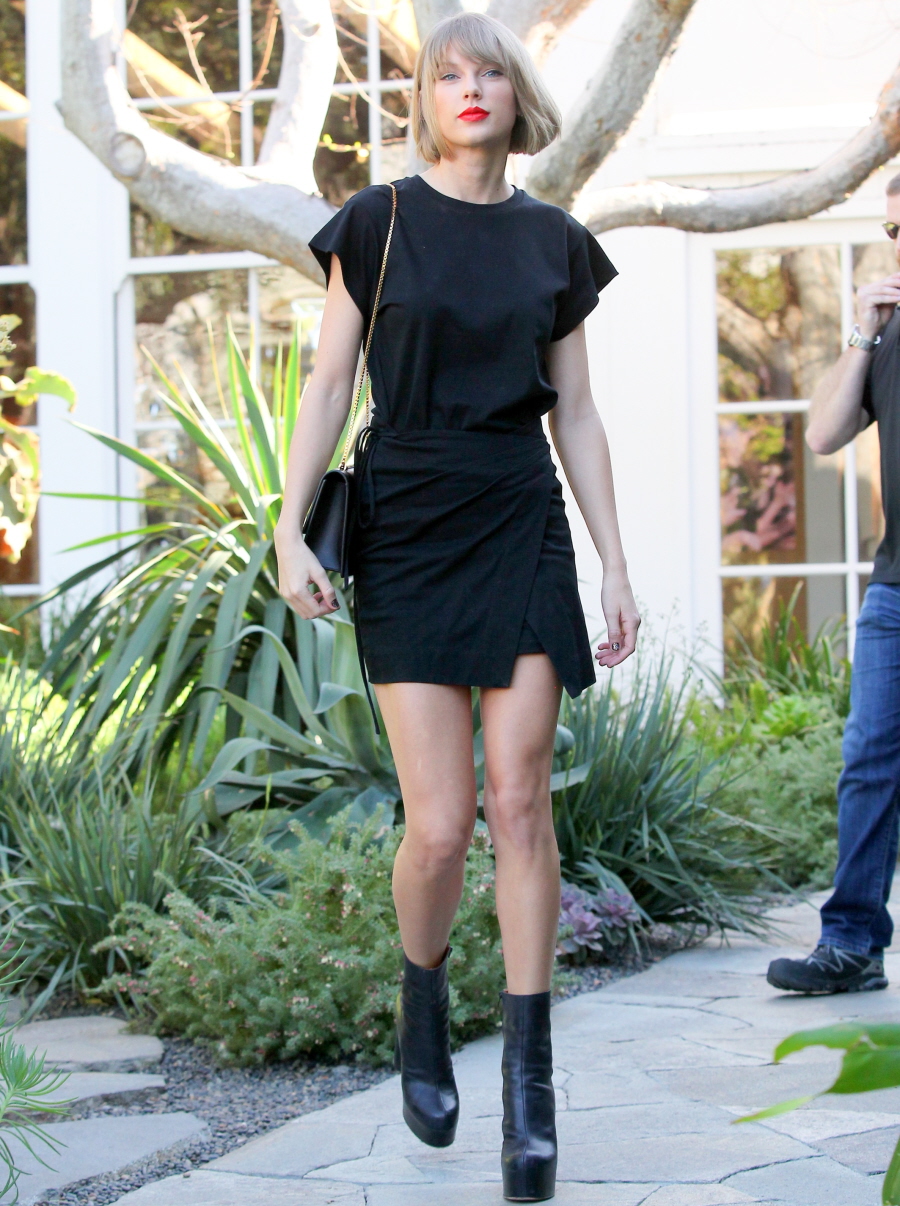 Here are some photos of Taylor Swift leaving the Isabel Marant boutique in West Hollywood yesterday. Her tour is done, she's back at home in LA and she's enjoying some downtime with her new Anna Wintour-esque haircut. While I hated the haircut at the Grammys, it's sort of growing on me now. It's better than the extensions and budget wiglets a lot of high-profile women wear. Now I just need her to wean herself off the bangs.
Anyway, Taylor is back in the news all the time these days because Kanye West just won't stop bitching about her. Just this week, Kanye declared that Swifty "had two seconds to be cool and she f—ked it up." He also called her a Fake Ass in his SNL rant. And I'm sure he's saying a lot worse about her behind-the-scenes. My point about Taylor and Kanye has always been: their beef has, historically, helped them both. Anyway, The Daily Beast had an amazing write-up about just that – the piece is called "Taylor Swift Is Not More Influential Than Kanye West." It's a great, thoughtful read, but this is my favorite part:
According to the Swift fairy tale, she is the consummate underdog, an outsider who grew up on a Christmas tree farm and was mercilessly bullied and rejected, but never gave up on her dream of music superstardom. The reality is a bit different. That Christmas tree farm Swift grew up on in Pennsylvania was actually purchased from one of Swift's father's clients (and the family summered at their oceanfront mansion in Stone Harbor, New Jersey). You see, Swift's father is a very wealthy senior vice president at Merrill Lynch—and the descendant of three generations of bank presidents—while her mother worked at a mutual fund and is the daughter of a rich oilman.

When Swift was 13, her parents brought her to New York City and introduced her to manager Dan Dymtrow, who landed the singer-songwriter meetings with the top record labels, as well as a modeling gig as part of Abercrombie & Fitch's 'Rising Stars' Campaign. In the photo, a tall, slender Swift is portrayed balancing an acoustic guitar with one hand and dabbing her eye with the other; it's the birth of the Swiftian persona, the unpopular geek who deserves your sympathy… while modeling for Abercrombie & Fitch in the eighth grade.

Dymtrow landed Swift an artist development deal at RCA Records, but Swift left the label for Big Machine Records—a tiny imprint that her father helped kick-start with a six-figure investment. He then transferred to the Nashville office of Merrill Lynch, and moved the family to a lakehouse mansion in Tennessee, in order to help foster Swift's burgeoning country music career. A then-16-year-old Swift's self-titled debut album was released in 2006 to massive acclaim, and the rest, as they say, is history. Now, this is not to say that Swift isn't a musical prodigy—she is, winning a talent contest to open for Charlie Daniels at 11, and taking home first prize in a national poetry contest at 12—but she is also, in many ways, the living embodiment of white privilege.
I didn't even know all of that. That's how great the Taylor Swift fairy tale is, and how well it's been sold. And that is Taylor's strength, and it always has been: she's a brilliant marketer. She's better at the business of selling herself than she is at making music (#facts). She's a Machiavellian genius on behalf of her career. So while I think Kanye West needs to hush about Taylor specifically, don't cry for Swifty. She'll always find a way to turn all of this to her advantage.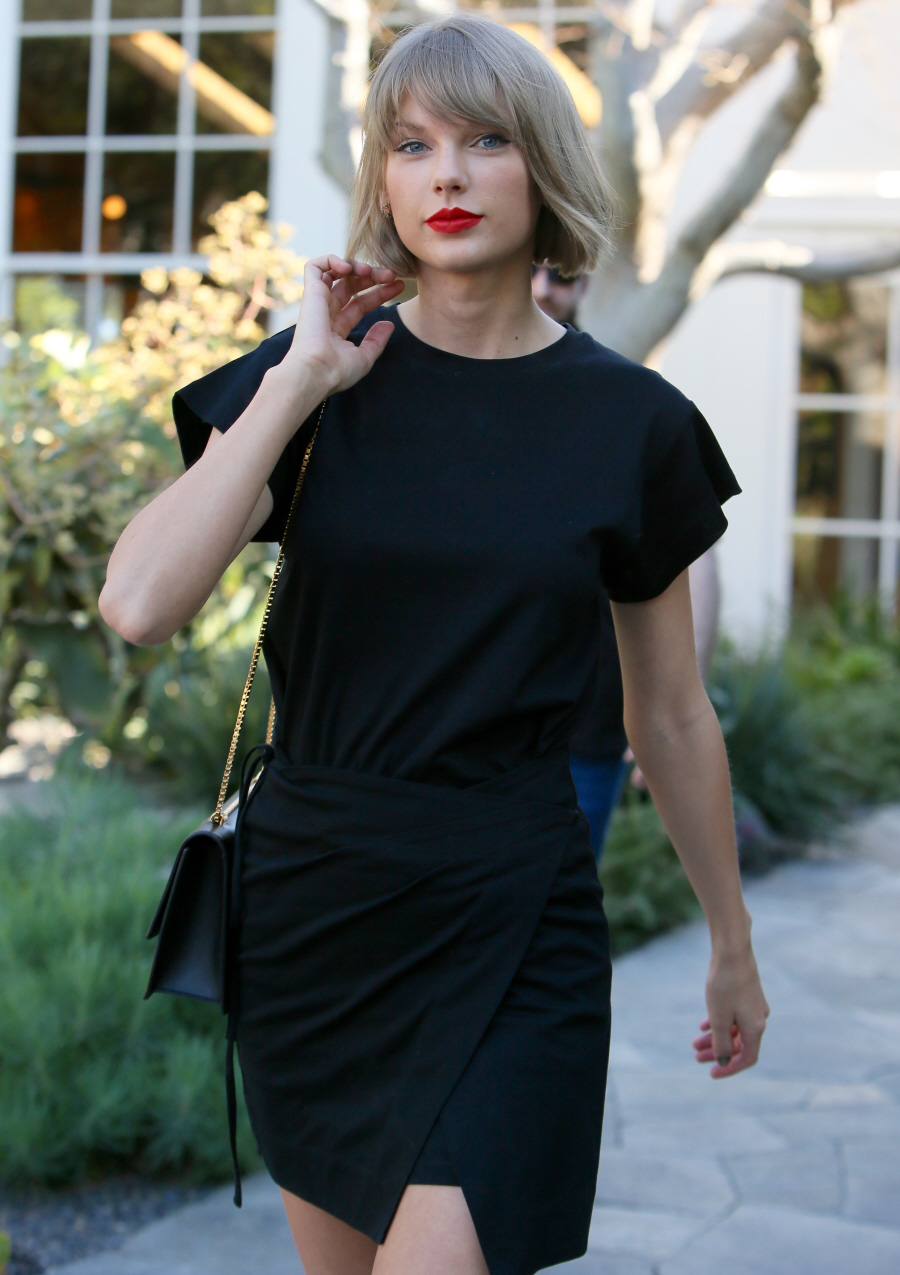 Photos courtesy of Fame/Flynet and WENN.