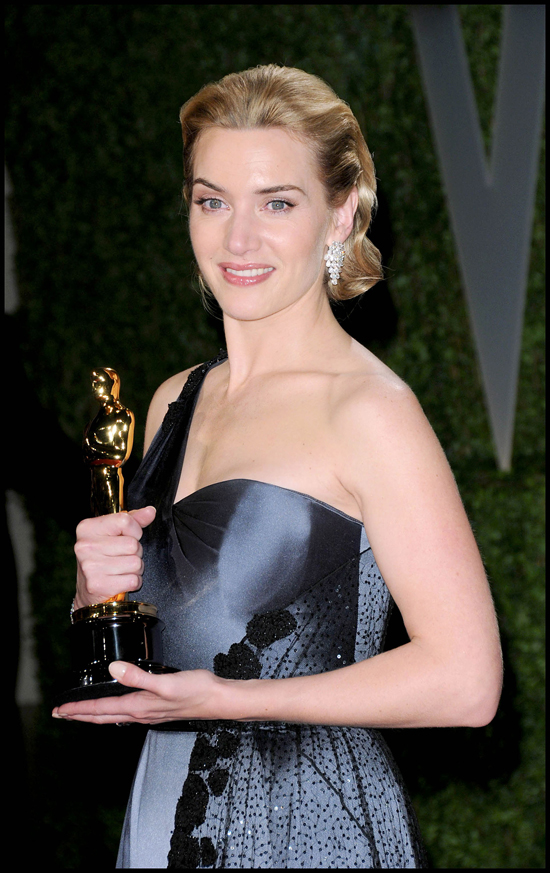 Another week, another beauty poll. This one is bit more interesting, though. Kate Winslet has been named "The Ultimate Natural Beauty", beating out Audrey Hepburn. Considering Audrey's inclusion on the list, I can only guess that natural beauties of all time were being judged. In fact, only Britons were polled, and they were looking for "a classic English rose complexion without needing lots of make-up to look stunning". Audrey was absolutely gorgeous, but she wasn't an English rose.
Kate Winslet is obviously one of the most naturally beautiful women in the world today, if not ever. So I'm happy that she "won" the title. But the other women on the list denigrate Kate's prize. Kelly Brook? Cheryl Cole? Really? They're lovely women, but if it's a judgment of naturally beautiful women of all time, where's Grace Kelly? Where's Katherine Hepburn? Where's Elizabeth Taylor? Obviously, the list isn't just for British women, or they wouldn't have put Angelina Jolie and Audrey on the list.
Brit Oscar winner Kate Winslet has beaten movie legend Audrey Hepburn to the title of Ultimate Natural Beauty.

The Reader actress was hailed for having "a classic English rose complexion without needing lots of make-up to look stunning", in a survey of 3,000 men and women.

Kate, 33, pipped Breakfast At Tiffany's star Hepburn. Kelly Brook was third, followed by Cheryl Cole, Angelina Jolie and Scarlett Johansson.
[From The Sun]
So who would have made my Natural Beauty/English Rose list? What about the most famous English rose of them all, Princess Diana? Or Vivien Leigh? People always forget just how beautiful Vivien Leigh was, but she was definitely one of the most stunning English rose-types to ever come out of England.
Why aren't there lists like this for men? Which men are the loveliest, most natural English roses of them all? Clive Owen can't make the list. Even though I think he's naturally gorgeous, it's more in a "tie me up please" sort of way rather than a "look at his skin" sort of way. You know who was just beautiful when he was young? Peter O'Toole. He was prettier than most women. It would make my life if one day, Peter O'Toole won one of these fake "Most Beautiful" contests.
Here's Kate Winslet at Vanity Fair's Academy Awards party in February. Images thanks to WENN.com .