Farrah Fawcett is out of the hospital, "talking and laughing"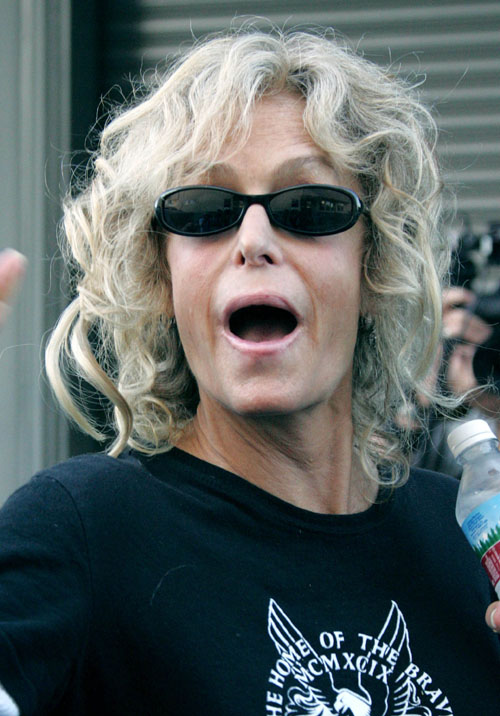 Farrah Fawcett looked frail as she was being wheeled into an L.A.-area hospital on April 5th, but the actress has been released and, according to friends, is doing much better. She even threw long time partner Ryan O'Neil a birthday party. While her delinquent son Redmond told the judge in his drug possession case that his mom only weighs 86 pounds, close friends of Farrah's insist that she's on the mend and not as bad off as others are saying.
Farrah Fawcett is in a life-or-death struggle with cancer – but the star is well enough to throw a birthday party for longtime partner, Ryan O'Neal, a friend of the actress tells PEOPLE.

"There will be cake and champagne," says Fawcett pal Alana Stewart, describing the small celebration for O'Neal's 68th to be held at Fawcett's home Monday evening. "Ryan has really been there for Farrah in such a wonderful way."

Stewart also clears up reports that the actress is down to only 86 lbs. Fawcett's son, Redmond O'Neal, 24, told a judge last week during a hearing stemming from drug charges that his mom "weighs about 86 pounds."

Says Stewart, "Farrah is not 86 pounds. Redmond is young and overreacted a little. Farrah has lost weight, but not that much. No, no, no."

Stewart describes Fawcett as being in good spirits since she was released from the hospital on April 9 for internal bleeding not directly related to her cancer. "I just saw her last night and she looked better," says Stewart. "She had color in her face and was talking and laughing."

Along with birthday wishes, one topic of conversation that is sure to come up between the Fawcett and O'Neal: Their son Redmond, who is being held in jail without bail but will likely return to rehab following an April 30 hearing.

"They are hoping for the best outcome for Redmond," says Stewart. "He's not a hardened criminal by any means. He's a kid with a drug problem, who is very much wanting to get sober and have a life. Redmond is a sweet, funny bright kid and he and his mother are very, very close."
Glad to hear that Farrah's condition isn't as dire as it appeared. It's nice that she can throw parties for people, and try to help her son get some help, but then I wonder- who's taking care of Farrah? It sounds like she is the glue that holds her family together. I hope they realize and appreciate that – and they make sure not to lean on her too much while she is trying to get well. Someone should be throwing a party for her!
Photos of Farrah out and about in L.A. in February. Credits: Fame

Written by MSat

Posted in Cancer, Farrah Fawcett

- The Blemish interviews Carmen Electra [The Blemish]
- Rumer Willis joins Pretty Little Liars [Lainey Gossip]
- Morgan Freeman falls asleep during interview [D-Listed]
- Fug or fab: Isla Fisher [Go Fug Yourself]
- Tamra Barney confirms spinoff [Reality Tea]
- Movie franchises that rebounded [Pajiba]
- Why Dylan McKay is the perfect boyfriend [Buzzfeed]
- Saoirse Ronan could have been a Lohan [Evil Beet]
- GIFs from Cannes [Popsugar]
- Cat massages a dog [CDAN]
- Heather Graham is so pretty [Celebslam]
- What is Lucy Hale wearing? [Moe Jackson]
6 Responses to "Farrah Fawcett is out of the hospital, "talking and laughing""