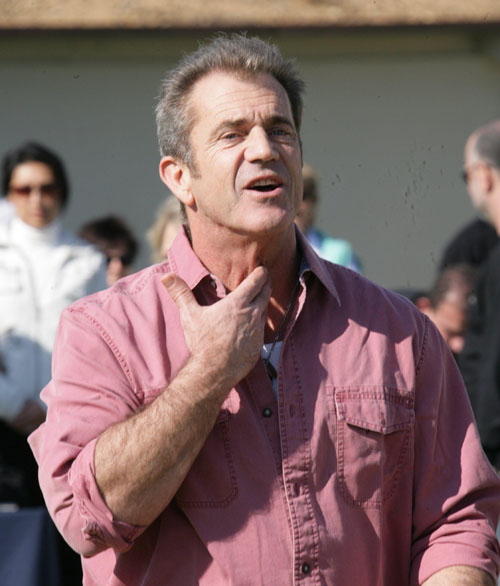 The National Enquirer has some of the details on Mel Gibson's long and storied record of infidelity during his 28 years of marriage. According to the Enquirer, Gibson cheated on his now estranged wife Robyn with at least three different mistresses they could find, the most recent being Russian singer Oksana Grigorieva, for whom Mel bought a house. Oksana has custody of her 11 year-old son, Alexander, with her ex Timothy Dalton, and the Enquirer calls Alexander and Oksana Mel's secret "second family." In fact Oksana and her son stayed on two different properties owned by Mel that were close to the estate where he lived with his wife and kids. The whole family, especially Robyn, was said to be floored when they learned about Mel's secret double life. Mel's wife Robyn filed for divorce last week and could receive the largest settlement in Hollywood history.
Shameless cheater Mel Gibson hid a secret family from his long-suffering wife Robyn, shuttling them from one pricey property to another, The Enquirer has learned exclusively.

And in yet another shocker, sources tell The Enquirer that at the time of Gibson's headline-making anti-Semitic rant, he was carrying on an affair with Suzanne Somers' stepdaughter – a gorgeous divorcee who is Jewish!…

Oksana and her son now live in a ritzy mansion in Sherman Oaks, Calif. that Gibson – who stands to lose half of his billion-dollar Hollywood fortune in the upcoming divorce – bought for her late last year, sources say.

"The house is a four-bedroom, four-bath stunner with a pool. It was a Christmas present for Oksana from Mel," said a pal. "He bought it in the name of one of his studio partners. Mel moved Oksana and Alexander in during early January."

Before that, Gibson housed his secret family in an $11 million oceanview spread in Malibu that he bought from "X-Files" star David Duchovny and his actress wife Tea Leoni, according to an insider.

"It was their love nest," said the insider. "It's close to the Gibson family compound in Malibu, so it was convenient for Mel. He could be with Oksana and Alexander, and still be just minutes away from Robyn and their children."

And when Robyn, 53, learned her husband of 28 years had splashed out big bucks on a home for his secret family, it hit her like a ton of bricks, said the source.
[From The National Enquirer, print edition, May 4, 2009]
What's more is that Gibson had an affair for years with a woman named Leslie Hamel. She is the daughter of Suzanne Somers' husband, Alan Hamel, and his first wife (note that Wikipedia only lists one wife for Hamel), Marilyn Hamel. Leslie's biological mom Marilyn even confirmed the affair to the Enquirer saying "It's true. My daughter dated Mel Gibson. I met him…. It was 2006. We're Jewish, and I knew he was anti-Semitic."
And the Enquirer has quotes from another mistress of Mel's who was willing to talk – a stand up comic who had a four month affair with the actor in 2004. Diana Alouise told the Enquirer "Mel Gibson is a cheater, and I know he's had plenty of women. He's like an addict! He can't help himself."
Those are just three woman that they were able to find, and there are surely plenty more. Maybe Robyn had her suspicions but was willing to put up with Mel's cheating as long as it was casual. He got serious with this latest one and got caught, though, and all bets are off. She's about to get a huge payday for all those years she had to deal with her husband's infidelity.
Mel Gibson is shown on 1/20/08. Credit: WENN.com