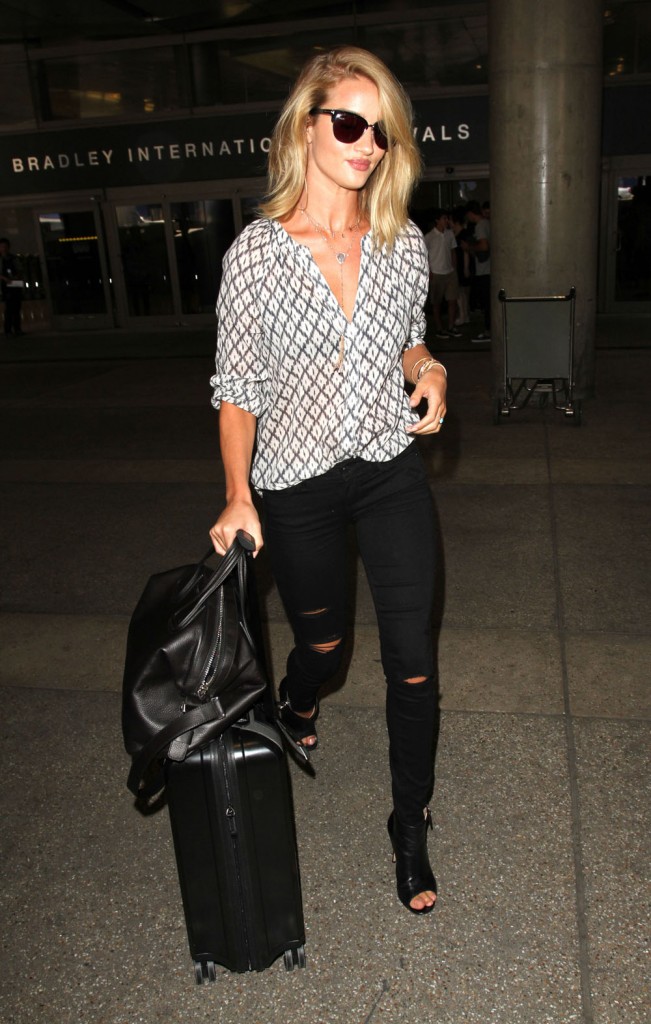 Rosie Huntington-Whiteley, 28, is one of my favorite models to see in paparazzi photos. She's stylish, she's lanky and she always looks incredible. Plus she's engaged to Jason Statham and they're just gorgeous together. I do wonder if they're ever going to make it down the aisle. It seems like they've broken up and got back together on the sly a few times now and I doubt they're in a hurry to make it legal.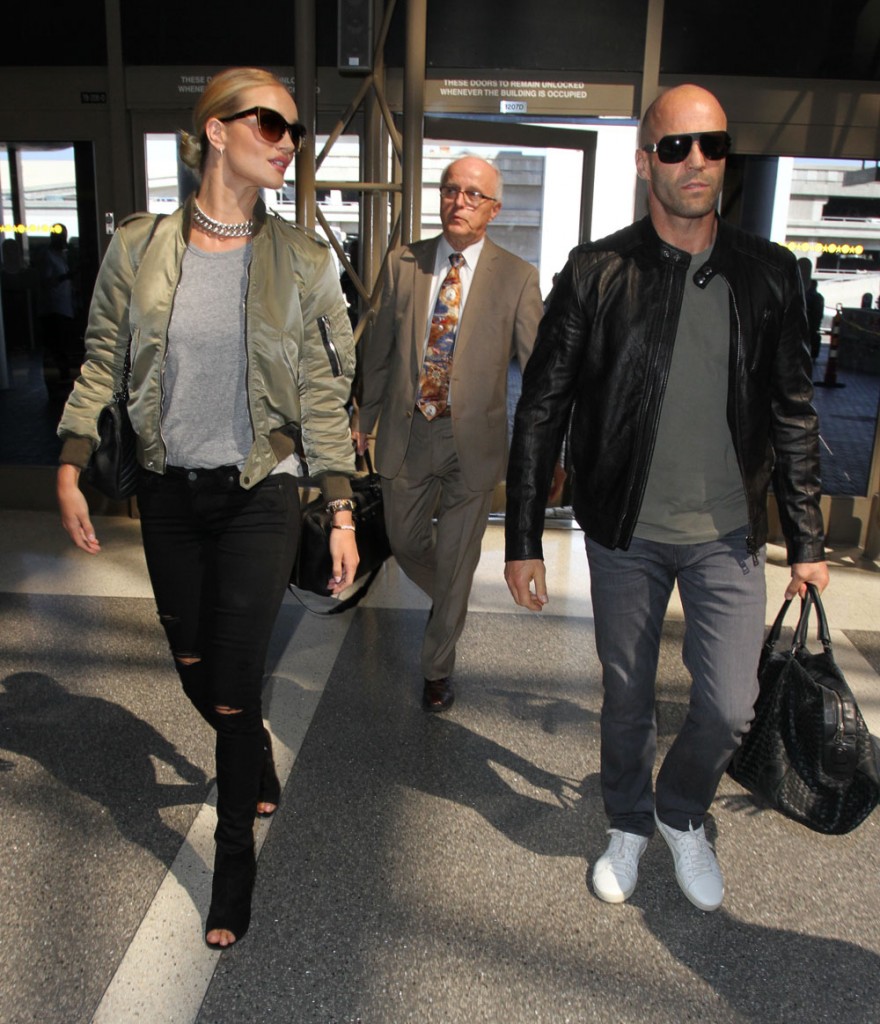 Regardless Rosie has a trick for why she looks so lovely at the airport especially. When she first gets on the plane, she changes in the bathroom into a comfortable outfit that she brings in her carry on luggage. Then, before she lands, she changes back into her street clothes and freshens up her hair and makeup.
"I like to travel with a little suitcase of things I can change into on the plane," the 28-year-old model, actress and, now, Ugg's first global ambassador told PeopleStyle. And that's just what she said she does: She wears her outfit to check in (and get photographed), gets on board, changes into sweats (basically), then changes right before she lands back into what she wore when she got on.

"I pack a suitcase with everything I need," she said. "It has my toiletry bag with all my skincare essentials and makeup for when I want to land and have a quick freshen touch-up. Then I'll have a cozy knit or cardigan, slouchy lounge pants from my own line, Rosie for Autograph, a pair of snuggly Ugg boots to keep toasty, cashmere wraps, and a soft cotton T-shirt. Then of course, my laptop, headphones and the book I'm reading."

That suitcase acts as her bag of tricks as soon as she gets on board. "When I get on the plane, I change into my comfortable clothes, I get into my seat, get cozy, try to relax and enjoy the flight. I catch up on reading or catch up on the show I'm watching or do some work and answer some emails. Then I get changed just before landing back into the outfit I was wearing when I was in the airport before."

"And don't forget to pack a clean T-shirt," she added. "I've learned the hard way when you spill something on you mid-flight or the turbulence caused you to pour something all over yourself."
Once, on an eight hour flight, my son kicked my tray table and spilled an entire glass of red wine all over my pants. I swear the stewardess was laughing at me. (I've told that story here so I'm sorry if you've already heard it.) Another time, when my son was little, he choked on a pretzel and threw up all over me mid flight. So I should take a tip from Rosie and bring extra clothes but I can't imagine being able to actually change into them mid flight. How does one manage to change in a bathroom on a commercial airplane? Does she mean that she changes while on the ground and before she comes out to the bank of photographers? Because those airplane bathrooms are tiny and smelly and she's just slightly taller than me at 5'9″. Maybe the business class people get bigger bathrooms though. I have no idea about rich people amenities in airplanes so I googled it and of course the first class passengers get gorgeous bathrooms on some flights including showers. If I had that kind of money I would fly business class at least.
LAX airport recently announced that they're planning a VIP terminal for celebrities to use to avoid being photographed. It's expensive at around $1,500 a use but I imagine some famous people would pay for it. Others, like Rosie, will just get dressed to the nines and walk through the airport being photographed. She's just doing her job plus she's getting plugs in for the clothing she represents. We get a lot of PR emails about what Rosie is wearing so I imagine that even her street clothes are sponsored somewhat.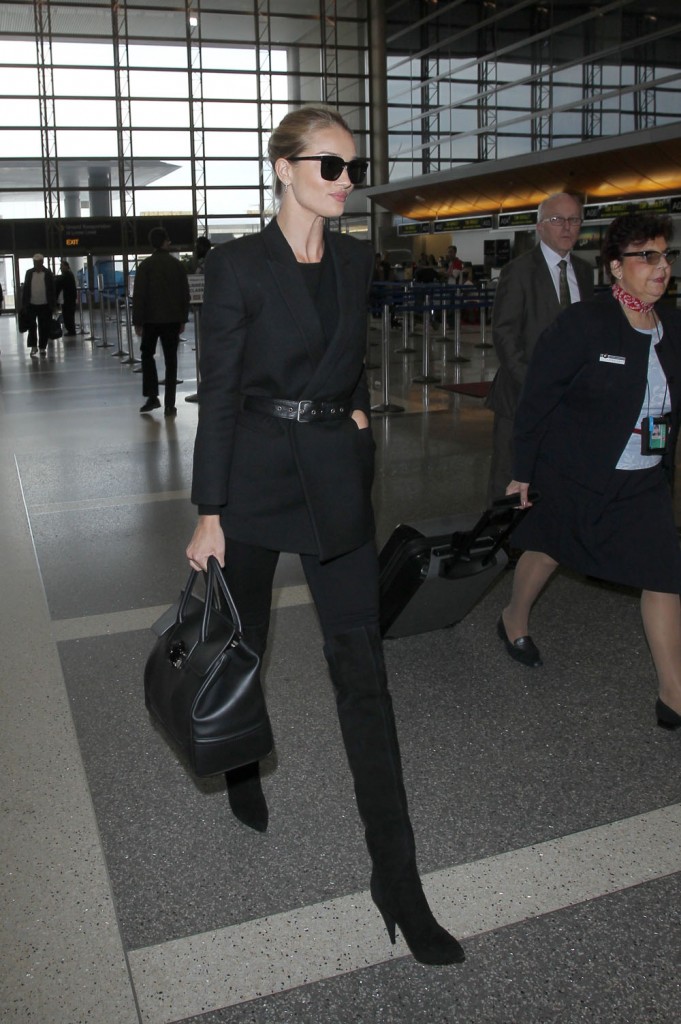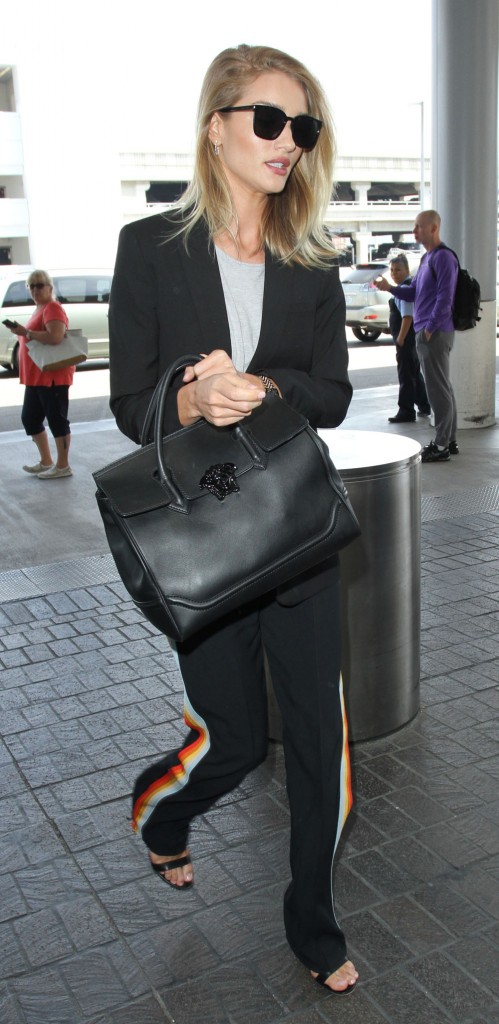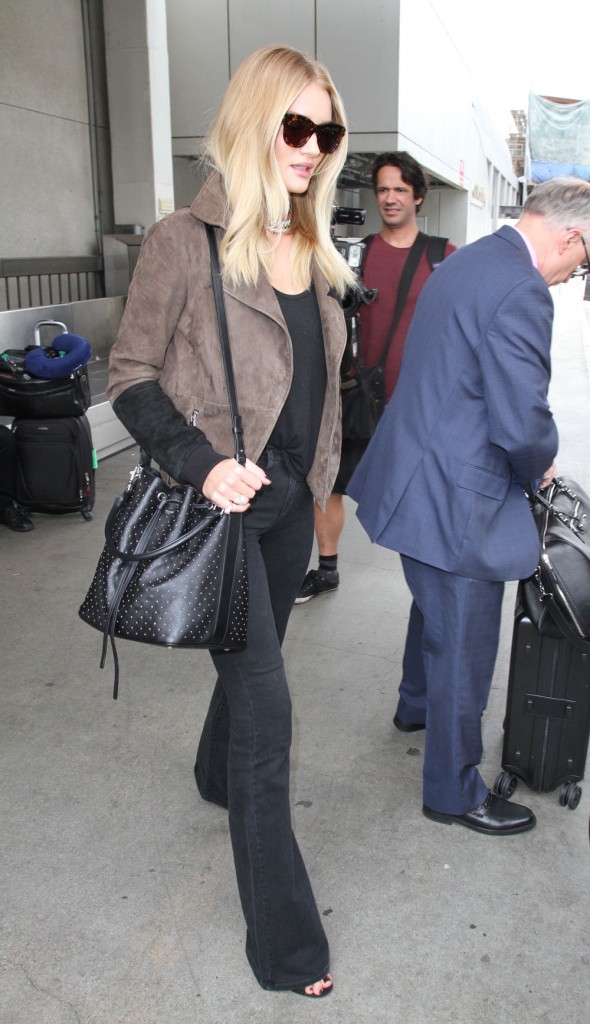 photos credit: WENN.com and UGGs