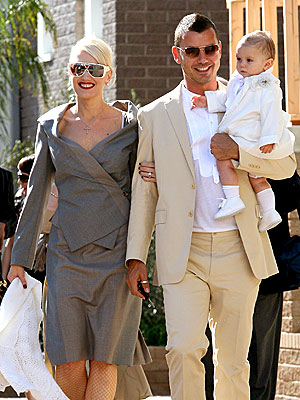 Gwen Stefani and Gavin Rossdale seem to be such loving and doting parents. However it turns out that Rossdale has an 18-year-old daughter, British model Daisy Lowe. As Celebitchy previously reported, Lowe is the new model for Agent Provocateur. Gavin was friends with Lowe's mother Pearl, and had a one night stand with her. Pearl always believed that her longtime boyfriend, an American traveler known simply as Bronner, was Daisy's biological father. She named Gavin as Daisy's godfather, and supposedly the two were pretty close until Daisy was a teenager. Then Daisy began to look more and more like Rossdale, and eventually he said they needed to get a DNA test.
Yet Rossdale was such an unusually devoted godfather, attending all Daisy's sports days and parents evenings. Surely that's the behaviour of someone who thinks they may be the actual father?

"We always thought there was a chance, but a remote chance," Lowe explains. "In some ways it was our fantasy that he was the dad. We were so close. Best friends. So I wished he was but thought that he wasn't."

In 2003, Rossdale suggested that Daisy undergo a paternity test. He told Lowe that, as he had just married Gwen Stefani and they planned to start a family, it was time to sort this out. However, Lowe found it difficult to get him to take the test and it was eventually dealt with by lawyers. In 2004, DNA testing confirmed he was Daisy's father. There was subsequent legal wrangling over a maintenance settlement.

The whole situation has soured their friendship. Lowe says she no longer has any kind of relationship with him. "No, he won't talk to me."

Does he talk to Daisy? "He did at first, but he was always shouting at her. And then he just stopped talking to her."

Why? "I have no idea." She can't even find out via friends they have in common. "Because anybody who's associated with me he's cut off. Apparently I'm just this taboo subject he doesn't talk about.""
[From the Sunday Herald]
Both Rossdale and his reps have refused to comment on Daisy. Several articles have claimed that his wife, Gwen Stefani, was absolutely furious when she found out. The two have an adorable son, Kingston, who they both seem to dote over. This story is so sad to read, especially because we only know one side. Having a father figure in your life, and then just losing him, must be incredibly hard. Apparently part of Pearl's rant is that Gavin refuses to pay child support (Daisy was still a minor when her paternity was confirmed) and won't reimburse Pearl's husband for the years he spent supporting Daisy. Gavin comes off as such a jerk, but somehow it's hard to believe that we're hearing the whole story. It looks like Daisy is making quite a name for herself, completely apart from her father. She's doing a lot of modeling, and has a great, edgy look to her. Hopefully she'll rally, and continue to do well for herself.
Update by Celebitchy: In terms of Daisy Lowe being the new face of Agent Provacateur, I just read that Maggie Gyllenhaal is now going to take over for Kate Moss, not Daisy. We'll have to see what happens. Daisy Lowe is shown below at a Blackberry party on 5/15/2007. Thanks to PRPhotos.