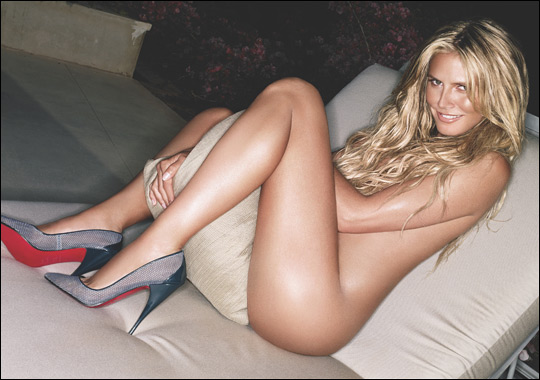 Heidi Klum appears nearly-naked in the upcoming issue of British Men's Magazine Arena. The 34 year-old German supermodel is shown wearing a pair of super-expensive high heels and lounging on a bed with only a pillow and an arm to cover herself.
Klum has three children under the age of three, Leni, three, Henry, one, and Johan, eight months. She recently said that she's done having children – for now, and that her house is full:
'Not right now, our house is pretty full!' Contactmusic quoted her, as saying.
Although it must be a lot of work to raise three young children it's not like she doesn't have help. Along with her devoted husband Seal she has a nanny for each of the children.
Thanks to The Sun for these pictures.