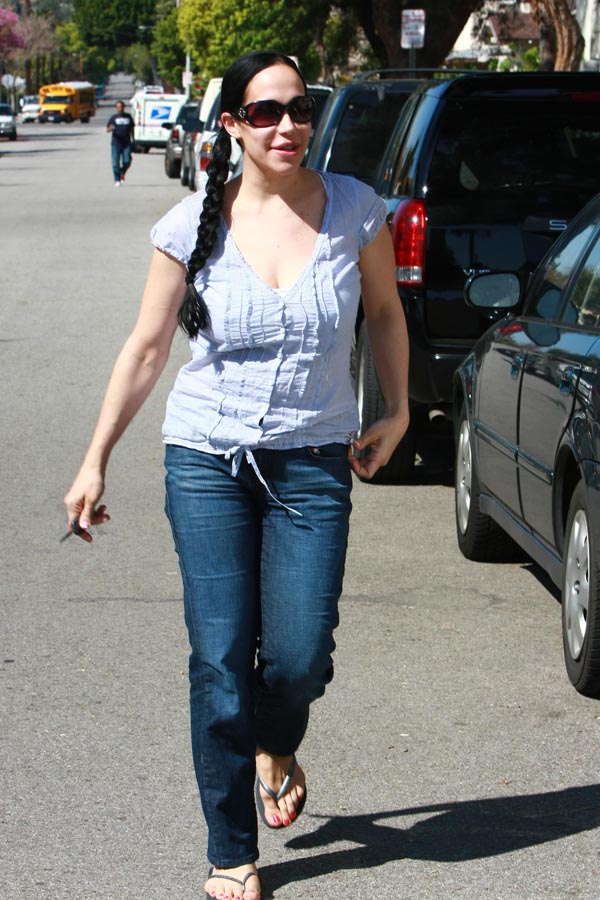 As much as I think Nadya Suleman is a whack-job who should be ignored/hospitalized/jailed, people still love reading about her and exploits, so here's the latest installment. A couple of weeks ago, several tabloids and gossip sites ran with the story that Nadya is so crazy and so obsessed with Angelina Jolie, that when she was a stripper for about a year, and she stripped under the name "Angelina". Nadya is now denying it completely.
Nadya is so pissed at the story, she claims she'll sue. She also says she had no idea who the three sources were who confirmed the story to In Touch – the strip club owner, a limo driver and another stripper. Not only is Nadya refuting the stripper story, she is still claiming that she has no interest in Angelina. Nadya's words were, "No offense. But I would not want to look like this woman." What the…?
Octo-Mom Nadya Suleman is adamantly denying an explosive new story in In Touch that claims she worked as a stripper for a year, going by the name "Angelina." And in an exclusive new interview with RadarOnline.com, Nadya says she's willing to go to court to prove the story is a lie.

The article relies on a limo driver, an exotic dancer named "Sage," and the owner of a San Diego strip club as sources. All three say they knew Nadya when she danced at what is now the Spearmint Rhino and worked at bachelor parties between 1999 and 2000. Sage, who didn't reveal her real name, even said "[Suleman] was overly flirty with the guys we performed for."

Suleman dismisses the article as false, and even says "Who are these humans?" as she flips through the magazine, denying she ever met any of the people who were interviewed for the story. She also insists that the closest she ever came to stripping was entering a lingerie contest at a night club at age 19. "I won," she adds.

Suleman isn't taking the story lying down, and says her lawyer plans to file a slander suit against the owner of the club," There's not one once of truth to this," she says . As for the magazine's claim that she tries to emulate Angelina Jolie's look? "No offense," she says. "But I would not want to look like this woman."
[From Radar Online]
Crazy is as crazy does, as we say in the South. Does Nadya think we're as crazy/stupid as she is? Does she think we can't put the little pieces together that she's obsessed with Angelina, to the point where she's had plastic surgery to look like her? That it's just a hop, skip and a jump away from stripping under the name Angelina? It will be interesting to see if Nadya follows through on her lawsuit. If she does, and the case actually ends up before a judge, I can only imagine how quickly this case gets thrown out.
Nadya Suleman is shown visiting the Calvary Baptist Church Christian School in La Habra, California. Images thanks to INF Photo.