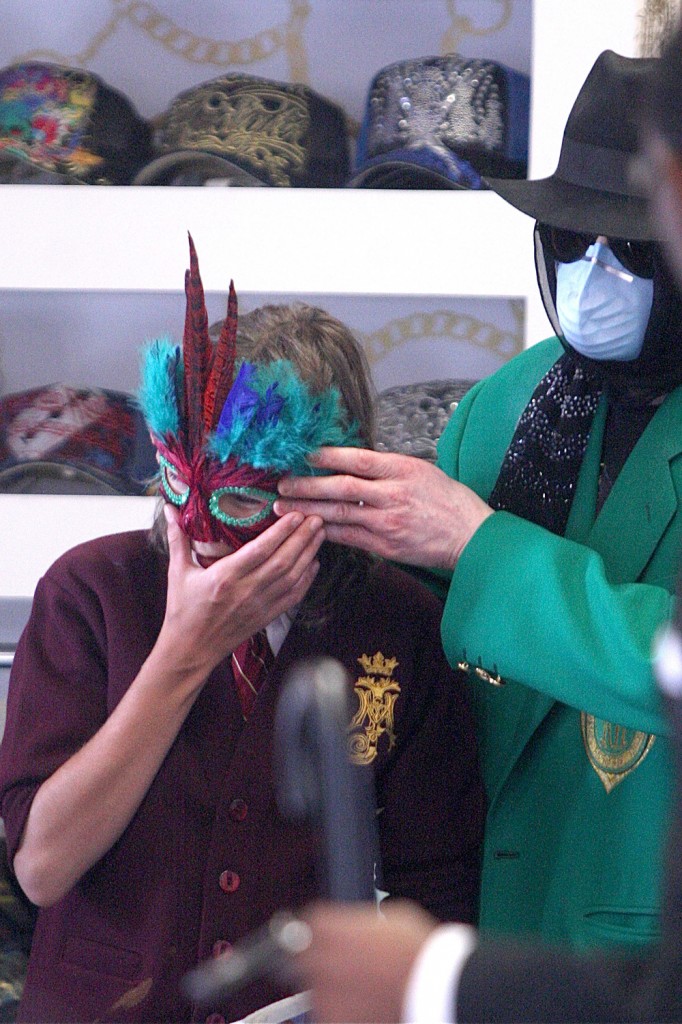 Whoever said Michael Jackson is crazy is just being judgmental. He is clearly nothing more than an eccentric artist. Who covers his children's faces with flamboyant feathered carnival masks. Totally, totally normal. I know we're well beyond the "Michael Jackson is so crazy, let's make fun of him for it" shtick. But it's just… feathered masks, you know? It's hard to overlook that, insane or not.
Michael Jackson caused a stir in West Hollywood yesterday as he took his three children on a shopping spree.

The eccentric pop star enjoyed a chaotic visit to the Ed Hardy by Christian Audigier store with seven-year-old Prince Michael II (known as Blanket), 11-year-old Paris and 12-year-old Prince Michael in tow.

The 50-year-old's children donned school uniforms for the trip and kept their faces covered up with flamboyant carnival masks as they shopped inside.

Jackson also opted for the school look and sported a green blazer and red baggy trousers with his trademark surgical mask.

After spending over an hour inside the store, the group left the premises while an aide carried their numerous purchases.

It was a rare public family outing for the Jackson clan. The star has gone to great lengths to ensure that his children are protected from the media glare and the youngsters' faces have only been pictured once.

Jackson has been locked away in recent months as he rehearses for his 50-night comeback tour at London's O2 arena this summer.
[From the Daily Mail]
I'm sort of wondering if this is supposed to be an upgrade for the kids. I mean it's better than their usual surgical masks right? There's a little bit of pizzazz to it. I'm assuming that, despite the school uniforms, the kids must be tutored privately and don't go to a traditional school. Because Jacko is clearly a control freak when it comes to them, and I can't associate anything Jackson-related to the word "traditional." I wonder if they wear the masks at home too? Or if it's just a "other people have germs, these feathers will keep you safe" logic. Which is true – I am fully prepared to battle swine flu germs with an elaborate Mardi Gras mask if need be. The Venetian kind with a beak, like the plague doctors used to wear. Never mind, Jacko is just forward thinking.
Thanks to X17 for the idea that Jackson is afraid of Swine Flu.
Images thanks to WENN.com .