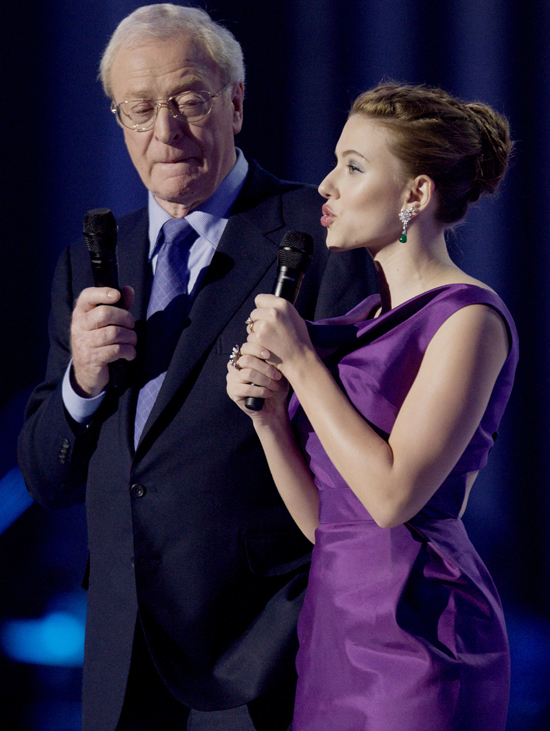 I try to like Scarlett Johansson. I try hard. She seems classy in a way most actresses her age aren't, and I appreciated that she wasn't stick thin (until recently). Plus, she's married to Ryan Reynolds, and at the risk of being overtly superficial, any woman who gets to go home to that has my respect.
Nonetheless, there have been a lot of stories of self-important and diva-ish behavior, so it's a little hard not to snicker when hearing that Johansson's first directorial attempt was so bad that it had to be cut altogether.
SCARLETT Johansson's dream of being a director was dashed on her first try.

Johansson — who's said in the past she'd prefer to direct rather than act — helmed a segment for the upcoming movie "New York, I Love You," a series of intertwined love stories shot by several auteurs, including Brett Ratner and Natalie Portman.

But unfortunately for Johansson, her segment, starring Kevin Bacon and shot in black and white, was deemed "unwatchable," sources said.

"It was really bad, so it was cut," one insider told Page Six. Andrei Zvyagintsev's segment starring Carla Gugino and Goran Visnjic was also cut from the final edit.
[From Page Six]
The film's producer tried to quell any potential negative press by doing his best to put a positive spin on Scarlett's piece. And to his credit, you can tell he's really trying. While dancing around the aforementioned badness.
But the film's producer, Emmanuel Benbihy, told us Johansson's bit ended up in the scrapheap not because it was bad, but because "the story did not specifically involve an interpersonal relationship, and it was conceptualized to be filmed in black and white — both of which were extreme departures from the other films."

Benbihy added, "Scarlett presented me with an extremely compelling, albeit unconventional, narrative that appeared as though it would not necessarily conform to the overall approach of the entire collective . . . However, I was very much moved by her vision and I did not want to pass on the opportunity to help her develop it. All that matters to me is the genuine movie language of the author."

He continued: "Scarlett and I nonetheless agreed that a final determination of its appropriateness in the context of the other contributions and the overall story would be best made in the editorial process. And after months of editing . . . I had to admit that there were editorial decisions to be made in the interest of serving the overall narrative and composition that resulted in previously filmed scenes and footage not getting used."
[From Page Six]
It sounds as though he's focusing on the fact that Scarlett didn't follow directions. Though something tells me if she'd strayed a bit but the final product was still great, Benbihy would have included it. The comment about "after months of editing…" makes it sound like Johansson's film segment got more difficult and he just couldn't make it work. It is being included on the DVD version of the film.
Johansson got fairly poor reviews for her CD, a collection of Tom Waits covers. She does bring her own vision to things, and I've got to give her credit for that. And certainly part of being creative and an artist is experimenting and finding that balance between what you like and what everyone else likes. It doesn't mean Johansson doesn't have a future as a director. But perhaps working on collaborative films isn't her thing.
Here's Scarlett with Sir Michael Caine at the Nobel Peace Prize Concert in Oslo on December 11th. Images thanks to WENN.com .